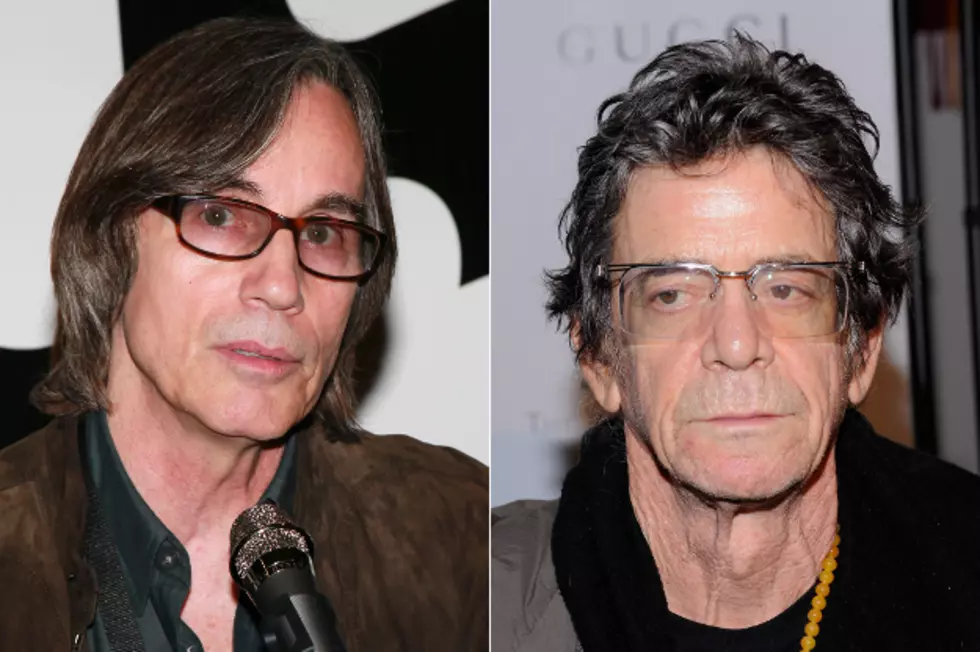 Jackson Browne And Lou Reed Featured On New Woody Guthrie Tribute
Singer-songwriters Jackson Browne and Lou Reed are among those paying tribute to the music of folk legend Woody Guthrie on a new tribute album, 'Note of Hope,' to be released on September 27 by 429 Records.
The collection features bass virtuoso Rob Wasserman at the helm, in collaboration with Guthrie's daughter, Nora Guthrie, who conceived the project. Together, the pair recruited a diverse group of artists to help bring musical life to 12 Guthrie songs, most of which were previously unpublished.
Other artists appearing on the album include Pete Seeger, longtime Brian Wilson collaborator Van Dyke Parks, Tom Morello of Rage Against The Machine and Ani Difranco.
Reed contributes 'The Debt I Owe,' a song that features one of Guthrie's many working class characters, a man who languishes in Coney Island, troubled by the weight of the karmic debt that outweighs his financial liabilities.
Browne's version of 'You Know The Night' is the album closer, stretching out for nearly 15 minutes. A shortened version of the track will be the album's first single.
The song is based on a 30 page notebook entry by Guthrie that recalls the night that he first met his second wife, Marjorie Mazia.
The Grammy Museum will celebrate Guthrie's centennial anniversary in 2012 with a yearlong celebration of his music, a catalog that encompasses more than 3,000 songs. Forthcoming events will be announced on a new website launching July 14.
Jackson Browne will return to the road this fall for a run of acoustic tour dates. Reed is preparing to release a highly anticipated new collaboration with Metallica.
Listen To Jackson Browne's Version Of 'You Know The Night' from 'Note of Hope'

More From Ultimate Classic Rock