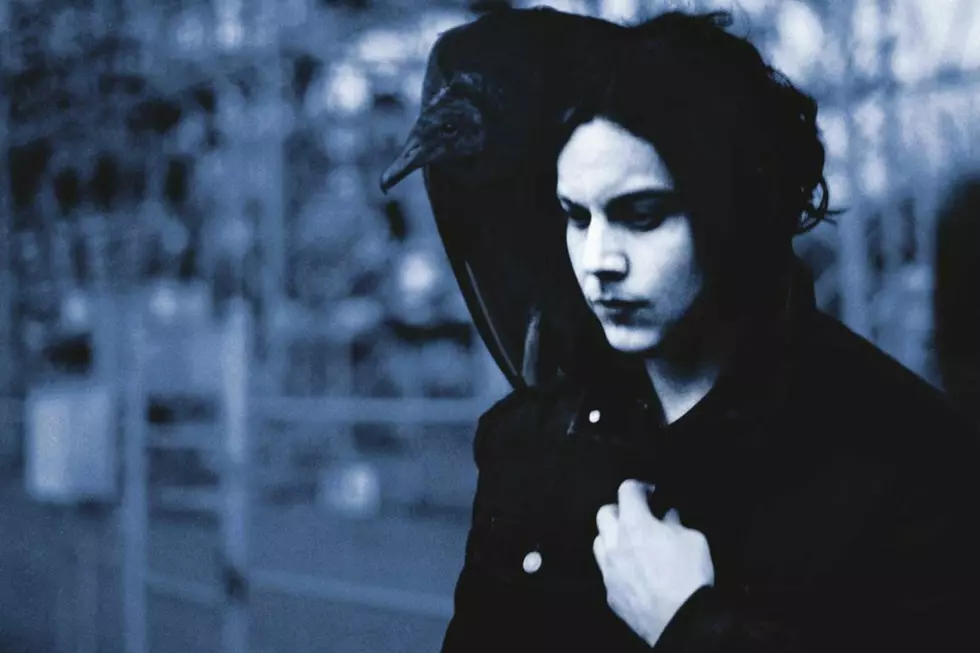 10 Years Ago: Jack White Goes Solo With 'Blunderbuss'
Third Man / XL / Columbia
The White Stripes essentially ended July 31, 2007, in Southaven, Miss., with a cover of Lead Belly's "Boll Weevil." Shortly afterward, the duo (consisting of guitarist Jack White and drummer Meg White) canceled the remainder of its tour dates, citing Meg's acute anxiety and, except for a 2009 performance to see off Conan O'Brien on his Late Night, they never again shared a stage. They officially announced their breakup in 2011.
Rather than simply go solo, Jack White threw himself into working with other artists, producing the likes of Tom Jones and Wanda Jackson and writing, producing and playing in the bands the Raconteurs and the Dead Weather. Five years went by in this manner after that Mississippi show – a period White saw as a sublimation of his ego as much as an expression of his creative impulses.
"I come from a long stream of barstool-judging hipsters in the garage-rock world of the turn of the century," he told AV Club in 2012. "[A] lot of those people have their knives out about ego and authenticity. Saying you love something out loud with the wrong intonation in your face can damn you and destroy what you're working on. So, I was sort of trained to think that putting myself out front was an egotistical move that would be frowned upon."
White's concern about such matters concluded on April 23, 2012, with the release of his first solo album, Blunderbuss, a collection of supercharged blues-rock, with elements of folk and country thrown in for good measure. Recorded at the studio in his label Third Man Records' Nashville headquarters, Blunderbuss arose from the records White was making for other artists.
"I was getting into bigger orchestrations, sometimes with 12-piece bands, like on Wanda [Jackson]'s record and Tom Jones' record," White told writer Paul Tingen. "I had never orchestrated that many people in one room at the same time. To have 12 people playing live was a whole new world to me."
A canceled session with Wu-Tang Clan rapper RZA provided White with the opportunity to use an expanded group of musicians on some of his solo songs.
"I had all these musicians in the studio who did not have anything to do, and I did not want to send them home – some of them had come from out of town," he explained. "So I said, 'Well, let's record some of my songs.' I only had a couple of things kicking around, so we started and we did three songs that day and that was the beginning of the album."
Named after an early model of shotgun, Blunderbuss truly blasts in all directions right from the start, with the album-opening "Missing Pieces" (a keyboard-driven track) giving way to "Sixteen Saltines," which rattles and shakes like an overdriven White Stripes cut. The overarching sound on both cuts in particular, and across the album in general, is warm and dynamic, a circumstance at least partially attributable to White's insistence on eschewing digital recording methods and equipment, in deference to analog microphones, amps and tape.
Watch Jack White's 'Sixteen Saltines' Video
"Digital recording gives you all this freedom, all these options to change the sounds that you are putting down, and those are, for the most part, not good choices to have for an artist," he told Tingen. Recording to analog tape using only eight tracks compelled White to make certain decisions about what each song needed. "If there are only two tracks left, what am I going to do with them?
"I can do a guitar solo and a vocal harmony and that's it. But if that was on Pro Tools, I would have 200 more choices. Let's put another tambourine track on, let's put four more guitar tracks on, and double that snare drum, and all of a sudden you're putting all this shit on that you should never have put on to begin with. Opportunity has killed it. If you don't have all these choices, your mind will focus on better things."
Recording at his studio, in the town known as Music City, with virtually limitless access to great musicians gave White a plethora of options for each song and all the time in the world to execute his ideas.
"If I started working on something at 10 in the morning, and I thought, 'This really needs a fiddle and a steel guitar player,' by 1 somebody would have shown up and we were recording that live," he told Tingen. "I also put people behind instruments that they don't normally play; sometimes I had all [women] record a song, and then the next day I recorded the exact same song with all male musicians. I was trying out all kinds of different production ideas, because in my own space, and I wasn't under the usual time constrictions."
Technology was on his mind when writing "Freedom at 21," with its skittery drum pattern and lyrics that White claimed are about a dearth of etiquette where technology is concerned.
"The early telephones, the telegraph, you had to treat this technology with respect," he told The Guardian. "You can write on the internet for the whole world, you can make comments, but there's no one telling you that's impolite or that's inappropriate."
"Love Interruption," the first single off Blunderbuss, dealt with matters ever so slightly closer to the heart, albeit with a twist only White could come up with.
"It's hard to put love in a song," he noted at the album listening party in London (via NME), "because it's been used for so long – thousands of times in plays, paintings, poems – and if you're going to say that word I think you have to really put a twist on it for yourself. If you're going to use the word love, I wanted to provoke some kind of thought. That's what I wanted it to do for me."
While it was tempting to connect White's lyrics about relationships to his divorces (first from Meg White and later from model and songwriter Karen Elson), he played down any projection of one on the other.
Watch Jack White's 'Love Interruption' Video
"Relationships of any kind are powerful, and they always influence an artist," he told AV Club. "It's inescapable. If you're asking if I would be foolish enough or insulting enough, to write about people in my life that I respect and sell it to the masses as a 'breakup song,' I can't imagine doing that to people I love. How embarrassing." One way to deflect such assumptions is through misdirection, something White's approach to the song "Hypocritical Kiss" might suggest.
"'Hypocritical Kiss' was an interesting narration," he noted at the Blunderbuss listening party (via MusicRadar). "When you're a songwriter, you get to choose who narrates the tale – first person, third person, male or female. Sometimes you can confuse the listener, and that's what I wanted to do in that song."
Blunderbuss was dedicated not to an ex-wife but to "Ray, the Great Zambini," who turned out to be White's oldest brother, Ray Gillis, who had died the previous year.
"We spent a lot of time together growing up," White told The New York Times. "He'd take me to the movies – he was the only person who took me to the movies, as a matter of fact. All the movies that I've been involved in since, I always brought him with me to the opening, to pay him back."
White's nostalgic bent might also have had something to do with the label he chose to release Blunderbuss: Columbia Records. "They're the first record label," he told National Public Radio. "The very first. They invented the album. They've got an incredible history. So I always thought if I did a solo record, it'd probably be a great idea to do it with them."
Still, for someone as independently minded as White, the choice of Columbia did seem odd. White indicates there were also practical implications for the decision.
"Some of my friends say, 'Why didn't you just put it out on Third Man [Records]? You have your own record label, just do it,'" he said to NPR. "And I think the thing about Third Man is that, yeah, we can put this thing out on iTunes and we can put things out on vinyl. We [can do] those things fine. We can produce tons of them like that, but if you want to put out a million CDs and sell them and get them played on the radio and [make] videos, or whatever … that kind of muscle can only come from a label like Columbia.
"And I really didn't want to do this album a disservice," he concluded. "I ain't got nothing to prove about being indie or anything like that." White has filled the years since Blunderbuss with more solo albums, plus new work by the Raconteurs and the Dead Weather. Each bears his unmistakable creative mark – no one sounds quite like him, a notion listeners have recognized since the early days of the White Stripes. It's been said many times, but it bears repeating.
Top 100 Classic Rock Artists
Click through to find out how they stack up, as we count down the Top 100 classic rock artists.
More From Ultimate Classic Rock