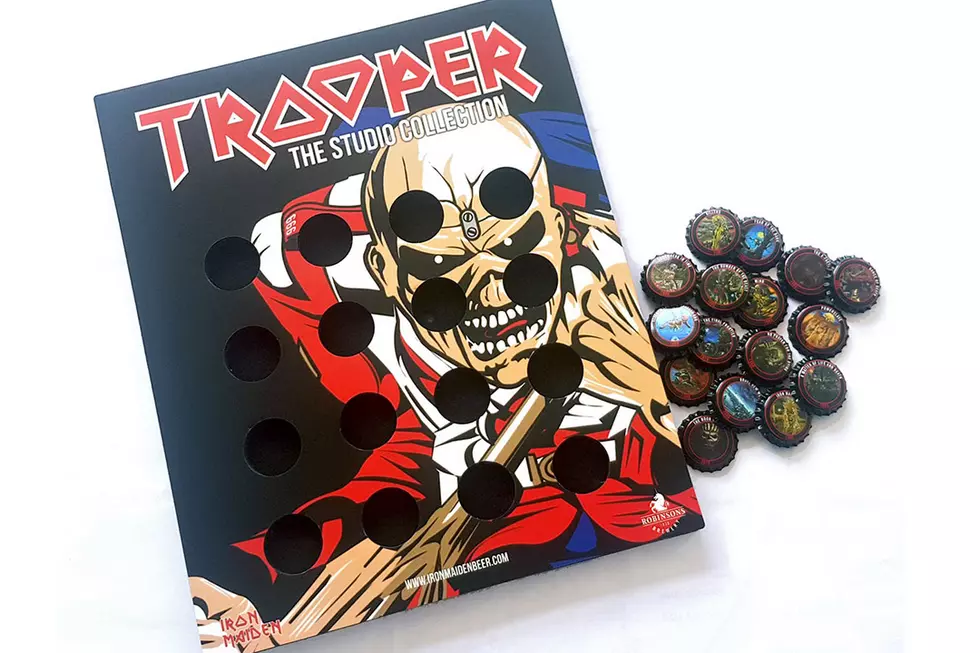 Iron Maiden Announce Trooper Beer Collector Bottle Caps
Robinsons Brewery
Iron Maiden have announced a limited-edition range of collector bottle caps that will be available with their Trooper beer worldwide.
Each cap will feature artwork from one of the band's 16 albums, with a total of 2 million items available on half-liter bottles until they run out. Some designs will be released in more limited numbers than the others.
Robinsons Brewery, the company that collaborated with Bruce Dickinson on each of the band's beer varieties, announced a collector frame to accompany the caps. "Iron Maiden and Trooper fans are some of the most dedicated and passionate in the world, so we wanted to create something completely new and different for them," brand manager Sam Kennerly said. "Iron Maiden is so iconic and distinctive, and creating the bottle caps is just one of the ways we wanted to celebrate the band and its amazing artwork."
Meanwhile, an alternative branding for Trooper beer was announced, available during October only. Subtitled Day of the Dead, the bottles will also carry collector caps. "Same great taste, different look," Robinsons noted.
Iron Maiden's Trooper Sun and Steel lager is now on sale in North America. The Japanese-style brew is made with sake yeast. Dickinson received a sample of the yeast from a fan who runs a brewery in Japan and delivered it to Robinsons. "Having obtained permission from the Japanese government to brew with it, Martyn [Weeks, head brewer] and the team have been carefully cultivating the strain ever since," it was reported in May.
Earlier this year, the band announced a change of image for the Light Brigade variety of Trooper, highlighting their support for the Help for Heroes charity in the U.K., where portions from every pint and bottle sold are donated. "Thanks to fundraising efforts and sales from the beer, Robinsons and Iron Maiden have helped raise nearly £90,000 since partnering with Help for Heroes in early 2018," a statement said.
See More Rock Star Beer, Wine and Liquor Brands
More From Ultimate Classic Rock