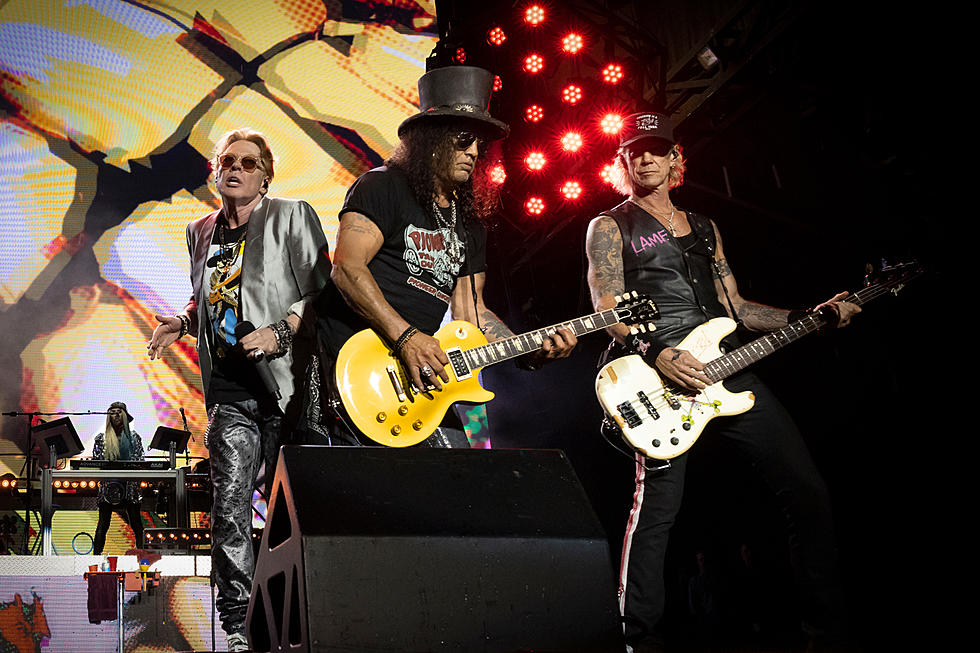 Watch Guns N' Roses Debut Long-Awaited New Song 'The General'
Guns N' Roses
After months of anticipation, Guns N' Roses performed the previously unreleased song "The General" on stage at Los Angeles' Hollywood Bowl Thursday night.
You can watch video of the live debut below.
"The General" dates back to the decade-long recording sessions for Guns N' Roses' 2008 album Chinese Democracy. During that time Axl Rose was the only remaining founding member of the group, working with a large rotating cast of musicians. In 2006 he stated that 32 songs were in development for what he envisioned as a trilogy of albums, but only 14 were released on Chinese Democracy.
Former Skid Row singer and longtime Rose friend Sebastian Bach raved about "The General," one of the unreleased Democracy songs, in a 2007 interview with Metal Edge. "It's by far the heaviest metal tune I think I've ever heard Axl do, this slow, grinding riff with these high, piercing vocals, screaming vocals," Bach raved. He told Rolling Stone in 2008 that Rose described "The General" as the sequel to [Use Your Illusion II's] "Estranged."
In 2021, five years after bassist Duff McKagan and guitarist Slash returned to the group, they released a reworked version of the Democracy sessions song "Absurd" (previously known as "Silkworms"), followed shortly by another named "Hard Skool." In August 2023 they released a third track, "Perhaps," and announced that "The General" would be included on the B-Side of an upcoming vinyl release of that song.
Guns N' Roses are set to conclude their 2023 tour on Nov. 5 at the Hell and Heaven Fest in Toluca, Mexico. Slash will tour South America, Australia, Japan, Europe and the United Kingdom with his solo band starting Jan. 23, 2024 and ending April 29.
Watch Guns N' Roses Perform 'The General'
The 30 Wildest Moments From Guns N' Roses' Use Your Illusion Tour
From Rock in Rio to the Riverport riot, here are the 30 wildest moments from Guns N' Roses' Use Your Illusion Tour.
Gallery Credit: Bryan Rolli
More From Ultimate Classic Rock