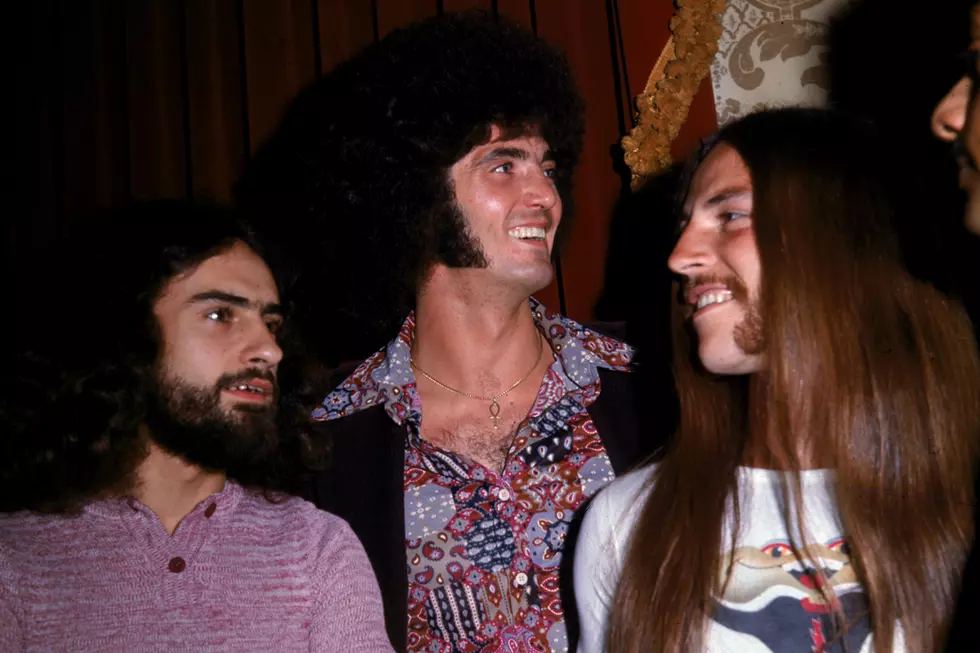 Top 10 Grand Funk Railroad Songs
Hulton Archive, Getty Images
Grand Funk Railroad took a power-trio cue Cream and the Jimi Hendrix Experience to become one of the loudest and heaviest groups on the planet.
Over the decades since, the music of guitarist-singer Mark Farner, drummer Don Brewer and bassist Mel Schacher (and later keyboardist Craig Frost) has become marginalized, trivialized and written off as thud rock. But this Flint, Michigan band helped rule the rock world in the first part of the '70s, selling out stadiums, collecting platinum records and scoring hit pop singles along the way. They were even kicked off a 1970 tour as openers for Led Zeppelin after upstaging the headliners.
We salute the original American band with a list of the Top 10 Grand Funk Railroad Songs.
READ MORE: What Really Inspired Grand Funk Railroad's 'We're An American Band'
10. "Paranoid"
From: Grand Funk (1969)
Issued the year before the Black Sabbath song of the same name, Grand Funk's "Paranoid" really plays out like a musical interpretation of paranoia. From the wah-wah doom-fuzz attack of the guitar intro to the moody verses to the piercing lead break, the song is a haunting mind-melter. The bare-bones production on the band's first five albums by manager Terry Knight perfectly suits the hard-edge, tough-as-nails rock 'n' roll chaos of the music.
9. "I Can Feel Him in the Morning"
From: Survival (1971)
This deep track from the band's Survival album is a thing of sheer beauty. The song begins with interviews with children talking about God before it gradually introduces folksy guitar strumming. "I Can Feel Him in the Morning" is very much a product of 1971 America with its questions, confusion and battered hope. Nonetheless, it's a magical work.
8. "Into the Sun"
From: On Time (1969)
This key cut from Grand Funk's On Time album changes mood, tempo and attack throughout its seven minutes. Farner provides some killer riffing and a great vocal. Plus, there's ace rhythm-section interplay between Schacher and Brewer. An all-around winner.
7. "Sin's a Good Man's Brother"
From: Closer to Home (1970)
The lead song on the band's third album is heavy riff rock pushed to the max. "Sin's a Good Man's Brother" surges and pulverizes. It's definitely one of Grand Funk's heaviest cuts, but it's also soulful, with the group laying down a funk-inspired groove that never lets up.
6. "The Loco-Motion"
From: Shinin' On (1974)
Grand Funk called on producer Todd Rundgren -- who mined some pop gold from the previous year's "We're an American Band" (see No. 1 on our list of the Top 10 Grand Funk Railroad Songs) -- for their follow-up record, 1974's Shinin' On. For the album's big single, they went with a cover of Little Eva's 1962 No. 1 hit "The Loco-Motion," which was co-written by Carole King. It's not much of a surprise since the original trio were part of Terry Knight and the Pack, who played a mix of British Invasion and Motown-inspired garage rock in the '60s. It went straight to No. 1.
5. "Walk Like a Man"
From: We're an American Band (1973)
"Walk Like a Man," the second single from the band's career-changing We're an American Band album, captures Grand Funk in transition as they moved from hard-rock crunch to more pop-oriented sounds. The song starts with a choppy riff that gives way to a full swing. From that point out, "Walk Like a Man" is a strutting and swaggering slice of '70s rock 'n' roll. Todd Rundgren's crisp production helped send the song into the Top 20.
4. "Footstompin' Music"
From: E Pluribs Funk (1972)
Jump blues, R&B and straight-up rock 'n' roll come together on this track from Grand Funk's 1972 album, E Plurbis Funk. "Footstompin' Music" truly swings. It was released as a single and made its way to the Top 30. The song also served as the band's opening number in concert for years.
3. "Are You Ready?"
From: On Time (1969)
First song, first side, first album -- this is how Grand Funk Railroad kicked things off. "Are You Ready?" pretty much carves out the band's identity in three glorious minutes. Drummer Brewer never lets up, keeping the Railroad on the tracks and running steady. Simple and to the point, "Are You Ready?" is prime Grand Funk with steam to spare.
2. "I'm Your Captain (Closer to Home)"
From: Closer to Home (1970)
"I'm Your Captain" is quite possibly the definitive Grand Funk Railroad song, summing up everything great about the band's first chapter, before they started showing up in the Top 10 regularly. The song builds drama over 10 minutes, with the still-raging Vietnam War bubbling beneath the surface. From the super-catchy verses and chorus to the moody "Closer to Home" interlude, "I'm Your Captain" ebbs and flows. An edited version climbed to No. 22.
1. "We're an American Band"
From: We're an American Band (1973)
Grand Funk's first No. 1 hit brought them a wider audience and established them as bona fide pop stars. Written by Brewer, "We're an American Band" is a dispatch from the road, detailing the exploits of "sweet, sweet Connie" and bluesman Freddie King's 'thing' for poker. In the end it's more travelogue than rock-star bragging. Still, there's plenty of party-down excess in immortal lines like "Come on, dudes, let's get it on!"
More From Ultimate Classic Rock