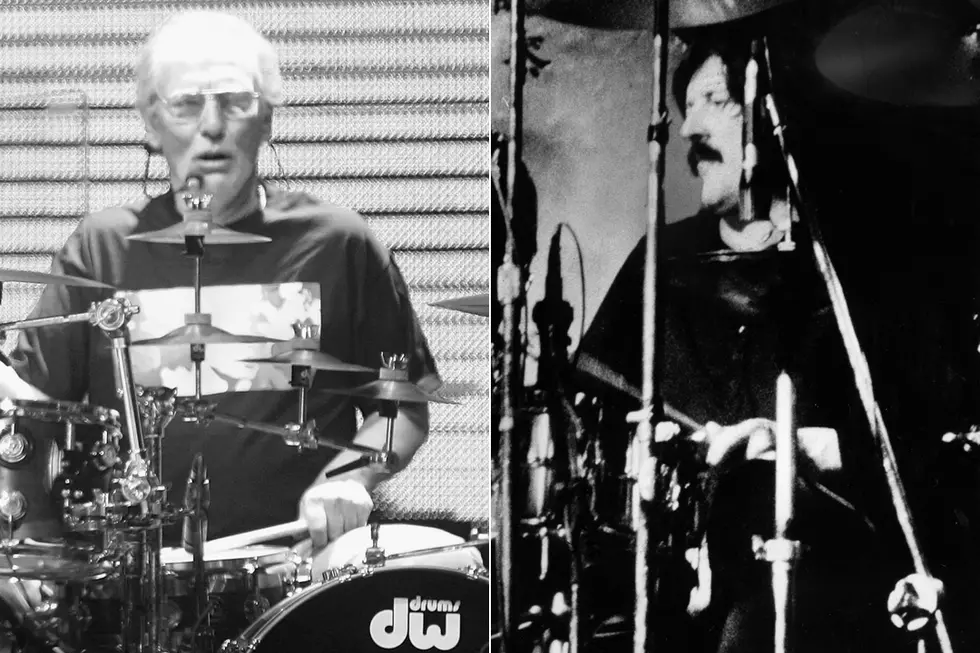 Ginger Baker Bashes Led Zeppelin and Calls Heavy Metal 'Repulsive'
Scott Gries / Hulton Archive, Getty Images
Few classic rockers have a reputation for not sugarcoating his opinions as much as Cream's Ginger Baker. In a new interview, he unleashed some trademark venom on both Led Zeppelin and heavy metal in general.
"Jimmy's [Page] a good player," he told Forbes. "I don't think Led Zeppelin filled the void that Cream left, but they made a lot of money. I probably like about five percent of what they did -- a couple of things were really cool. What I don't like is the heavy bish-bash, jing-bap, jing-bash bulls---."
Baker takes a pointed swipe at his Zeppelin counterpart, John Bonham, adding that he wasn't "anywhere near what I am. He wasn't a musician." But Baker reserved the bulk of his wrath for metal. Calling it "incredibly repulsive," he distanced himself from his band's legacy as one of the creators of the genre.
"I've seen where Cream is sort of held responsible for the birth of heavy metal. Well, I would definitely go for aborting [laughs]. I loathe and detest heavy metal. I think it is an abortion. A lot of these guys come up and say, 'Man, you were my influence, the way you thrashed the drums.' They don't seem to understand I was thrashing in order to hear what I was playing. It was anger, not enjoyment – and painful. I suffered on stage because of that [high amplifier] volume crap. I didn't like it then, and like it even less now. That whole Rock and Roll Hall of Fame thing -- at least half the people in there don't have a place in any kind of hall of fame anywhere, in my opinion."
See Cream and Other Rockers in the Top 100 Albums of the '60s
More From Ultimate Classic Rock