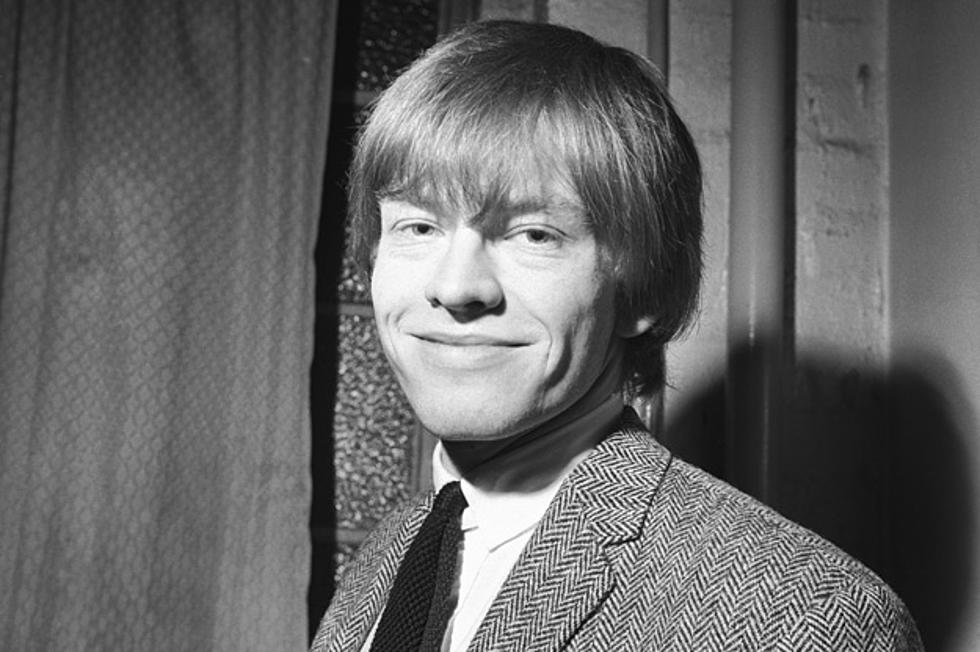 Five Reasons We Love Brian Jones of the Rolling Stones
Brian Jones would've been 70 years old today (Feb. 28) had he not tragically drowned in his own swimming pool back in 1969. His mysterious death came only one month after Mick Jagger and Keith Richards sacked him from the the Rolling Stones, replacing him with Mick Taylor. To this day, fans talk about the mystery surrounding Jones death and the drug-hazed, paranoid state that consumed the once, bright-eyed, blonde-bobbed Jones. Today, we're turning our head from all of the controversies and focusing on five strange but true reasons we still love Brian Jones.
1. He Founded the Rolling Stones
In spite of what many believe, Brian Jones was the founder of The Rolling Stones! None other than bassist Bill Wyman told author Ray Coleman that Jones "formed the band, he chose the members and he named the band. He chose the music we played and he got us the gigs." Jones named the band after a Muddy Waters song named 'Rollin' Stone' and if you want to see Jones acting as the leader, have a look at this video interview.
2. His Diverse Musical Skills Filled Out Many of the Stones' Greatest Songs
Jones may have been wary about songwriting, but he more than made up for that by singing back-up vocals and being proficient on multiple instruments. He was skilled on just about anything he picked up, including: guitar, harmonica, keyboards, dulcimer, trumpet, bass, trombone, mellotron, sitar, tambura, recorder, saxophone, percussion, autoharp, marimba, slide guitar, clavinet, oboe, banjo, clarinet, steel-string acoustic guitar, xylophone, flute, accordion, cello, theremin, tambourine and the harp. (Whew!)
3. Inspired His Peers Even After His Death
After his passing, Jones proved to be a great muse for many artists including Jim Morrison from the Doors, who wrote 'Ode to L.A. While Thinking of Brian Jones' in his honor. Pete Townshend penned 'A Normal Day For Brian,' and Joni Mitchell wrote 'Tin Angel.' The Doors (post Morrison) dedicated 'Tightrope Ride' to Jones and Patti Smith has admitted to being totally obsessed with him, writing at least two poems for him. Some fans believe that Bob Dylan's repeated mentions of "Mr. Jones" in 'Ballad Of A Thin Man' are a reference to Brian but Dylan has said otherwise.
4. Had Great Taste in Clothes and Women
Jones had a definite flair for fashion and a style that was entirely his own which definitely made him stand out on the stage. He courted not only attractive women but also some of the most intense women of the '60s. Suki Potier, Nico, Linda Lawrence, Anita Pallenberg, Linda Keith, Amanda Lear and Donyale Luna are just a few of the famous gals that walked arm and arm with Jones.
5. He Bought Winnie the Pooh's House. No, Really.
Jones lived in the house once owned by English author A. A. Milne, who was the writer of the 'Winnie The Pooh' stories. This house, known as Cotchford Farm is "the house at Pooh Corner" and was occupied by Milne off and on from 1924 with his wife and son Christopher Robin. According to angelfire.com, Jones bought this unique property in November of 1968 for 35,000 British pounds. Jones apparently spent many long hours in the garden lounging with white wine or brandy by his two statues, upsetting the neighbors with loud music. Both statues are still on the property, one being a life-size figure of Christopher Robin, the other is a sundial with figures of Piglet, Eeyore and Pooh dancing.
Think You Know Rock's Tragic '27 Club'?