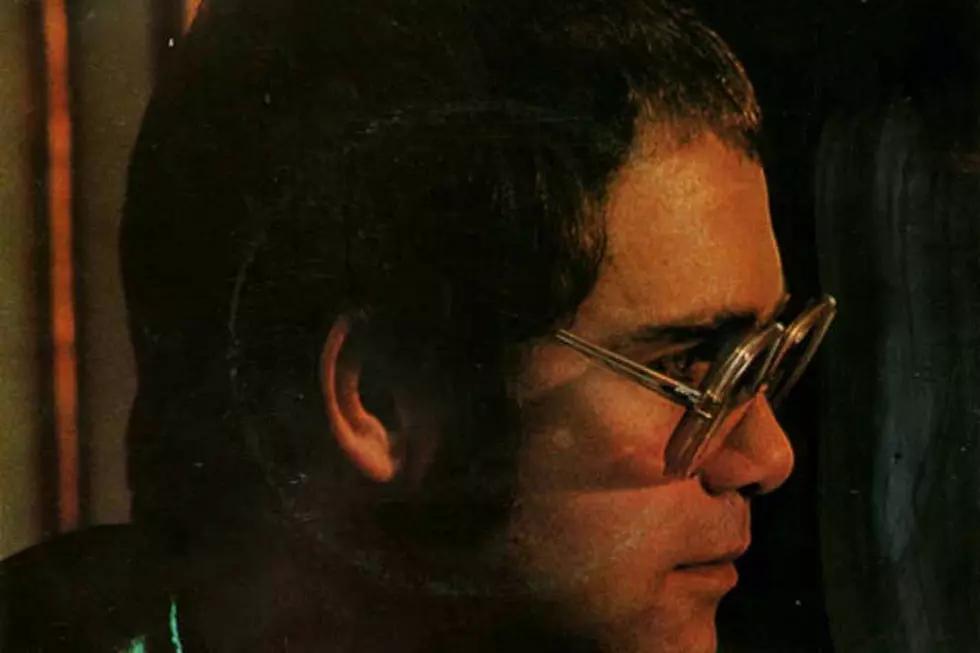 How Elton John Conjured Up His Past With 'Crocodile Rock'
Orlador
It was a surreal scene, even for Elton John at the height of his camp era: The singer on a soundstage in England, made to look like a swamp. Decked out in a tropical feather combo blanketed in rhinestones, John performed "Crocodile Rock," surrounded by crocodile Muppets and supported by the supple groove of Dr. Teeth and the Electric Mayhem. Naturally, the crocs sang the "la-la-las."
"See ya later, alligator," crowed Statler and Waldorf from their balcony as the tune concluded.
This moment from 1978 served as a kind of flash point for John's fame, impact and success in the '70s. At the time, the Muppets had attained some kind of hipster cachet for their layered comedy, popular with grown-ups as well as their kids. John's exotic costumes and self-deprecating wit were a perfect fit for the troupe. "Crocodile Rock" was clever enough to draw nostalgia from older viewers and simple enough to get the kids' heads bopping and feet tapping. Sardonic, sincere, outlandish and tuneful—that was Elton in the '70s, and that was "Crocodile Rock."
(In his 2006 autobiography and self-help book Before You Leap, Kermit the Frog revealed that his mother actually booked John into the local theatre, the Bayou Bijou, years before. She also introduced John to the crocodile that inspired "Crocodile Rock.")
In a 2011 interview with Esquire magazine, lyricist Bernie Taupin would describe "Crocodile Rock" as "a strange dichotomy because I don't mind having created it, but it's not something I would listen to." John himself has been a little more direct, calling the tune "disposable pop."
And yet, the pair clearly hit a nerve. Released in the fall of 1972 as the lead single from John's 1973 album Don't Shoot Me I'm Only the Piano Player, it delivered his first No. 1 single in the U.S. and Canada, hitting No. 5 on the U.K. chart as well. It also remains a staple of his live shows, where John has been known to stand from the piano and conduct the audience on the "la-la-las," just as he did with those Muppets.
"Crocodile Rock" was recorded along with the rest of the Don't Shoot Me album in France, at the same studio where John's previous release, 1972's Honky Chateau, had also been laid down. It stood in striking contrast to the record's other hit single, "Daniel," a mid-tempo ballad about the love between two brothers. Garish and insidiously catchy, "Crocodile Rock" is anchored by a wailing Farfisa organ, played by John on the track. Made famous on such classic '60s cuts as "96 Tears" by ? and the Mysterians and "Wooly Bully" by Sam the Sham and the Pharaohs, that distinct organ sound instantly places the song in a specific yet timeless era, back "when rock was young."
"We tried to get the worst organ sound possible, something like Johnny and the Hurricanes used to manage to produce," John told Beat Instrumental magazine in January 1973, just prior to the album's release. "This type of song is actually a very hard thing to write because the temptation is to try too hard and go berserk. ... I wanted it to be a tribute to all those people I used to go and see as a kid. That's why I used the Del Shannon-type vocals and that bit from Pat Boone's 'Speedy Gonzales.'"
Although that Boone novelty cut is mostly lost to the sands of time, it does form a bizarre footnote to the song's success—its composer sued John and Taupin in 1974 due to the unmistakable similarities between the earworm "la-la-las" on both "Speedy" and "Crocodile Rock." The suit was settled out of court.
A less obvious inspiration was "Eagle Rock," a 1971 Australian hit single by Daddy Cool that John and company encountered while touring Australia in 1972. John and Taupin have both admitted that their affection for that tune, which bears no resemblance to "Crocodile Rock," inspired them to write their own "rock" song about an animal dance. Taupin wore Daddy Cool fan gear in the album artwork for Don't Shoot Me, as well as the Tumbleweed Connection and Honky Chateau records.
"I don't want people to remember me for 'Crocodile Rock,,'" admitted Taupin in a 1989 interview with Music Connection magazine. "I'd much rather they remember me for songs like 'Candle in the Wind' and 'Empty Garden,' songs that convey a message...a feeling. But there are things like 'Crocodile Rock,' which was fun at the time, but it was pop fluff. It was like, 'Okay, that was fun for now, throw it away, and here's the next one.' So there's a certain element of our music that is disposable, but I think you'll find that in anybody's catalog."
The Best Song From Every Elton John Album
More From Ultimate Classic Rock