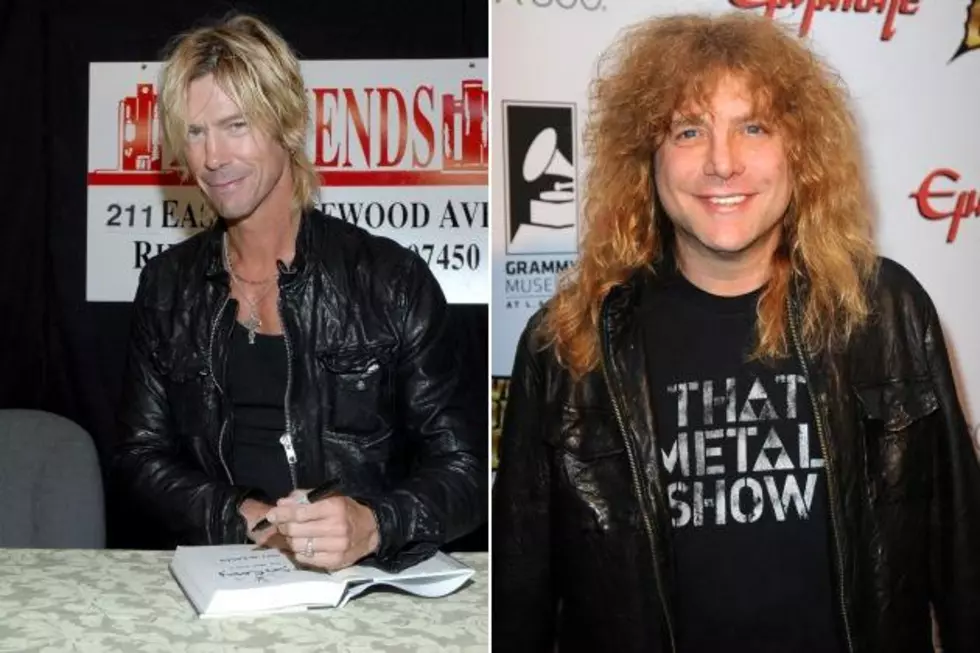 Duff McKagan and Steven Adler Perform Guns N' Roses Songs Together in Tokyo
Michael N. Todaro / Frazer Harrison, Getty Images
A mini-Guns N' Roses reunion of sorts took place this past Thursday (March 7) While touring together in Tokyo, Duff McKagan and Steven Adler both sat in on the other's set to play a couple of their old classics. The videos are embedded below.
As found by Brave Words, McKagan picked up his bass during the opening set by Adler's group -- the eponymously named Adler -- for a take on GNR's 'Sweet Child O' Mine.' Later that night, Adler returned the favor by getting behind the skins for 'It's So Easy' (also the title of McKagan's 2011 autobiography) with McKagan's band, Loaded.
The two nights in Tokyo were the last we're likely to see of the two ex-Gunners together, at least for a while. In mid-May, Adler begins an extensive U.S. tour that will carry them through the end of July. Adler released their debut album, 'Back from the Dead' in November.
McKagan has no dates scheduled at the moment, but before going to Japan, he wrapped up a 10-day traveling festival tour of Australia, which he wrote about for his weekly column. He also recently played himself in a viral video, auditioning for Seattle indie band the Postal Service. You can see the very funny video, and his "response," at Seattle Weekly.
Watch Duff McKagan Play 'Sweet Child O' Mine' with Adler
Watch Steven Adler Play 'It's So Easy' with Duff McKagan's Loaded