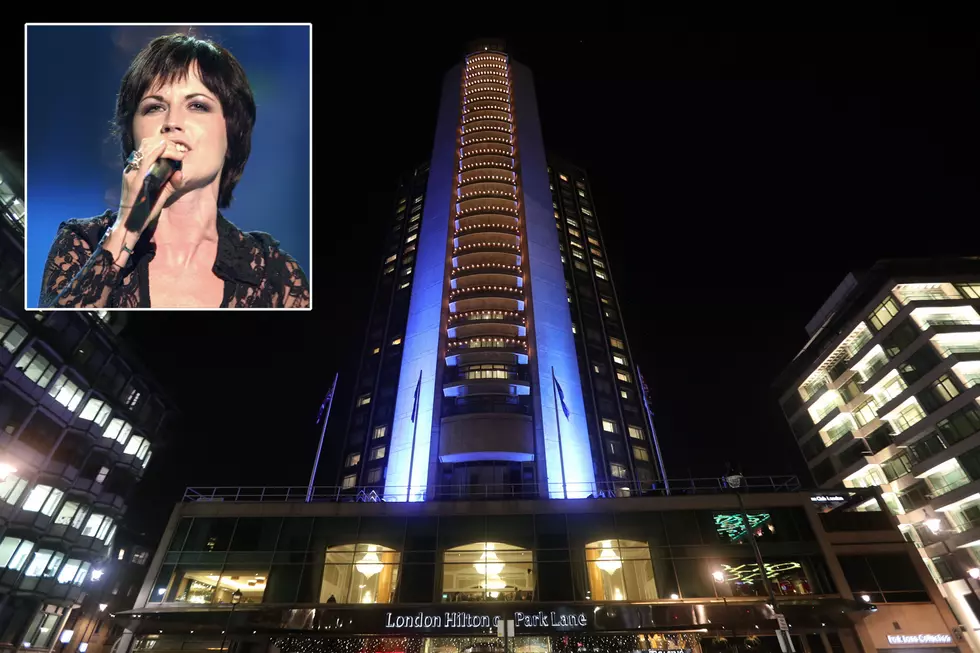 Dolores O'Riordan Post-Mortem Results Expected This Week
Jonathan Brady - PA Image / Carlos Alvarez, Getty Images
An autopsy is expected to be completed this week to determine the cause of Cranberries frontwoman Dolores O'Riordan's sudden death on Jan. 15.
Just hours before O'Riordan was to meet her producer and take part in a recording session in London, a maid found her dead in the bathroom of her Hilton Park Lane hotel room. She was 46.
Police have said only that her death is not being treated as suspicious. O'Riordan was diagnosed with bipolar disorder in 2016, and recently struggled with back pain that caused her to cancel concerts. She also had a history of drug and alcohol abuse.
In a 2014 interview with Ireland's Sunday Independent, she said, "I am not going to live that long. I'm 43. If I see 50, I'll be happy. I mean that."
O'Riordan was in London to record vocals for a new version of the Cranberries' 1994 hit "Zombie" with the band Bad Wolves, a session set up by her friend and record label executive Dan Waite. She was also supposed to meet producer Martin "Youth" Glove at 12:30PM, but when she hadn't turned up by 1:30PM, he became worried and texted her. "I didn't hear anything, and I thought I'd go out and get fresh flowers for her and spruce up the studio a bit," he said. "I thought she was probably a bit tired after the flight or something. I went to get the flowers, and while I was in the shop I got a call from my manager saying, 'There's something on the BBC website this morning. I don't know if it's real. Dolores has died.' I was just, 'What?'
"Dolores was a great writer, full stop. That's the bottom line. She had something to say about many issues ... and she wasn't afraid to say it — and she said it in a very poetic way," Youth continued. "That, aside from her having this beautiful unique voice. The combination of that creates a great artist. When she came up in the 1990s, there weren't that many female-fronted rock groups who had something to say."
Waite said O'Riordan had called him just hours earlier, sounding excited for the week ahead. "Dolores left me a voice message just after midnight stating how much she loved Bad Wolves' version of 'Zombie,'" Waite said. "She was looking forward to seeing me in the studio and recording vocals. She sounded full of life, was joking and excited to see me and my wife this week. The news of her passing is devastating."
The members of Bad Wolves were also shocked to hear the news. "'Zombie' is an incredibly personal song, and although we are a hard rock band, we always felt the ­rawness and honesty she projected onstage and in her recordings was something to which all bands should aspire to, regardless of genre," wrote the band's singer Tommy Vext in a statement posted on Facebook. "When we heard she liked our version and wanted to sing on it, it was the greatest compliment a new band, or any band for that matter, could have received. Our hearts are broken that we weren't able to see this collaboration through. Our deepest condolences go out to her family, friends, loved ones and fans in Ireland and around the globe."
O'Riordan's Cranberries bandmates posted a statement as well, noting that "She was an extraordinary talent and we feel very privileged to have been part of her life from 1989 when we started the Cranberries. The world has lost a true artist." "For the past 29 years, Dolores was my friend, bandmate and writing partner," guitarist Noel Hogan added. "It was an honor and I'll miss you."
O'Riordan -- who had separated from her ex-husband, former Duran Duran tour manager Don Burton, in 2014 -- was a mother of three. She had been living in New York City with her boyfriend Ole Koretsky, with whom she performed in the band D.A.R.K. along with former Smiths bassist Andy Rourke.
Her body is expected to be returned to Ireland following the autopsy, where a funeral will be held in Limerick. At Limerick City Hall, a book of condolences was opened, with a steady stream of people coming in to sign it.
More From Ultimate Classic Rock