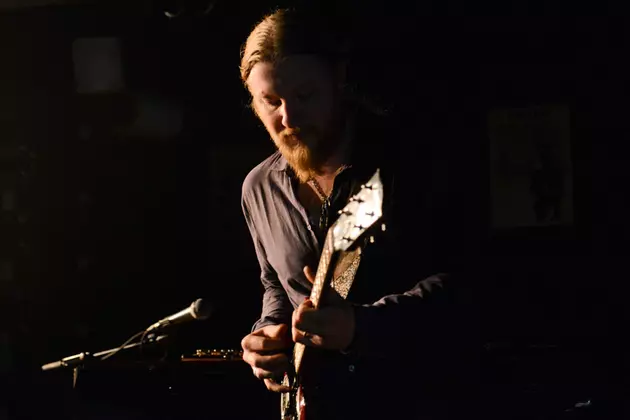 Derek Trucks on Tedeschi Trucks Band, the Allman Brothers and More: Exclusive Interview
Vivien Killilea, Getty Images
For a guitarist who Rolling Stone named the 16th greatest of all time in 2011, Trucks has taken a while to become a rock 'n' roll A-lister on his own (the Allmans cast a long shadow). But this year, his work with the Tedeschi Trucks Band -- his outfit with wife Susan Tedeschi -- has been topnotch. The new album they released this year, Let Me Get By, proved the band is a major artistic and commercial force.
Ahead of the band's final 2016 tour dates this week (three sold-out nights at the Orpheum Theatre in Boston), Trucks reflects on his journey and weighs in on that rumored Allman Brothers reunion.
Gregg Allman has talked about the Allman Brothers getting together for dates in 2017. How far along are those talks?
Well, I get those group texts every once and while. (Laughs.) But I don't know how far down the road they are looking. I do know how far down the road I am. I've moved on.
So there's no possibility of you being part of anything in 2017?
Not for me. I'm fully moved on.
Sounds like your calendar with Tedeschi Trucks Band will keep you busy for a while. I guess it would be hard to juggle both bands at once.
My calendar will keep me busy. But it's not even the calendar. I feel like we went out on the right note, and if anything is being put together, it's probably not to enhance the legacy. It might be more pocket-driven, and I'm not interested in that. There's enough cynicism in the world, and I'm not going to contribute to it.
You had a busy early solo career but people almost always associate you with the Allman Brothers, thanks to your 15 years in the band. Seems like the Tedeschi Trucks Band is changing that. Are you where you want to be with this group?
It's been a slow steady climb since my solo band got together almost 20 years ago. Me and my manager Blake were just talking about this, how every show has a few more people at it, every record has done a little better. I figured out that when you're doing these other gigs, like working with the Allmans or touring with [Eric] Clapton, you can only grow so much. If you're playing a city with Clapton, the Allmans and your solo band you're splitting things up. It's not until you're fully invested in one project that you can see how far you can go.
But you must look back on those tours as pretty special thing, they were your training ground.
Obviously. To be part of the Allmans for 15 years was a huge honor. I mean, it's a legendary band. I got to be around a lot of people and make a lot of great music. But it's been nice to be able to just focus. And at the end of the day, the Tedeschi Trucks Band is going to sink or swim on its own merit, not on my association with the Allmans or work with Clapton.
It also seems like you've followed your muse with this band. This band is unlike your solo work or the Allmans' later output. This band writes songs that could Stax or Motown or classic country gems.
Me and Sue talked a lot about this. We went into this making sure it wasn't Sue's band plus me, or my band plus Sue, and that it wasn't a new Allmans. And we got some push back from that. But I feel if you don't get a little push back, you're probably not trying very hard. People came in with expectations and we wanted to shake those up a little bit.
When did you hit your stride with this group?
Probably when our bassist Tim Lefebvre came on board [in 2013]. That's when thing really started gelling in the live setting. The first two records were really fun to make, but I feel like the last few years have been really different.
More than anything, songcraft takes center stage on this album. Where is that coming from?
I think everyone is getting more comfortable writing for this group. For this one, we wrote together in the studio. With past records we wrote with other people but this is a band record. We did this between labels and so we were under no pressure to make it. I think that meant we got something really honest out of it. We could focus making sure it was right.
You have been playing more and more two and three night stands. Is it hard to come up with unique set lists, especially when you have 12 people in the group?
When you do a different city every night, it's easy to repeat things. There are songs you want to play for people and get excited about so you don't always switch things up. But I think this band is better when it's playing more material. We enjoy the challenge. We just did six nights at the Beacon Theatre in New York, and I think we did close to 70 songs. It's a lot more work. We are writing set lists out for two or three nights at a time to make sure we don't repeat stuff.
The Allmans' legendary Beacon shows must have provided a lot of preparation for what you are doing now.
There's no better training ground that that. With Warren [Haynes], we would spend days, sometimes weeks preparing, thinking about songs that we're going to add, songs you want to open with. But I enjoy that kind of work.
Do you think 2017 will be a year of rest for you?
I don't want to let up. I feel like there's more good music right around the corner. You have to keep going after it when it's so close.
Most of the bands from your scene from the Allmans to the Dead to Little Feat and the Black Crowes are gone or nearly gone. Is it important for you to carry these bands' legacy into the future?
There's some of that in our motivation. When we did the live Mad Dogs and Englishmen tribute with Leon Russell and that group at the Lockn' Festival, there definitely was a sense that we need to carry this tradition on. There aren't a lot of bands doing it where they put everything into it. A lot people hit the road trying to make some cash. We are out here trying to do something that we really believe in. That's what all of our musical heroes always did. There's definitely a handful of bands who do it like us. People like Los Lobos or the Wood Brothers. We try to trade in musical honesty.
Working with Leon Russell, a friend who you just lost, it must mean a lot to have him and people like that pass you the torch.
There's really no way to fill someone like Leon's shoes but you have to take that spirit, that energy and honesty and put your spin on it. You have to spread that gospel of your musical heroes. But you have to take seriously, you have to mean it. This band loves putting in that work. Now we're not out here curing cancer, but there's a lot of parents out here on the road and maybe they could be on the road less and make more cash in another situation. It humbles me and Susan to be around to people who think music and art matters.
Allman Brothers Band Albums Ranked Worst to Best
More From Ultimate Classic Rock