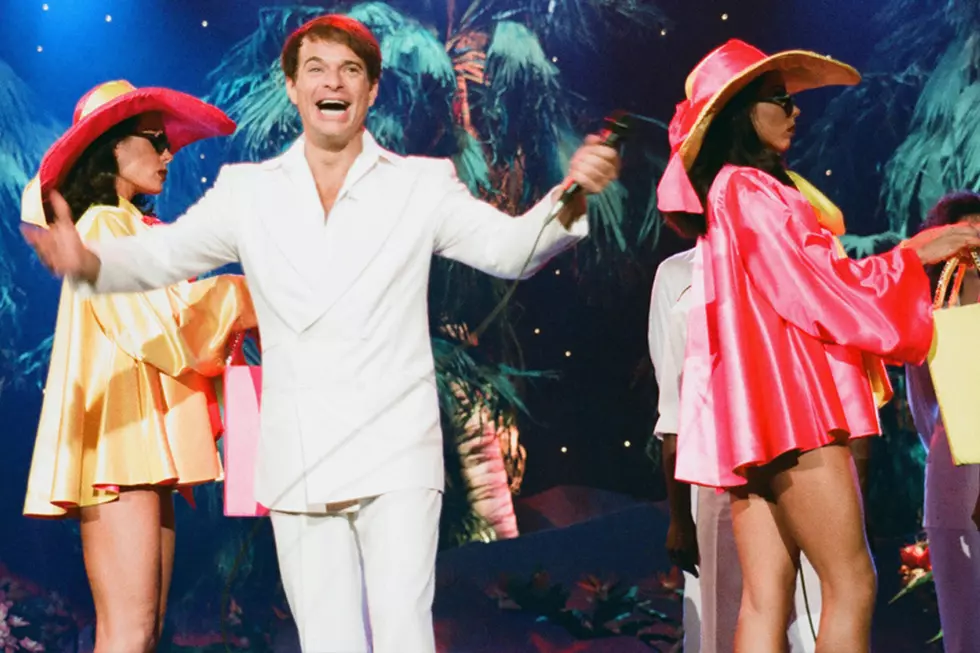 Why David Lee Roth's Original Las Vegas Run Was Way Too Early
NBC / Getty Images
David Lee Roth appeared on The Tonight Show With Jay Leno in mid-November 1995 with a short haircut in its natural shade of brown and a striking all-white suit, delivering a lounge-flavored version of "California Girls."
He had a hit with the Beach Boys tune about 10 years prior. Back then, Roth was the bottled blond, outrageously dressed quintessential sex-god rock frontman of Van Halen, a post he'd abdicate later the same year.
Since then, his old band had done just fine without him, scoring their fourth consecutive No. 1 studio album in January 1995 with Balance featuring successor Sammy Hagar. It was a spotty work overall, but the project still had Van Halen in the pole position of American rock outfits.
Meanwhile, Roth watched his currency plummet with each successive record: His 1994 effort Your Filthy Little Mouth stalled out toward the middle of the Billboard 200. Perhaps realizing his blossoming irrelevance, Roth picked up a 14-piece outfit dubbed the Blues-Bustin' Mambo Slammers and packed his bags for a Las Vegas residency.
At 40 years old, Roth had gone to a place then still considered the last stop on an artist's road to obscurity. "Las Vegas is what's new," Roth insisted to Leno. "It's what's happening right now; it's very hip."
He was, in fact, correct – though about 15 years too early. In 1995, Wayne Newton still ruled the Strip. For Diamond Dave, that roll of the dice would be taking place from Oct. 19-25, 1995 at Bally's Celebrity Showroom, a venue which held less than 1,500 people.
Watch David Lee Roth on 'The Tonight Show With Jay Leno'
The show itself was unspectacular if not outright cheesy. Roth delivered just two Van Halen originals, eschewing them in favor of favorites from yesteryear. Otis Redding's "Hard to Handle" and James Brown's "Living in America" were staples, as was Edgar Winter – who played saxophone for the Mambo Slammers – with his hit song "Free Ride."
He told bad jokes and made even worse double entendres. The onetime superstar who earlier delivered macho anthems like "Unchained" and "Everybody Wants Some!!" reemerged with a persona that wouldn't have been out of place on a night when Don Rickles needed a stand in.
This descent into a punchline didn't last long; David Lee Roth was finished with the revue show in Vegas by early 1996. His diamond status was no doubt tarnished, but Roth found himself in the spotlight once again when he briefly returned to Van Halen that September – recording two new songs for the band's first best-of collection. He claimed later that a perceived reunion was nothing more than a publicity stunt orchestrated by Eddie Van Halen.
A re-energized Roth put out a best-selling autobiography, one of his best rock albums (1998's DLR Band) and even did the unthinkable with a summer tour alongside Sammy Hagar. Meanwhile, Van Halen floundered, first with the ill-advised and ill-fitting addition of singer No. 3 in Gary Cherone and then with years of inactivity. The proverbial tables had been completely turned, so it was only a slight surprise when Roth was welcomed back into the fold in 2007 – a belated move which gave everybody involved a much-needed shot in the arm. 
Roth subsequently returned to Las Vegas in early 2020 with a show at the House of Blues that removed the cliches of the first residency in favor of his Van Halen and solo material. He later announced that he'd retire after another run of dates in Vegas.
The Best Song From Every Van Halen Album
They released a dozen albums over their career. These are the songs for your playlist.
See Rock's Epic Fails: Van Halen Edition
More From Ultimate Classic Rock