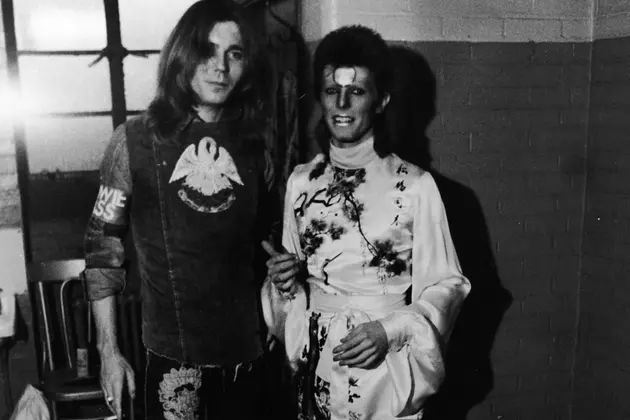 The Man Behind David Bowie's Look: Pierre LaRoche
Express Newspapers, Getty Images
As fans around the world continue to try and come to grips with the sudden and unexpected death of David Bowie last week, some of the most shared images across social media involve the iconic red-and-blue lightning bolt that was painted across Bowie's face on the cover of the classic 1973 album Aladdin Sane. That piece of makeup history was created buy one of music's most unsung artists, a makeup man named Pierre LaRoche who pretty much created the face of glam rock.
Raised in Algiers, LaRoche's style was heavily influenced by the Arab women in his homeland, who heavily painted their eyes with kohl, a dark ancient eye shadow. After landing a job in London with Elizabeth Arden, LaRoche soon found the work too conservative and, in 1972, began working with Bowie.
He helped develop the singer's Ziggy Stardust persona, which included the astral sphere makeup on Bowie's forehead and heavily shadowed eyes, among many other elements. His makeup played a huge part in the burgeoning glam rock-scene being spearheaded by Bowie and others at the time.
When Bowie arrived at photographer Brian Duffy's London studio in 1973 to shoot the cover for Aladdin Sane, the creative team sat around a table as LaRoche decided on the lightning-bolt concept, triggered by the earlier Ziggy Stardust costumes, which featured similar imagery.
Of all the looks that Bowie took on over the years, Aladdin Sane may stand as the most definitive, a simple but bold statement that came to represent the force of nature that Bowie soon became. "He has the perfect face for makeup," LaRoche said about his subject in 1973. "He has even features, high cheekbones and a very good mouth. I have to be careful, though, because his skin is very fine and some of the base powders I use are very strong. They can make that face quite soft."
After making his mark with Bowie, LaRoche became more in demand and started branching out. In early 1975, he designed the innovative makeup for the cast of The Rocky Horror Picture Show.
Mick Jagger then hired him to go on the road for the Rolling Stones' Tour of Americas in 1975 as his personal makeup man. A couple of weeks before the Stones tour kicked off in Baton Rouge on June 1, LaRoche was in New York City for a photo shoot with Daryl Hall and John Oates, who met the designer a few months earlier and hired him to design the cover for 1975's Daryl Hall & John Oates (better known as the Silver Album).
The duo's pictures weren't included on the cover of their first three albums. For their fourth, they not only wanted their faces, they wanted something bold. And that's exactly what they got. The pair's androgynous look on the LP cover remains a controversial topic.
LaRoche eventually moved to the U.S. and began working for several commercial clients before dying of AIDS in the '80s. These days, LaRoche's career doesn't even amount to a footnote in rock history. In the wake of Bowie's death, it's worth remembering and acknowledging just how influential he was.
Every David Bowie Single Ranked
More From Ultimate Classic Rock