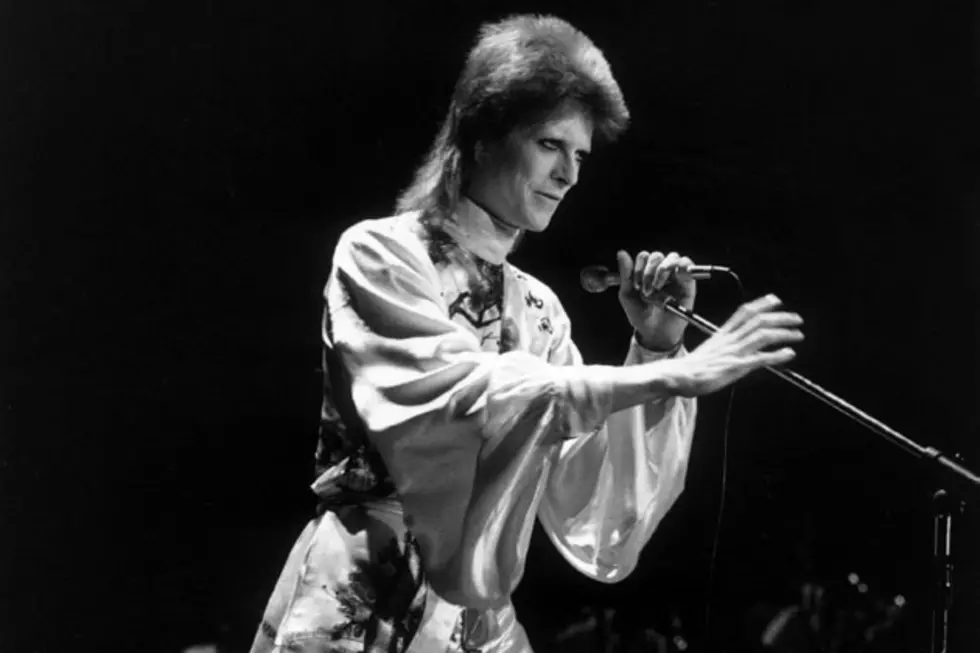 Top 10 David Bowie '70s Album Tracks
Steve Wood, Getty Images
David Bowie released countless classic singles during the '70s. But the man born David Robert Jones also created an astounding body of work beyond these well-known hits. In fact, some of his best songs were album tracks which bolstered his classic LPs—from the glam concept album 'The Rise And Fall Of Ziggy Stardust And The Spiders From Mars' and the proto-electronic masterpieces 'Low' and ''Heroes'' to the swaggering tour de force 'Aladdin Sane.' Here are 10 David Bowie's '70s album tracks worth exploring.
10

'What in the World'

From: 'Low' (1977)

This tune is a bit more straightforward than 'Breaking Glass,' although that's a relative term at this stage in Bowie's career. This patchwork song is pieced together with different groups of sounds, which are often performed at slightly different tempos. Besides perforated sounds -- which form a steady foundation underneath the entire song -- 'What In The World' features askew guitars. Bowie's off-kilter vocal syncopation, hysterical keyboards and, near the end, layers of mumbling harmonies. Disorienting in the best possible way.

9

'V-2 Schneider'

From: 'Heroes' (1977)

The instrumentals included on Bowie's so-called Berlin trilogy ('Low,' 'Heroes' and 'Lodger') remain of his most influential music, as they flirted with futuristic genres such as synthpop, new wave and electronic rock. This surging, sax-dirtied dirge is in homage to Florian Schneider, a member of influential German electronic group Kraftwerk. Appropriately, the song hums along like the latter's movement-filled compositions.

8

'Fascination'

From: 'Young Americans' (1975)

The entire 'Young Americans' album was steeped in funk, soul and embryonic disco -- three influences which permeate 'Fascination,' a co-write with future R&B superstar Luther Vandross. Heavy psychedelic flourishes distort both the music and Bowie's vocals; the latter veers between desperate crooning and paranoid whispers.

7

'1984'

From: 'Diamond Dogs' (1974)

In hindsight, this song presages the suspicion-filled soul of 1975's 'Young Americans.' Inspired by George Orwell's titular novel, '1984' brims with syrupy strings and a 'Shaft'-style funk guitar; a 'Twilight Zone'-style creepy keyboard line seethes underneath, adding unease to the already-ominous lyrical theme.

6

'Breaking Glass'

From: 'Low' (1977)

Although the live version of this song was used as a single to promote 1978's 'Stage,' the sub-two-minute version found on 'Low' was simply an album track. And what a stunning track it is: Gnarled guitar alternates with dry-sounding drums, haywire proto-synth effects and a slow-motion blues-punk bass throb. It's robotic, enigmatic and wildly creative -- just like the rest of 'Low.'

5

'Fantastic Voyage'

From: 'Lodger' (1979)

A song co-written by Brian Eno, the subdued 'Fantastic Voyage' kicks off Bowie's final '70s album on a somewhat-somber note. Preoccupied with (and perturbed by) the threat of nuclear war, the protagonist is resigned to the fact that 'We're learning to live with somebody's depression,' although in the next breath he says ruefully, 'And I don't want to live with somebody's depression.' Still, by the end of the piano-accented song, Bowie finds power where he can—namely, his pen: 'They wipe out an entire race and I've got to write it down.'

4

'Velvet Goldmine'

From: 'Space Oddity' single (1975)

While technically not on a proper album -- at least until CD reissues of 'The Rise And Fall Of Ziggy Stardust And The Spiders From Mars' and several hits compilations -- this song is a lost classic. Recorded during the 'Ziggy Stardust' sessions, the whimsical glam-pop tune boasts jaunty piano, a lively bass line and (best of all) Bowie singing like a gloriously deranged vampire.

3

'Oh! You Pretty Things'

From: 'Hunky Dory' (1971)

A proto-glam cabaret song boasting stellar bar-boogie piano from Rick Wakeman (who joined Yes that same year), 'Oh! You Pretty Things' nods to Bowie's folk/blue-eyed soul persona, even as it foreshadows his transformation into Ziggy Stardust. With lyrics inspired by Nietzsche references and vaguely insidious sci-fi tropes, the song explores alienation and the absurdity of being human -- two themes Bowie would revisit for the rest of his career.

2

'Panic In Detroit'

From: 'Aladdin Sane' (1973)

A high point of Mick Ronson's tour of duty as Bowie's guitarist -- from the groove-heavy riffs to his keening, noisy solo at the song's end -- 'Panic In Detroit' is also a highlight of 'Aladdin Sane.' Bursts of soulful female vocals and ferocious conga drums dominate, complimenting the tune's swaggering tempo.

1

'Ziggy Stardust'

From: 'The Rise And Fall Of Ziggy Stardust And The Spiders From Mars' (1972)

Incredibly, one of glam rock's totemic songs was never actually a single (although it appeared on the b-side of several versions of 'The Jean Genie'). The mythology-crystalizing 'Ziggy Stardust' is majestic and bittersweet, a wistful character sketch of the flawed, hubris-cracked superstar of the same name. Besides showing off the talents of Bowie's band, the Spiders From Mars, the crunchy tune epitomized rock's bold new era.
More From Ultimate Classic Rock