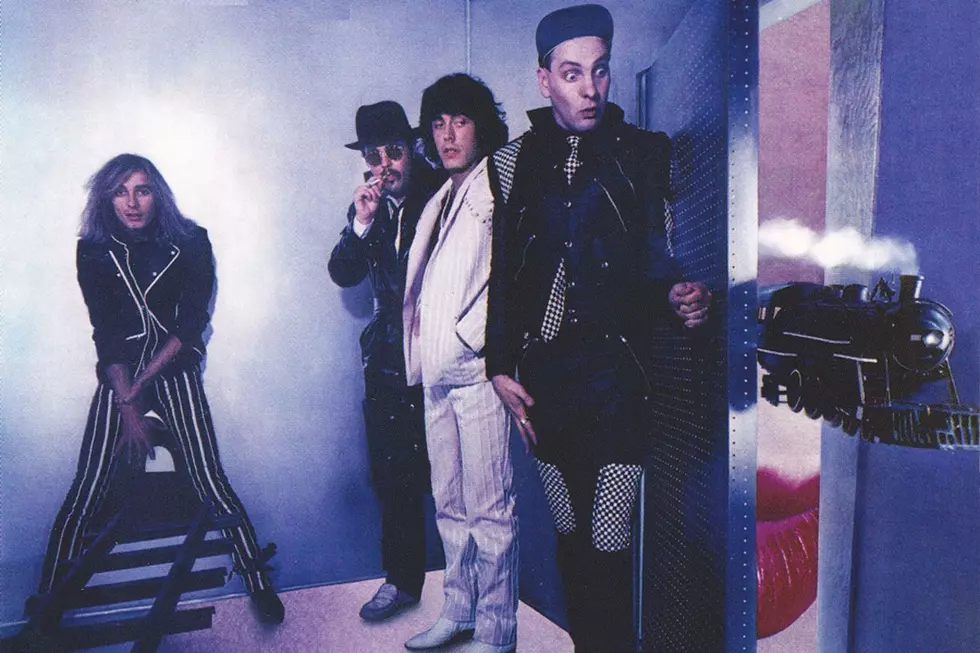 How Cheap Trick Reached a Turning Point With 'All Shook Up'
Epic Records
By the dawn of 1980, Cheap Trick had risen to major star status following the success of At Budokan and Dream Police, both released in 1979 to major critical and commercial triumph. It looked as if the new decade was going to belong to this fab foursome. But reality would soon intervene with the release of their fifth LP, All Shook Up, on Oct. 24, 1980.
The band wanted to make a change while retaining their trademark sound. They wanted to grow and experiment the way their heroes like the Beatles and the Move had always done. To help them do this, they called in perhaps the biggest gun in terms of record producers, George Martin, the man behind the board for nearly every note of the Beatles' recording career.
On paper, it was a match made in heaven. However, despite all the ingredients seemingly in place, All Shook Up failed to live up to the expectations held for it. That is not to say it is anything less than  stellar, but the critics and record buying public at large didn't greet it with arms open wide.
"The record company didn't want George Martin," recalled drummer Bun E. Carlos in the 2006 reissue of the album. "They thought the stuff was working with [Tom] Werman [producer of In Color, Heaven Tonight and Dream Police] so why change it?"
In addition to having Martin on board, the sessions were engineered by Geoff Emerick, who rode the boards for many Beatles recordings as well. "All Shook Up is still one of my all time favorite albums, " said Emerick, with George Martin adding, "Cheap Trick were charming people, great fun and good musicians."
The album begins with an ominous chord faded in, not unlike the chord that fades out on the Beatles' "A Day in the Life." Robin Zander's voice appears with the plaintive line, "Well I can't stop the music / I could stop it before / Now I don't want to hear it / Don't want to hear it no more" as the band crash in on "Stop This Game."  It's Cheap Trick to be certain, but it's got a different gleam to it making the listener aware this is not last year's model.
Listen to Cheap Trick's 'Baby Loves to Rock'
Released as the first single, "Stop This Game" failed to crack the Top 40, rising only to No. 48. Originally titled "Can't Stop the Music," it was changed so as not to cause confusion with the recently released Village People movie of the same title.
The big rumble of "Just Got Back" is followed by the Kinks-meets-Clash riffing of "Baby Loves to Rock," making for a triumphant opening. Elsewhere "World's Greatest Lover" is a Beatlesque ballad written from the perspective of a soldier trapped in a foxhole in World War I. Though a demo exists with guitarist/songwriter Rick Nielsen singing, Zander retained his role and turns in a magnificent vocal. Martin called the whole song "very Lennon-ish."
"High Priest of Rhythmic Noise" roars in as a sort of semi-futuristic hard rocker while "Love Comes A-Tumblin' Down" is a flat-out riff-heavy riot that pays subtle tribute to the recently departed Bon Scott. George Martin even gets in on the action with a spoken word section. One of the album's best moments comes in the form of the brilliantly titled "I Love You Honey but I Hate Your Friends" which shows them doing their best Faces slop-and-stomp. "Go for the Throat (Use Your Own Imagination)" explodes with some growling bass thunder from Tom Petersson.
But it was during the sessions for the album that Petersson began growing dissatisfied with the way things were going with his role in the group. He would leave the band as the LP was hitting store shelves.
Perhaps inspired by Fleetwood Mac's Tusk, "Who D' King?" ends the album on a bizarre note that features nothing but several drum and percussion tracks with rousing chanting over the top. A moment for Bun to shine? Perhaps. A moment to just get weird and have fun? More likely.
Despite the low turnout at the record stores and mixed critical reaction, All Shook Up succeeds as a great Cheap Trick album. It found the band trying to experiment without losing their stamp, or their minds, and it proved that just having someone like George Martin at your right hand doesn't make for a sure thing. Ultimately, the album has held up very well since its release and stands as an important and very rocking chapter in the Cheap Trick story.
Cheap Trick Albums Ranked 
More From Ultimate Classic Rock