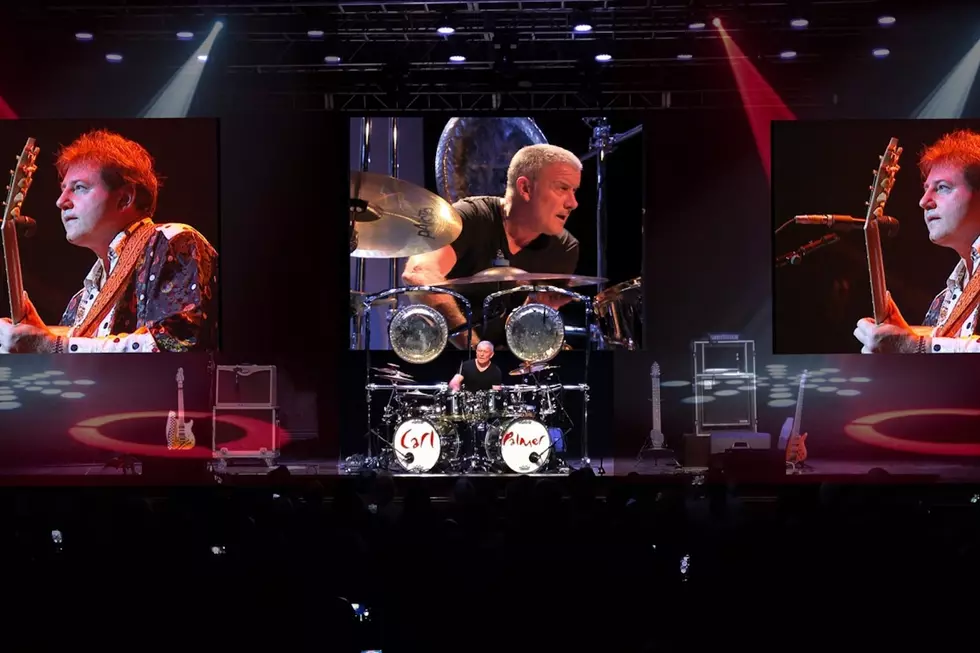 Carl Palmer Announces Return of ELP 2023 Summer Tour
Chipster PR
Carl Palmer has announced the Return of Emerson, Lake & Palmer 2023 summer tour, which will once again digitally reunite him with late bandmates Keith Emerson and Greg Lake using modern technology.
The nine-date trek will begin on July 8 in West Jefferson, N.C., and conclude on July 29 in Westbury, N.Y. Tickets are on sale now through Palmer's website. You can see the full list of dates below.
Palmer is the sole surviving member of ELP, following the deaths of Emerson and Lake in 2016. The drummer initially looked into embarking on a hologram tour but instead opted to broadcast 1992 live footage of his late bandmates on video screens that flanked the stage. He launched the first leg of the tour last November.
"The film ELP made of its sold-out run at London's Royal Albert Hall in 1992 had everything we needed to make these tours happen," Palmer explained in a statement. "We were able to use just the camera shots of Keith and Greg, with the sterling audio tracks of their performances, resulting in a combination of film and onstage performance of my band that brings back the magic of ELP."
Palmer told UCR in October that the first time he played alongside the footage of his former bandmates, "It was emotional ... it touched me, that's for sure. But after spending all this time [on the show], I'm kind of through with the emotional bit, if you see what I mean. I'm down to the practicalities of getting it right for those two guys. That's the most important thing for me."
Carl Palmer, The Return of Emerson, Lake & Palmer 2023 Tour
July 8 - West Jefferson, NC @ Saloon Studios Live
July 11 - Green Bay, WI @ EPIC Event Center
July 13 - Fort Wayne, IN @ Foellinger Theater
July 14 - Erie, PA @ Warner Theatre
July 15 - Lorain, OH @ Lorain Theater
July 21 - Warren, OH @ Robins Theater
July 23 - Columbus, OH @ Southern Theater
July 28 - Glenside, PA @ The Keswick Theater
July 29 - Westbury, NY @ The Space at Westbury
Top 50 Progressive Rock Albums
From 'The Lamb' to 'Octopus' to 'The Snow Goose' — the best LPs that dream beyond 4/4.
More From Ultimate Classic Rock