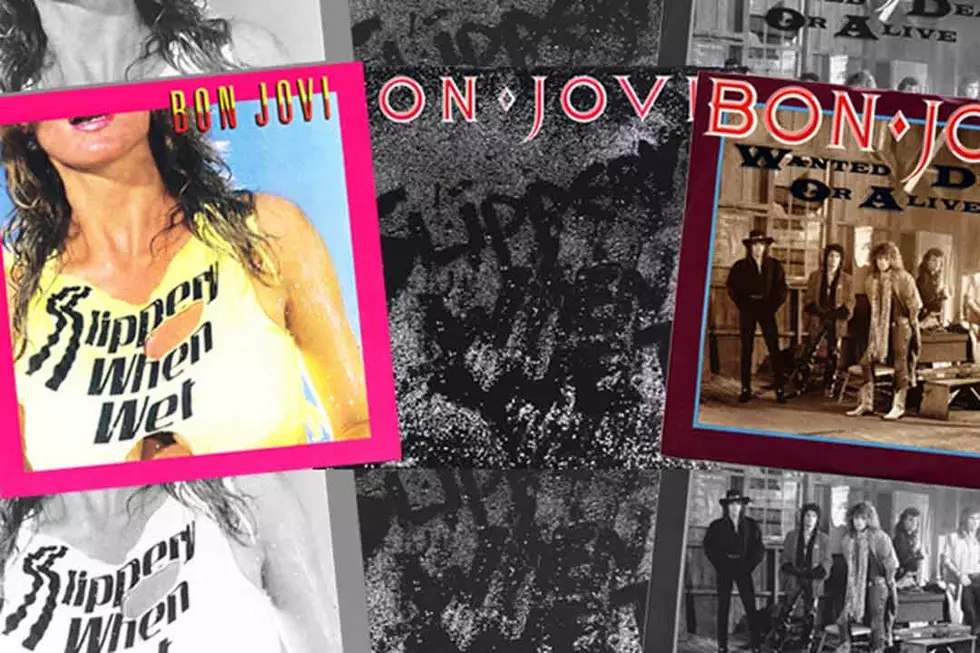 Cowboys, Wet T-Shirts and Trash Bags: A Tale of Three Bon Jovi 'Slippery When Wet' Album Covers
Mercury / Vertigo
Slippery When Wet made Bon Jovi international superstars after its arrival on Aug. 18, 1986 – but not before they went through three wildly different concepts for the album artwork.
The record's title also changed during this process. It was originally going to be called Wanted Dead or Alive, after one of the many soon-to-be smash hits it contained. Bon Jovi posed for the cover all dressed up in cowboy gear in a remote town near Vancouver, Canada, where they were recording. "It looked a little bit put on, and we were kind of unhappy with it," guitarist Richie Sambora told VH1. (A photo from these sessions was used on the "Wanted Dead or Alive" single.)
Luckily, fate intervened. "As we were driving back to the Number Five – our favorite strip club in Vancouver – our manager Doc McGhee saw this sign on the road, 'Slippery When Wet,'" Sambora added. After watching one of the dancers get into an on-stage shower as part of her act, both the title and the cover photo concept came into view. "We shot this one beautiful girl with large breasts and a [shirt] that said 'Slippery When Wet,'" he said.
But they weren't done yet. "The censors didn't let it happen," Sambora explains – although a similar cover was used in some overseas territories. With time running out, Bon Jovi was forced to improvise. "[The cover] is actually a Hefty trash can bag with water sprayed on it. We held it on both sides and Jon [Bon Jovi] wrote 'Slippery When Wet.'"
A great deal of this effort was obviously wasted. With tracks like "Wanted Dead or Alive," "Livin' on a Prayer," "Never Say Goodbye" and "You Give Love a Bad Name," the album probably could have been wrapped in actual rotting trash and still sold millions of copies.
 
See Richie Sambora Among Rock's Funniest Guitar Faces
You Think You Know Bon Jovi?
More From Ultimate Classic Rock