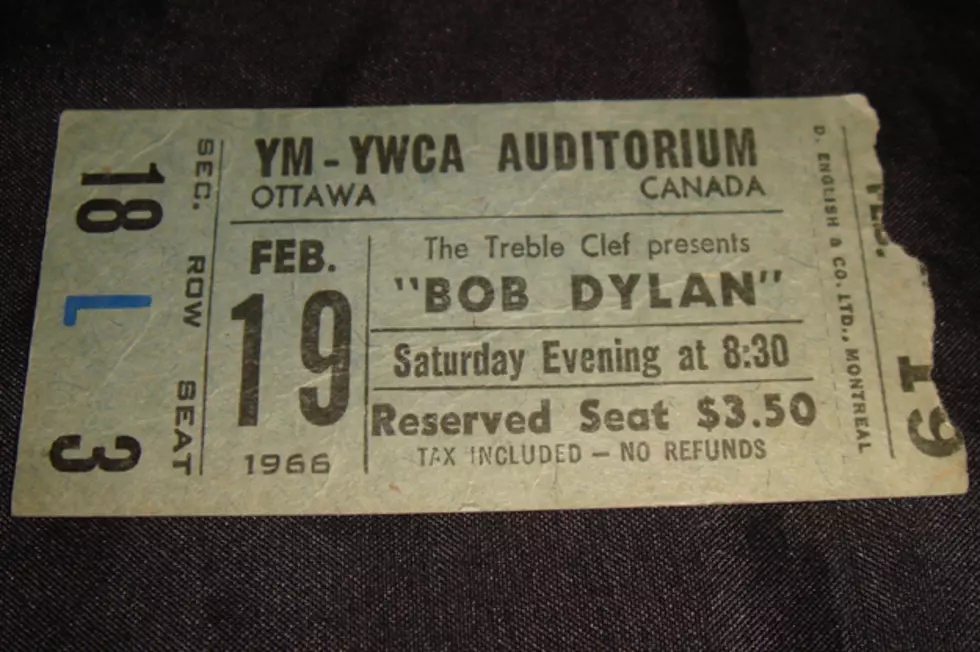 Bob Dylan 1966 Concert Ticket Stub Sells For 324 Times Its Original Price
eBay
In 1966 a Bob Dylan ticket with the face value of $3.50 could gain one entry into the Ottawa YMCA Auditorium to see the 24-year old perform in concert. Recently, someone bid $1,134.99 to win the torn stub of one of these rare '66 tickets while it was up for auction on eBay. In other words, the winner paid 324 times more for it than the original ticket buyer did.
This Saturday night ticket stub dated Feb. 19, 1966 was listed to be in "amazing" shape and the rip cleared the perforation, definitely a rare occurrence. The sale included a page of the Feb. 21, 1966 Ottawa Journal newspaper with a headline that announced "Singing Crusader Casts Spell In Ottawa." Also included in the sale was a 1986 Canadian mono copy of Dylan's 'Freewheelin' album, which carries its own (slim but notable) weight in terms of value.
The clipping reveals that Dylan was dressed in a grey suit and blue-striped shirt. He split the show into two separate acts; the first one being acoustic while the latter featured him on electric guitar leading The Hawks, a five-piece rock 'n' roll band from Toronto who would soon become known as the Band. Though he played guitars and harmonica for most of the show, the storyteller sat at the piano while he performed 'The Ballad Of A Thin Man.'
Typically, concert attendees discard their ticket stubs somewhere between the encore and the exit yet a small group of fans treasure these torn, colored, nuggets and consider the stubs to be badges of honor. In this case, the badge is nearly 50 years old and all honors aside, a very expensive concert souvenir.
More From Ultimate Classic Rock