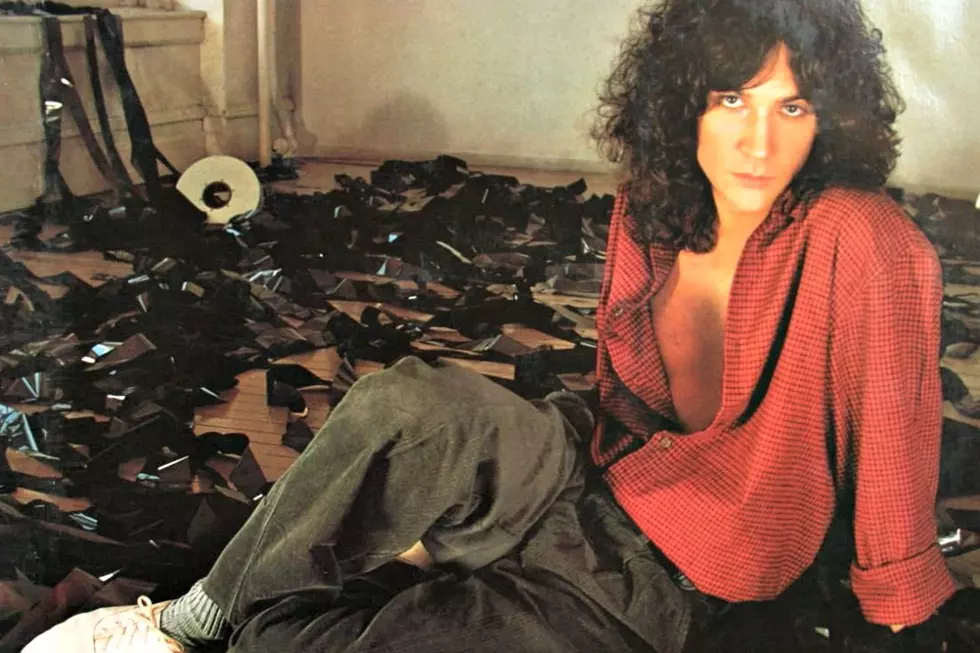 How Billy Squier Began a March to Stardom on 'The Tale of the Tape'
Capitol
Billy Squier spent the late '70s watching his band Piper rise through the rock 'n' roll ranks. But after two albums with the band, he knew he needed something more. By the end of the decade, Squier departed to begin his solo career.
"I wasn't getting any younger," Squier later told Robert Haber. "I had to take control of my albums and I couldn't do that without hassles within Piper. So, when it came time to make the third Piper album, I didn't think it was worth carrying on with that band. It was time to make the first Billy Squier album."
That album turned out to be The Tale of the Tape, a nine-track collection that heralded Squier's arrival as a solo artist when it reached stores in May 1980. Like a lot of new artists, he found it difficult to achieve immediate mainstream success, but the record's huge riffs, stomping beats and singalong choruses helped Squier make early inroads at rock radio that would benefit him in a big way later in the decade.
"It moved me up a notch on the ladder and it got a lot of airplay. 'You Should Be High, Love' was the number-one top requested song for almost two months in the country on rock radio. It really increased industry awareness a lot," Squier told Addicted to Vinyl. "I had a real good tour in support of that record with Alice Cooper. ... That was my initial solo album and I felt real good about where I was after that."
As Squier went on to explain, he might have increased awareness even further, if not for a packed Queen schedule that prevented Brian May from producing the LP. "Brian was going to produce Tale of the Tape and then they got drawn out -- that was around the time that they were doing The Game and Flash Gordon and stuff like that. He got a little bogged down and couldn't do it," he recalled. But in his absence, May recommended the producer the band was working with on those projects, Reinhold Mack, who ended up behind the boards for Billy Squier's breakthrough effort, Don't Say No, the following year.
"He said, 'I think you should use Mack, if you can get Mack to do it. I think that Mack would be great for you,'" Squier said. "Mack was a big part of the success of that record - the sound of that record and the way he put it together, it was definitely important. I could not have done that record without him."
It's worth noting that Squier failed to land the producer he originally wanted for The Tale of the Tape. Still, he ended up securing the services of a group of people who were pretty impressive in their own right, including veteran co-producer Eddy Offord, future Kiss guitarist Bruce Kulick and former E Street Band members David Sancious and Ernest "Boom" Carter, all of whom helped him further realize the ambitions that drew him away from Piper.
Soon enough, Don't Say No would make Squier an early '80s superstar, catapulting him to rock's multi-platinum upper echelon and easily eclipsing The Tale of the Tape. But if his debut didn't move as many units as subsequent efforts, it ultimately ended up establishing a different kind of legacy for itself through its lead-off track, "The Big Beat," whose titular groove would go on to be sampled by a long list of hip-hop artists over the ensuing decades.
"It's the most sampled song in history – they said that on MTV, so even if I'm wrong, I'm not making it up," Squier said with a laugh during a 2005 interview with the Boston Globe. "The intro of the song is me with my hands in a trap case, beating on the side of it. I just walked around the studio banging on stuff, looking for a sound. ... People sometimes write that Billy is the king of hip-hop. I didn't even know what hip-hop was then."
He may not have known what it was, but hip-hop has contributed hugely to Squier's bottom line in the years since the height of his '80s fame, opening up a revenue stream that allows him to approach his career on his own terms instead of pursuing or accepting projects out of financial need. In fact, while he continues to perform, these days Squier's just as likely to be found caring for 20 acres of New York City's Central Park — a personally fulfilling volunteer position he's able to maintain partly because he remains a constant fixture on hip-hop stations, even if a lot of listeners aren't aware of it.
"He's definitely someone who helped mold and shape hip-hop with his music," veteran MC Big Daddy Kane told the New York Post in 2013. "I would put him in the category of James Brown, the Honeydrippers and Chic. He gave the B-boys and B-girls a track to dance to, but it would only be a DJ or an MC who knows who Billy Squier is."
 
 
The Top 100 Albums of the '80s
More From Ultimate Classic Rock