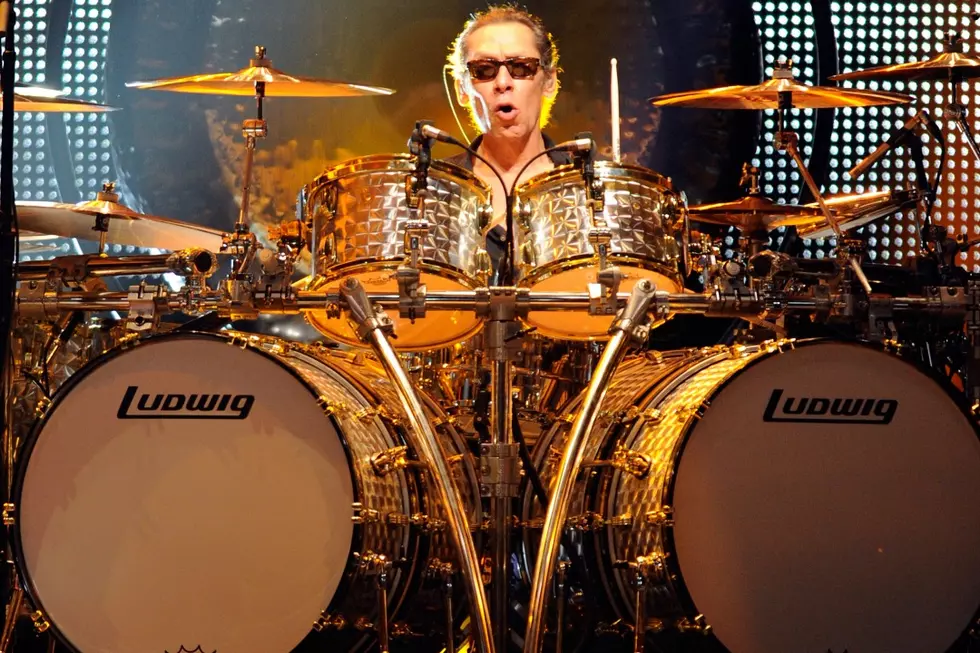 Top 10 Alex Van Halen Songs
David Becker, Getty Images
This list of Alex Van Halen songs proves just how important his drumming was to Van Halen's famous sound, even though he was often overshadowed by his guitar playing younger brother.
His dynamic and underrated playing helped their eponymous group weather a series of lineup changes and stay atop the rock heap for decades, keeping up with – and frequently starting –many genre-shifting trends. Here are 10 tracks that show just how strong a foundation the elder Van Halen created for the group's success. Bottoms up!
10. "As Is"
From: A Different Kind of Truth (2012)
The long-awaited A Different Kind of Truth album proved that we were not nearly done hearing great new Alex Van Halen songs. He's in fine form throughout, from the heavy swing of "She's the Woman" and "Outta Space" to the more restrained touches displayed on the smoldering "You and Your Blues." But "As Is" is the song where Alex really takes center stage. Right from the start, it's he, not Eddie, who leads the charge through this dizzyingly dynamic rocker. If you ask us – and sadly, nobody did – this is the song the group should have used to open the show on the album's supporting tour.
9. "The Seventh Seal"
From: Balance (1995)
Yes, we're leaving a lot of prime '70s and '80s tracks off in favor of this far more obscure number from the last, comparatively spotty "Van Hagar" album. But we love it when the Van Halen brothers wander into progressive rock territory – see also "Mine All Mine" and below, "Pleasure Dome" – and Alex's work breaking down and then re-starting this one at around the 2:30 mark always gets our blood pumping.
8. "Get Up"
From: 5150 (1986)
Sometimes it seems like the whole reason this song exists was to prove Alex Van Halen could maintain the speeds he reaches at the start of "Hot for Teacher" throughout an entire song. For once, we're impressed his younger brother Eddie could keep up with him! If we could change anything about Van Halen's past (other than, well ... you know) it'd be that tinny mid-'80s drum sound, but the pyrotechnics on display here easily overcome even that obstacle.
7. "Light Up the Sky"
From: Van Halen II (1979)
Of course, the drum solo at 2:21 is what first earned "Light Up the Sky" a spot on our Alex Van Halen song list. But more importantly, this is a great example of Van Halen's ability to add dynamic, dramatic moments into even their briefest, most hard-charging tracks. Much like the famous "hear my heart beat" interlude on "Romeo Delight," the mid-song gear shift here gives extra punch to a song that was hardly lacking to begin with.
6. "Pleasure Dome"
From: For Unlawful Carnal Knowledge (1991)
Thank goodness Alex got a real drum sound back for 1991's back-to-basics For Unlawful Carnal Knowledge album. He took full advantage throughout, but nowhere better than on this fantastically nerdy little trip into the cosmos. Sammy Hagar's stream-of-consciousness lyrics from the studio version were actually pretty cool, but live the group decided to make this song what it was probably supposed to be all along – an all-instrumental showcase for their drummer's often-overshadowed skills.
5. "Girl Gone Bad"
From: 1984 (1984)
Somewhere in Los Angeles, there are walls and walls filled with the unreleased tapes of late-night jam sessions between Alex and his brother Eddie. It's not hard to imagine this song spontaneously emerging nearly intact from one of those evenings. The telepathic siblings effortlessly change speeds, moods and tone throughout this song, which escaped its deserved level of attention only because it sat alongside more easily digested mass-appeal monsters such as "Panama" and "Jump."
4. "Loss of Control"
From: Women and Children First (1980)
Here's how we imagine this song was created: Alex – unaware he was being recorded – simply decided to play the craziest drum patterns he could think of for three straight minutes. Then later, his bandmates Frankenstein-ed the rest of the song together without his involvement. Obviously, there's people out there that know the real story, but please know we have no interest whatsoever in hearing it.
3. "I'm the One"
From: Van Halen (1978)
Everybody's got that one friend who's just very annoyingly musically talented, right? The kind of guy who breaks his leg and then spends the time in a cast successfully learning every Van Halen song? Well, in our world that's guy's name is Bryon, and here's his contribution to our Alex Van Halen songs list: "You have to include 'I'm the One,' because it was the first time, that I can recall, that anyone had done something like that rhythm with kick drums, and it is amazing." So there you go. (Truth be told, it was already on our list.)
2. "Everybody Wants Some!!"
From: Women and Children First (1980)
There aren't going to be any big surprises in the upper reaches of our Alex Van Halen songs list, but gosh darn there's gonna be some cool drumming. Of course the big tribal rhythms of the eighth-best classic rock song of all time had to be included. "Everybody Wants Some!!" became a cultural landmark thanks to its fantastic use in the 1985 film Better Off Dead, and it also became the undisputed centerpiece of the band's latter-day concerts.
1. "Hot for Teacher"
From 1984 (1984)
Well, duh. Were you expecting "Doin' Time?" Has there ever been a song with a more famous drum introduction than "Hot for Teacher?" Surely not in the last few decades. The thing is, even without that opening bit of studio-assisted wizardry, the stop-start shuffle of this song would still probably rank pretty high among Alex's finest songs.
More From Ultimate Classic Rock