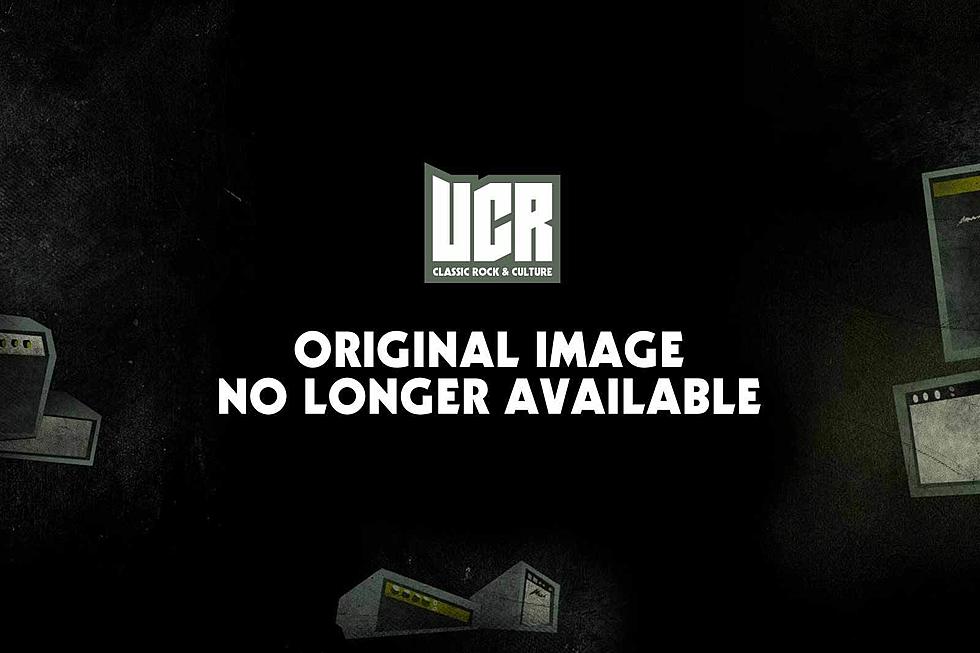 Top 50 AC/DC Songs: 30 to 21
30

'Hard as a Rock' 

From: 'Ballbreaker' (1995)

There aren't any real surprises to be found on the unquestionably infectious 'Hard as a Rock' -- an all-purpose crowd-pleaser from 1995's back-to-basics triumph 'Ballbreaker' -- which was obviously composed to order just like every other modern AC/DC single. We're talking big guitar chords, bigger sexual innuendos and giant stage props (in this case, a wrecking ball!). But there's a reason why the band has gone back to the well time and time again over the years: It works.

29

'Who Made Who'

From: 'Who Made Who' (1986)

Most AC/DC purists wish this uncharacteristically commercial soundtrack theme song (which served as an excuse for a half-assed greatest-hits LP used to help boost the band's flagging mid-'80s profile) had never come about. For starters, the Youngs' guitar tone sounds oddly synthetic, Cliff Williams' pumping bass intro is just a few steps removed from bad dance music and the Stephen King movie it was written for ... well, don't even bother. But we still can't deny 'Who Made Who''s mainstream popularity. Or its usefulness in keeping AC/DC on the charts until they could turn their fortunes around.

28

'Big Gun'

From: 'The Last Action Hero' Soundtrack (1993)

AC/DC's next foray into the soundtrack world fared better, even if the movie in question bombed nearly as hard as the first one. But this time AC/DC had the gale-force winds of a proper comeback album at their backs (that would be 1990's 'The Razor's Edge') and the guiding hand of producer maximus Rick Rubin at their disposal. 'Big Gun' fires a fittingly explosive shot across the bow of grunge rockers, proclaiming that this old battleship wasn't sunk just yet. Not even Arnold Schwarzenegger's cameo could ruin the song's video.

27

'Live Wire'

From: 'T.N.T.' (1975)

During the Bon Scott era, AC/DC probably opened more shows with this rousing crowd-igniter than any other song in their discography. And with good reason, since 'Live Wire' steadily grows from a deceptively tranquil introduction of Mark Evans' bass guitar into a raging, drooling Frankenstein's monster of electrified rock 'n' roll -- perfect for whipping audiences into a frenzy. Sadly, the song has been pretty much retired throughout

Brian Johnson

's reign, but lyrics like "

Cooler than a body on ice / Hotter than a rollin' dice / Wilder than a drunken fight / You're gonna burn tonight

" still define AC/DC to a T.

26

'Guns for Hire'

From: 'Flick of the Switch' (1983)

This clear standout from 1983's so-so 'Flick of the Switch' proved perfectly suited to opening the band's tours throughout the album's run. Taking advantage of 'Guns for Hire's' staccato blasts of six-string frenzy,  timed to coincide with carefully choreographed spotlights onstage,

Angus Young

would bring audiences to the boiling point before his bandmates crashed the stage and tore through the song with wild abandon. We can confidently say that, to this day, few songs recorded during the Brian Johnson era pack as much excitement as 'Guns for Hire.'

25

'Hell Ain't a Bad Place to Be'

From: 'Let There Be Rock' (1977)

This song came second on more set lists than probably any other tune throughout AC/DC's long touring career -- because it usually offered a timely change of pace following the band's invariably explosive arrival onstage. But 'Hell Ain't a Bad Place to Be' takes second place to no song in the annals of mid-paced, AC/DC groove machines; in fact, it fine-tunes the template perfected a few years later on 'Highway to Hell.' And, much like the latter classic, this one also finds Bon Scott weaving in and around the signature riff while contemplating his options for the next life with typical sass and optimism.

24

'Let's Get It Up'

From 'For Those About to Rock (We Salute You)' (1981)

'For Those About to Rock's' first single offered a bluesy, surprisingly laid-back change-up for fans still verifying the state of their singed eyebrows following the bombastic title track's 21-gun salute (actually 17, but who's counting?). As such, 'Let's Get It Up' may have seemed a little old-school for members of the new generation of hard-rock fans yearning for ever-louder and heavier rewards. But we're pretty sure they'd agree that the song's massive grooves are simply undeniable, its chorus totally infectious and its call-to-action crystal clear (well, sort of).

23

'Ride On'

From: 'Dirty Deeds Done Dirt Cheap' (1976)

By our count, AC/DC recorded only two true ballads out of the nearly 200 songs in their catalog, and the first -- the Australia-only glam-period leftover 'Love Song' -- is best forgotten. So that leaves 'Ride On,' which finds Bon Scott musing about his troubles from the perspective of a wily and weary Spaghetti Western-style cowboy. Whether he's the good guy or bad guy in the story may be subject to interpretation, but we'd still jump at the chance to join his posse either way.

22

'Rock 'n' Roll Ain't Noise Pollution'

From: 'Back in Black' (1980)

This is just the kind of statement song AC/DC needed to wrap up the flawless 'Back in Black' album: a song defending rock 'n' roll's reputation as a force for good at a time when, believe it or not, such statements were sometimes still required. Going one step further, 'Rock 'n' Roll Ain't Noise Pollution' alerts naysayers not to question the music's staying power by concluding that "Rock 'n' roll will never die." And in case you never noticed, this message served as a segue to the opening title track of the following year's 'For Those About to Rock (We Salute You).'

21

'Down Payment Blues'

From: 'Powerage' (1978)

Perhaps the ultimate AC/DC cult song, this hardscrabble, heavyweight rhythm & blues from 1978's 'Powerage' finds urban poet

Bon Scott

contemplating the endless contradictions of his rock 'n' roll lifestyle with uncommon insight, even by his lofty standards. Just sit back and marvel as he unloads line after line of self-deprecating sarcasm, including gems like "

I know I ain't doing much / Doing nothing means a lot to me

" and "

Got myself a Cadillac / But I can't afford the gasoline

." After hearing this, we'd cover Scott's rent and any other debts without a moment's hesitation.
More From Ultimate Classic Rock