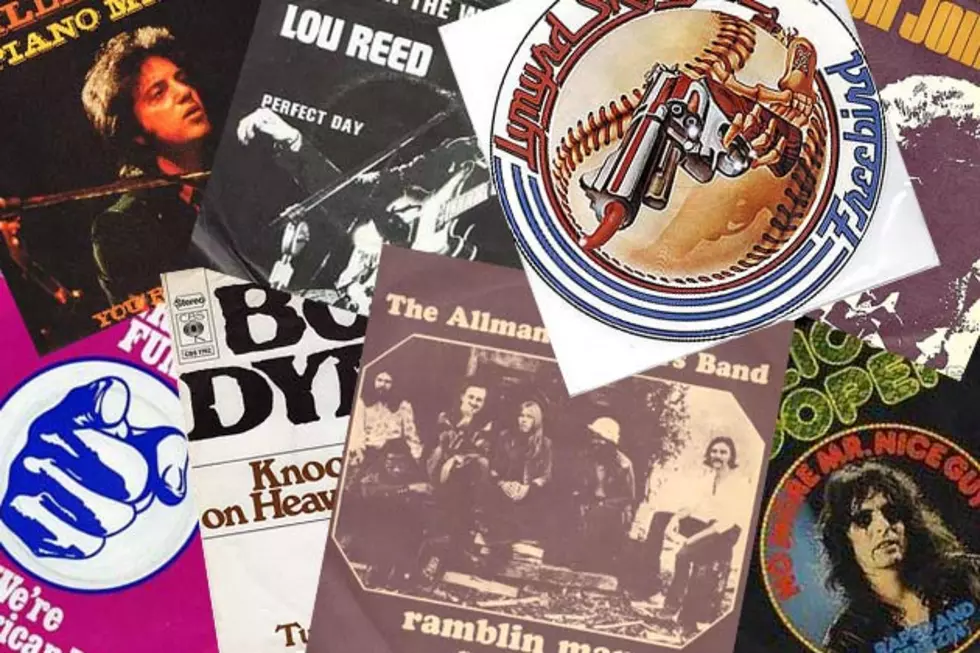 UCR
It was a great year for albums, as some of rock's biggest names released their all-time best LPs in 1973. But many of the year's best songs work better as stand-alone singles rather than album tracks, which is why only two cuts on our list of the Top 10 Songs From 1973 can be found on our list of the year's best albums. That's not to say those albums didn't contain great songs, or that these songs weren't pulled from good albums. It's just that these are the songs from 1973 we could listen to over and over again.
10

Before they started work on the Band on the Run album, McCartney and Wings were commissioned to write and perform the theme song for the eighth James Bond movie. "Live and Let Die" became the biggest Bond theme to that point, reaching No. 2. Beatles producer George Martin was enlisted to produce and score the song's orchestral midsection. It was the first time McCartney worked with him in years.

9

After four years of mostly missing the Top 40, the Michigan band scored its first No. 1 hit with this cowbell classic, which was produced by Todd Rundgren. There's nothing subtle about Grand Funk Railroad or "We're an American Band," which is probably for the best when you're dealing with a song about willing after-show groupies.

8

Alice Cooper was coming off the biggest hit of his career ("School's Out") when he released the Billion Dollar Babies album in 1973. It became his only No. 1 LP, thanks to this catchy, guitar-driven single that winks at his onstage reputation. The cut, which made it to No. 25, is one of several on our list of the Top 10 Songs From 1973 that's rooted in real life.

7

Following Duane Allman's death in 1971, things were somewhat dicey for the rest of the band. Their 1972 album Eat a Peach was cobbled together with some leftover Duane tracks. So when the Allmans reconvened in late 1972 to record their first album without their star guitarist, nobody was really sure how it would turn out. It turned out to be a hit: Brothers and Sisters would become their only No. 1 album, and "Ramblin' Man," the most accessible song of their long career, became their only Top 10 hit, stopping at No. 2.

6

'Stuck in the Middle With You'

Stealers Wheel

Back when this song first hit airwaves, fans thought they were hearing a new Bob Dylan track. Nope, this Scottish band was actually playfully mocking Dylan. Even though "Stuck in the Middle With You" was Stealers Wheel's only hit, the band and the single didn't completely fade away: Singer Gerry Rafferty had a huge hit in 1978 with "Baker Street," and the song underlined an infamous scene in Quentin Tarantino's debut movie Reservoir Dogs.

5

Billy Joel's breakthrough hit was inspired by his gig as a lounge singer in Los Angeles after his debut album bombed. (Like other tracks on our list of the Top 10 Songs From 1973, "Piano Man" is based on real events.) Joel rattles off a series of characters, none of whom seem very interested in hearing him play his music. Joel didn't have another hit until four years later, when The Stranger made him a star. But the autobiographical "Piano Man" remains his best song.

4

"Walk on the Wild Side" is one of the oddest songs to ever hit the Top 20. Reed has other songs about junkies, hookers, transsexuals and oral sex, mostly with the Velvet Underground, but none of them ever got any airplay. "Walk on the Wild Side" helped make Reed's second solo album, Transformer (which was produced by David Bowie), a hit.

3

The title track of John's double-album epic features one of his best vocal performances and one of his greatest melodies. It also sounds great, a triumph of both style and substance. "Goodbye Yellow Brick Road" serves as the album's anchor, a reserved work that touches on the singer's gargantuan fame in the '70s.

2

Dylan not only scored the soundtrack to Sam Peckinpah's bloody western Pat Garrett and Billy the Kid, he had a role in it. He's not very good, but the music he wrote for the movie, most of it instrumental, is quietly panoramic. "Knockin' on Heaven's Door," a recurring theme of both the movie and album, is the highlight.

1

At nine minutes, "Free Bird" is not only the longest-running track on our list of the Top 10 Songs From 1973, it's the most epic sounding of the bunch. Lynyrd Skynyrd knew what they had here. "Free Bird" capped their debut album and became their signature tune in concert, where it often stretched out to 15 or more minutes. After 40 years, it remains one of classic rock's most popular songs.
More From Ultimate Classic Rock