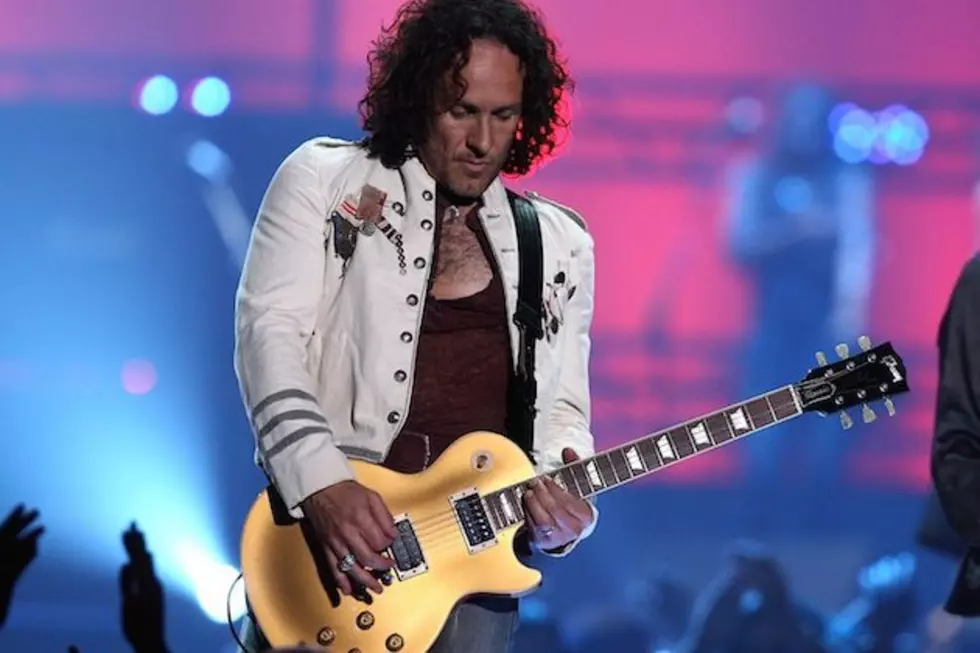 Top 10 Vivian Campbell Songs
Kevin Winter, Getty Images
Guitarist Vivian Campbell has had a remarkable and eventful career, involving numerous groups, both famous and not, over the past 30-plus years. Though frequently described as a journeyman, the Belfast, Northern Ireland native spent long stints with Dio and Whitesnake, and has now been a member of Def Leppard for more than 20 years. It's his versatility and durability in the service of several bands that will likely define his legacy, as seen by the following list of Top 10 Vivian Campbell Songs.
10

From: 'Holy Diver' (1983)

Our man of the hour first came to widespread attention after joining Dio, the band put together by legendary singer Ronnie James Dio. So why not start our list of Top 10 Vivian Campbell Songs with their first LP's title track, featuring one of his most memorable blazing guitar solos.

9

'Work it Out'

Def Leppard

From: 'Slang' (1996)

Over a decade later, Campbell joined Def Leppard as a replacement for recently deceased guitarist Steve Clark. He quickly made his presence felt via songwriting contributions like 'Work it Out' — the second single released from the group's polarizing album, 'Slang.'

8

From: 'Riverdogs' (1990)

In between Dio and Leppard, Vivian logged a few years on the road with Whitesnake, but, unfortunately, never recorded with the band. In 1990, he starred in a new band named Riverdogs, which sadly never took off. Still, their single 'Toy Soldier' is well worth checking out.

7

'What Would it Take'

Shadow King

From: 'Shadow King' (1991)

6

'Gotta Let it Go'

Def Leppard

From: 'Songs from the Sparkle Lounge' (2008)

Campbell's most recent studio album with Def Leppard, 2008's curiously named 'Songs from the Sparkle Lounge,' concluded with this moody, explosive number penned by Vivian — a natural choice for our list of Top 10 Vivian Campbell Songs.

5

'Don't Talk to Strangers'

Dio

From: 'Holy Diver' (1983)

This incredible tune was already written before Campbell joined the Dio fold, but it contains one of his most jaw-dropping and recognizable solos. A benchmark of both dazzling technique and taste, this solo was clearly inspired by Campbell's biggest hero (and fellow Belfast native), Gary Moore.

4

'Eye of the Storm'

Sweet Savage

From: 'Demo 81' (1981)

Like many guitarists of his generation, Vivian Campbell came up during the New Wave of British Heavy Metal — specifically with the seminal Northern Irish band, Sweet Savage. Their best-known cut, 'Eye of the Storm,' traded hands in demo form in 1981, and another Sweet Savage song, 'Killing Time,' was later covered by Metallica.

3

From: 'The Last in Line' (1984)

Dio's sophomore album brought the band to its commercial peak, and not by mere coincidence, as it contained some of Vivian Campbell's best work, both as a player and composer. To wit, we give you the album's dramatic title track, showcasing Campbell — still just 22 years old at the time — in top form.

2

'Rainbow in the Dark'

Dio

From: 'Holy Diver' (1983)

Vivian Campbell also had a hand in composing the signature tune of Dio's entire career, 'Rainbow in the Dark,' which we obviously couldn't ignore in our list of Top 10 Vivian Campbell Songs. Then Campbell adorned it with one of his most inspired and recognizable solos — perhaps best appreciated via this vintage live performance.

1

From: 'Hear 'n Aid' (1986)

Inspired by charity supergroups such as USA for Africa and Band Aid, Vivian Campbell and Dio bassist Jimmy Bain convinced their Dio boss and the heavy metal community at large to do their part for famine relief via 1986's Hear 'n Aid project. And, when time came to record the superstar jam, 'Stars,' Campbell led a literal guitar hero cavalcade to record spectacular leads for the song's extended solo section, as showcased on the following video.
More From Ultimate Classic Rock