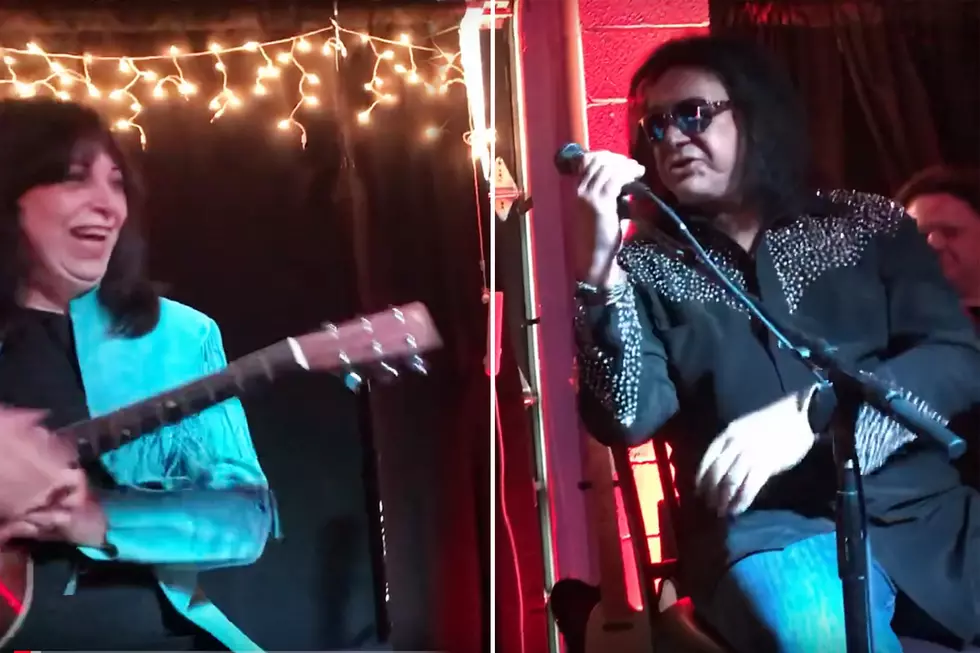 Vinnie Vincent Says He Almost Skipped Gene Simmons' 'Vault' Show
YouTube
Vinnie Vincent says that his appearance at one of last year's Gene Simmons Vault Experience shows almost didn't happen because of his lengthy battles with Kiss over royalties. He ultimately did decide to go, but says he was already regretting it on the way home.
As he recalled in a new Rock Talk With Mitch Lafon interview (embedded below), Vincent was driving to the event in Nashville when, thinking about his history with Simmons and Kiss, "I almost turned around and said, 'Go fuck yourself.' Why in the world would I come down and greet you with a smile and try to make this work when what you did to me was reprehensible at best?"
Vincent says he filed suit in 1997, claiming that he was owed millions of dollars from his tenure in Kiss. "These are mine, the fruits of my talent, my labor," he explains. "These are my earnings and you have no right to them. ... I was not giving up. I was going to my grave making sure I sought justice, one way or another. I was going to fight this lawsuit until there were I don't care how many justices retired."
All of this was replaying in Vincent's head on the car ride to the Vault appearance, particularly a moment when he says Simmons' attorney told him, "Oh, Gene would rather pay us $2.5 million in legal fees to fight you than to give you one penny.'"
"There was no reason for any of that," Vincent said, arguing that it would have been easier to simply thank him for his time in the band and offer a settlement instead of dragging it out for almost 20 years. "They did some hideous shit in court to me that was beyond anybody's belief. Beyond the belief of many attorneys I know, that couldn't even believe anybody would go to these unethical levels of trying to hurt somebody, intentionally.
"When you have money, you buy justice. You may not even buy justice, you buy a win or you buy a lose. Mostly people with that kind of money do not lose. Judges are not on the same wavelength of justice. It's a good old boy game."
Vincent goes on to say that the Vault Experience show was his first time seeing Simmons since "being run over by his bus. It's easy to run over somebody when you can just keep forking hundreds of thousands of dollars to your law firm to say, 'Hey, destroy Vinnie. Hey here's another $150,000, here's another $500,000. I want you to destroy Vinnie.'"
Vincent even pulled his car over, which caused him to arrive late, but kept driving when he told himself, "'You made a promise and he's expecting you there.' And if you're gonna try to put [this] behind you and try to bury this, which is very difficult, it's like somebody murdering your child and you're gonna try to face that person again and say, shake their hand. Which is near-impossible, OK? I'm not built that well, where I can shake somebody's hand for doing that."
He concluded by saying that Simmons didn't even seem particularly welcoming to him. "I felt that it was a cold reception... I was treated very indifferently, and driving home I thought, 'Now why did you just do this?' ...  We took some photos, we talked a little bit, you know, superficial, very indifferent, very cold, nothing warm. And I thought, 'OK, that's the last time I will do the favor, and don't ask me again.'"
Vincent will next take the stage on June 7 at S.I.R. Soundstage in Nashville, a performance which he's calling Speedball Jamm, after his 2001 limited edition instrumental album. He told Lafon that the show will be "the informal, onstage-look-at-each-other and everybody just join in [and] follow where I'm going and let's play our asses off and have fun. It'll probably be about an hour or so of guitar. Vinnie guitar."
A Complete Guide to Kiss Lineup Changes
More From Ultimate Classic Rock