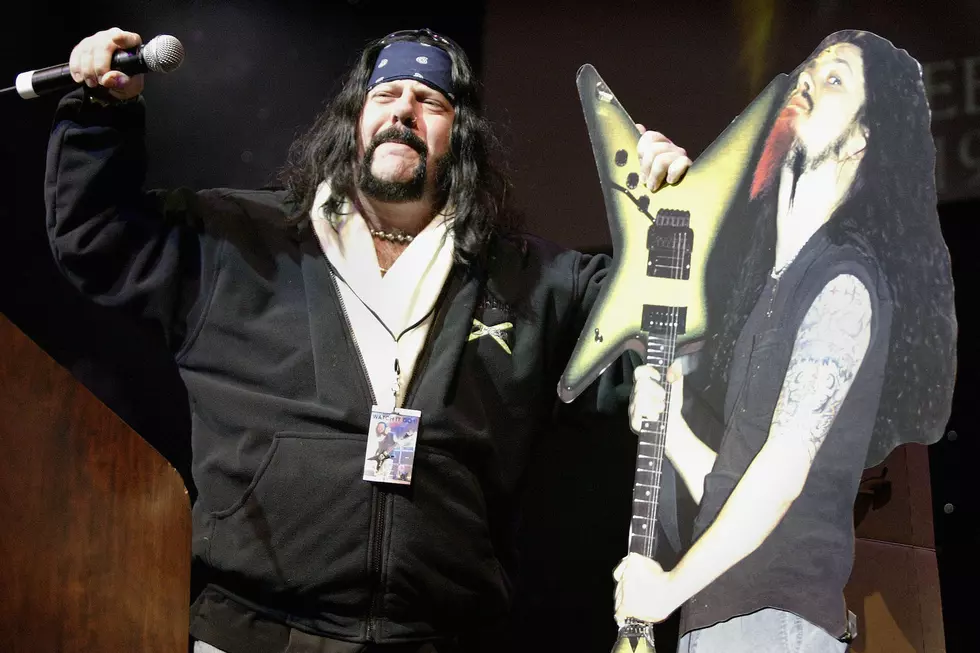 Vinnie Paul to Be Buried in a Kiss Kasket, Just Like Dimebag
Paul Buck, Getty Images
Former Pantera drummer Vinnie Paul will be buried in a Kiss Kasket, following in a tradition begun by his bandmate and younger brother Dimebag Darrell.
TMZ is reporting that Gene Simmons and Paul Stanley provided the custom casket, which was offered as a gift at the request of Vinnie Paul's family. Dimebag Darrell was buried in the original prototype in 2004, following his onstage murder during a performance with the Pantera successor band Damageplan.
But Haney said Van Halen refused to enter the funeral parlor. "Eddie said, 'I can't go in there, I can't see him like that: I want to remember him like he was that night I met him,'" she noted.
Dimebag was killed on Dec. 8, 2004, while on tour in support of Damageplan's debut album, New Found Power. Nathan Gale, a mentally deranged former U.S. Marine, stormed the stage in Columbus, Ohio, and shot him. Paul survived after a band tech, John Bushman, pulled the drummer off the stand and then threw himself on top of him.
Paul died in his sleep last week at age 54; the cause of death has not yet been revealed. His plot is in Arlington, Texas, near where both Dimebag and their mother are buried. TMZ is also reporting that services will be held Saturday, with a public memorial concert to follow on Sunday at the Bomb Factory in Dallas. The event is free, though wristbands will be handed out.
See Pantera in the Top 50 Heavy Metal Albums
More From Ultimate Classic Rock