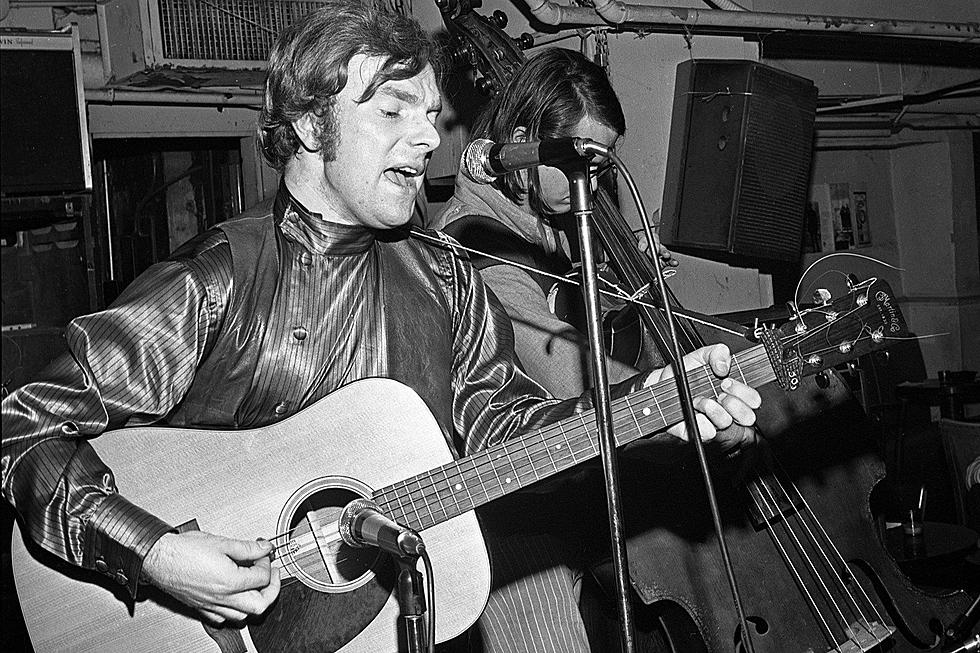 Top 10 Van Morrison Songs
Michael Ochs Archives, Getty Images
The Top 10 Van Morrison songs showcase one of the most recognizable voices in music, with emotion dripping from each and every track. It was unreasonably hard to narrow down a list of this Rock & Roll Hall of Famer's greatest moments, looking back on such classic records as Moondance, Astral Weeks and Tupelo Honey. With a catalog this deep, standout tracks such as "Wild Night," "And It Stoned Me," "Sweet Thing," "Real Real Gone" and even "Gloria" ended up on the outside looking in. So, get ready for a Top 10 Van Morrison Songs list that's sure to start a fight or two.
10

'Caravan'

From: Morrison's 'Moondance' (1970)

"Caravan" makes our list of Top 10 Van Morrison Songs because of its importance to the singer himself, but also because of its historical significance as part of the Band's Last Waltz concert film, where Morrison reprised the track with Robbie Robertson's crew. A fascination with the gypsy lifestyle, as well as Morrison's own experiences growing up in a rural house in Woodstock, N.Y., factor into the lyrical content through his expressive voice. The Counting Crows later performed "Caravan" as their homage to Morrison at his 1993 Rock & Roll Hall of Fame induction.

9

'Baby Please Don't Go'

From: Them single (1964)

Before his solo career, Van Morrison's distinctive vocals led the way for Them, an early '60s breakout band. One of their biggest hits was a cover of the Big Joe Williams classic "Baby Please Don't Go," which was penned back in 1935. Them's version also featured then-unknown Jimmy Page on rhythm guitar. The single had a pretty successful B-side, as "Gloria" went on to achieve hit status as well.

8

'Days Like This'

From: Morrison's 'Days Like This' (1995)

"Days Like This" is a significant song for a couple of reasons. Morrison showed he still had hit-making potential nearly 30 years into his career with this track, which cautions about the highs and lows that come with life and advises the listener not to get overly concerned with either. The song also became the official anthem for the peace movement in Northern Ireland, while playing as the theme music for a TV ad promoting a cease fire in the country.

7

'Crazy Love'

From: Morrison's 'Moondance' (1970)

Van Morrison's soulful 1970 ballad has no doubt played in the background on many a romantic evening. The tender track has been one of the most covered songs throughout the years, as Robbie Robertson, Aaron Neville and Brian Kennedy all had versions featured on film soundtracks. Rod Stewart, Bryan Ferry, Helen Reddy and Michael Bolton have also covered the track. Ray Charles sang "Crazy Love" with Morrison during his induction into the Rock & Roll Hall of Fame, and enjoyed it so much that he later added the song to his Genius Loves Company duets record.

6

'Here Comes the Night'

From: Them single (1965)

"Here Comes the Night" is another gem out of Them's early catalog. The track was a favorite of the band, who reportedly got upset with their label when it wasn't the follow-up single to "Baby, Please Don't Go." Keyboardist Phil Coulter said, "I knew it was a smash. It was the first time I'd ever hear a hit record in its emerging state." "Here Comes the Night" again featured young guitarist Jimmy Page, who had earlier played on "Baby Please Don't Go."

5

'Jackie Wilson Said (I'm in Heaven When You Smile)'

From: Morrison's 'Saint Dominic's Preview' (1972)

There's definitely a lot of soul in the delivery of Van Morrison, who's stated that '50s R&B hitmaker Jackie Wilson was a key influence in developing his style. So when the opportunity arose to pay tribute to one of his heroes, Morrison took it. This upbeat ditty was inspired by a line in Wilson's song "Reet Petite" and speaks to the joy and elation one can get from listening to their favorite song. "Jackie Wilson Said" has been covered several times over the years, with Dexys Midnight Runners having the most success.

4

'Moondance'

From: Morrison's 'Moondance' (1970)

The title track from Moondance earns a spot on our list of Top 10 Van Morrison Songs because he steps out of his blues forte to try out something jazzier. The song is driven by the walking bass sounds of John Klingberg, while sax, flute and piano also feature prominently as Morrison scats about his favorite season, autumn. He says he envisioned "Moondance" as a sophisticated track that wouldn't feel out of place in a Frank Sinatra set list. The track had a bizarre trajectory, however, as it was finally released as a single seven years after the album came out.

3

'Domino'

From: Morrison's 'His Band and the Street Choir' (1970)

"Domino" finds Van Morrison again paying tribute to one of the greats, as he penned this upbeat ditty as a nod to Fats Domino. Morrison lets loose for one of the most infectious sounding cuts of his career. He wrote "Domino" in 1968, but some believe he held onto it until 1970 because of its hit potential. He apparently didn't want "Domino" to fall under a publishing deal in which he would have given up half the profits. Morrison was right: This holds the distinction of being his highest-charting single ever.

2

'Brown Eyed Girl'

From: Morrison's 'Blowin' Your Mind' (1967)

You can't have a Top 10 Van Morrison Songs list without including "Brown Eyed Girl." While it seems unfathomable that this was ever named anything else, Morrison initially titled the song "Brown Skinned Girl." "That was just a mistake," he admitted. "It was a kind of Jamaican song, calypso. It just slipped my mind, and I changed the title." Only later, when looking at the tape box, did Morrison realize he'd inadvertently sung "Brown Eyed Girl." Luckily, it stuck. The track was subsequently inducted into the Grammy Hall of Fame.

1

'Into the Mystic'

From: Morrison's 'Moondance' (1970)

Van Morrison wants to rock our gypsy souls, and he did so with such grace and style that "Into the Mystic" became an instant classic. He takes listeners on a spiritual quest, though even Morrison admitted he wasn't sure the exact direction he wanted to take. Much like "Brown Eyed Girl," this track underwent some changes before submission: There were two sets of lyrics and an alternate title, "Into the Misty." Its ethereal feel led to a title change, and Morrison said both sets of lyrics were essentially about being part of the universe.
More From Ultimate Classic Rock