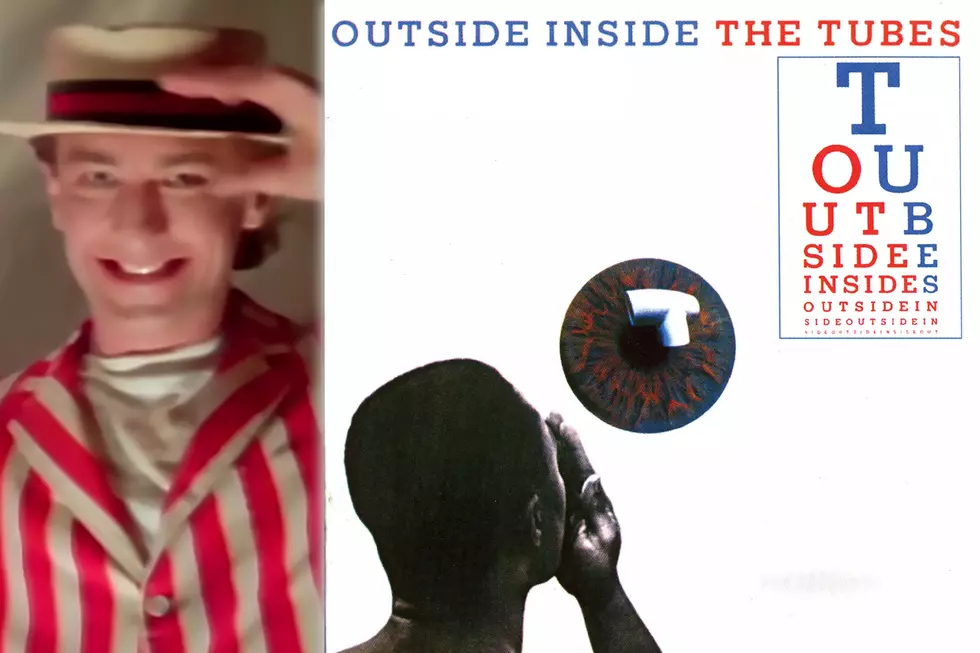 40 Years Ago: The Tubes Go 'Outside Inside' for Their Biggest LP
MTV, Capitol Records
From the Tubes' beginnings in 1972 through the end of that decade, they were among the most outrageous bands on the planet. A&M Records bankrolled the whole party beginning with their self-titled, Al Kooper-produced debut album in 1975, through three more studio records that culminated with 1979's Remote Control, helmed by Todd Rundgren. Each was a unique presentation of theatrical pomp and satirical wit that delighted fans, and not many others; after Remote Control failed to dent the Top 40 on the album chart, A&M dropped the band.
Not long after, Capitol signed the Tubes and in 1981, in defiance of the band's history of oddness, paired them with an unlikely producer: session keyboardist, arranger and budding hitmaker David Foster. "He had never done a rock 'n' roll album before," Tubes singer Fee Waybill told For the Love of Bands. "We had just finished working with Todd Rundgren, and they couldn't be more different in terms of their production style."
Whereas Rundgren ran a relaxed session and was tolerant of a certain level of inconsistent performance, Foster was the extreme opposite – a demanding taskmaster, one not afraid of bringing in outside talent if the musicians couldn't cut it, and one not at all hesitant to call for multiple takes.
"He wanted it to be perfect," Waybill recalled. "He didn't wanna do three tracks of three guys singing background vocals to just kind of thicken everything up because one of the parts wasn't perfect. He wanted to do it once and have every part be perfect all the way through."
Watch the Tubes' 'She's a Beauty' Video
Foster was also quite commercially minded; he knew Capitol expected at least one hit from the resulting album, The Completion Backward Principle, so he brought in Toto guitarist Steve Lukather and wrote a song with Waybill, "Talk to Ya Later." The song was a mainstream rock hit, and when it came time to record 1983's follow-up, Outside Inside, Capitol brought back Foster; Foster brought Lukather, and with Waybill, they hit the jackpot again, with "She's a Beauty."
Waybill mined an actual incident for the lyrics. "I lived in San Francisco," he told Songfacts, "and there was a red-light district downtown. It was called the Tenderloin, and it was where there were seedy clubs, bars, prostitutes; it was the underbelly of San Francisco …  In front of massage parlors and houses of prostitution, they used to have these little kiosks. Out in front of this one massage parlor, there was a kiosk that was like a phone booth. It was enclosed, and the sign said, 'Pay a dollar, talk to a naked girl.'
"It was supposed to arouse you so you would go into the 'happy ending' type of massage parlor. It had been there for years, and I'd never done anything like that before, but for some reason, I went up to it and put a dollar in the thing because I was curious. You put a dollar in, the wall slides down, and there is a girl in there who is scantily clad. She starts disrobing, at the same time talking about, 'Hey, baby, come on in. We'll take care of you.'"
The booth itself, if not its occupant, proved inspirational to Waybill when he wrote the pre-chorus to his new song. "Actually, the lyric was, 'You can talk to a naked girl' - it wasn't, 'You can talk to a pretty girl,'" he explained. "And when we went in to record it, David said, 'No, you can't say "naked." This is going to be a single. They're going to play it on the radio. You have to change it.' … So, I changed it to 'You can talk to a pretty girl.'"
The chorus of the song was inspired by Waybill's interaction with Foster. "'She's a beauty' is kind of a Canadian phrase," Waybill said. "David's Canadian and he would always say that: 'She's a beauty, eh?' or 'Beauty, eh?' Which meant 'good.' So that phrase ... came from the recording studio."
According to Foster, the members of the band who weren't Fee Waybill had a hard time accepting "She's a Beauty." "They resisted the hell out of that song," he said on a 2016 episode of Kevin Pollak's Chat Show. "It felt too commercial. That was a tough grind to get them to do that song. Some of them did not love working with me at all, because I was too straight. But I was determined to get them a hit because that's what they needed, I thought."
Released April 4, 1983, Outside Inside contains more than just its biggest single; there are other fine tracks on the record. "Wild Women of Wongo" recalls the fantastical absurdities of early Tubes tracks like "Poland Whole/Madam I'm Adam," with spoken lyrics and shouted choruses.
"[It was] 'Wild Women of Wongo' that Prairie [Prince] wrote the lyrics for," Waybill told Vintage Rock. "I thought that it was all fabrication – the Limpopo River and etc., etc. My wife and I love to watch a documentary called Home. It's a series about architects and these interesting architectural projects. … One we watched said a guy built a house on the Limpopo River and I thought, 'What! There's really such a place?'"
"Tip of My Tongue" shows off the Tubes' little-recognized flair for funk; one of funk's most famous practitioners even lent a hand in getting the song on the album.
"We're working on 'Tip of My Tongue' ... and we've got the melody and the verses and we're kind of struggling on a melody for the chorus," Waybill recalled to Vintage Rock. "We have the lyric. … We're in the studio and we can't seem to find a melody that works for these lyrics and works for this track. We were at a studio called the Complex in Los Angeles and down the hall was Earth, Wind & Fire. [David Foster] said, 'I'm pretty close with [singer] Maurice White, and I'll betcha Maurice could come up with a melody for this.'" Foster, who had co-written much of Earth, Wind & Fire's hit 1979 album I Am, did indeed get White to check out the track and provide immediate assistance.
"He came up with it in no time," Waybill remembered. "And he did all these ad-libs on the chorus. He said, 'You can use the ad-libs no problem.' So it's actually Maurice singing the ad-libs on the record. The whole project was really fun and he came up with some really great parts."
Listen to the Tubes' 'The Monkey Time'
The Tubes also covered "The Monkey Time," a Curtis Mayfield-penned track that Major Lance took to the Top 10 in 1963. Selected as Outside Inside's second single, the band recorded the song as a duet between Waybill and the Motels' singer Martha Davis but ran into trouble when it came time to release the song on its own. "Her manager wouldn't let us do it," Waybill told Rock History Music. "He said, 'Oh, the Motels have a record coming out and this is going to kill the record.' No! This would only enhance [it]. If this is a hit, this is only going to help the Motels down the [line]. ... He wouldn't buy it."
The band re-cut the song, with one of their dancers, Michele Gray, singing Davis' part, and released that as the single. Too much time had elapsed, though, bringing the Tubes' forward progress to a halt.
"By the time we got it out," Waybill said, "it was, like, six months later, and the momentum was gone."
So, too, was the Tubes' relationship with Foster. Perhaps confounded with the number of guest musicians brought in to play their parts on Outside Inside (most of Toto played on the record, as did session vets like bassist Nathan East and singer Bill Champlin), perhaps tired of Foster's taskmaster's ways in the studio, perhaps wary of Foster's desire to contribute more songwriting to a new album, the rest of the band outvoted Waybill and dumped the producer when it came time to record a follow-up album.
When it came time to commit 1985's Love Bomb to tape, Rundgren was back in charge, and the Tubes began a rather rapid descent from their commercial peak.
Top 100 '80s Rock Albums
UCR takes a chronological look at the 100 best rock albums of the '80s.
More From Ultimate Classic Rock