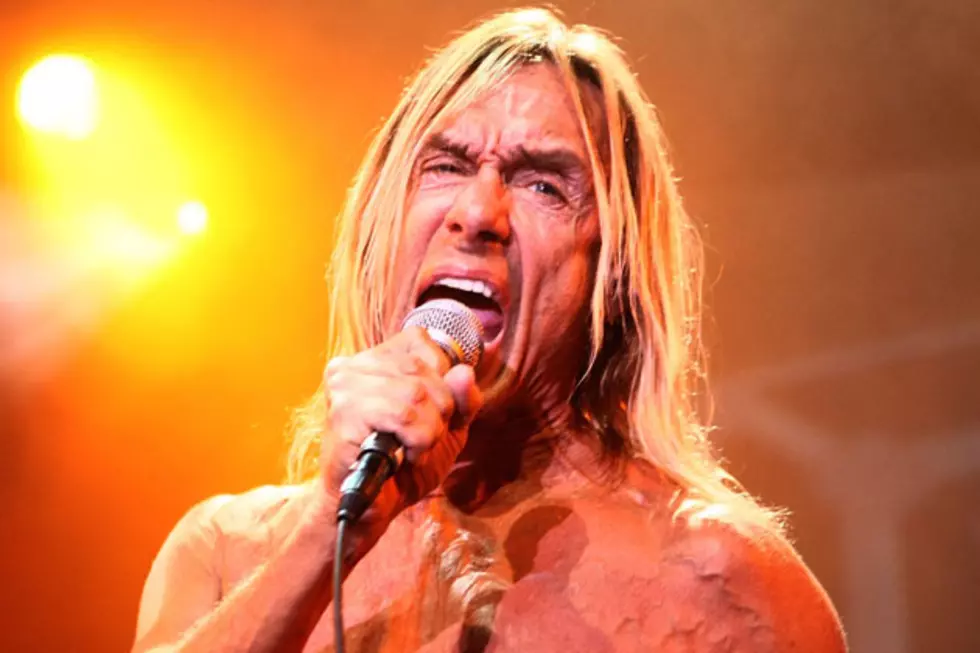 Michael Loccisano, Getty Images
If you are looking for one person to define the concept of taking rock and roll to the brink of insanity, that person may well be Iggy Pop. Since carving out his own identity in 1969 with one of rock and roll's most powerful and important bands, the Stooges, Pop has not only survived against all odds, but thrived over the years. Senior citizenship has had no effect on his over-the-edge performances.
Oh yeah...and there's the music! After three brilliant albums with the Stooges, Iggy set out on a solo trek that saw him taking as many risks musically as he had always taken physically. Sometimes they worked, sometimes they didn't, but the man has never been anything but engaging and powerful. We've put together a list of ten the best from Iggy's post-Stooges albums, so without further adieu, let it rock!
10

'Bang Bang'

From: 'Party' (1981)

Many have criticized Iggy's 1981 album, 'Party,' as being too 'pop' and not Pop enough, if you get our drift. Co-written by guitarist Ivan Kral, 'Bang Bang' certainly shows a 'new wave' influence, but still captures a full charge of classic Iggy. The album was produced by Tommy Boyce, one half of the legendary songwriting team of Boyce & Hart, who wrote several hits for the Monkees, and maintains a glossy, but not sterile, pop sound to it. 'Bang Bang' features some nice guitar work from Kral, and is not only one of the LP's highlights, but is also somewhat of a lost Iggy gem!

9

'Johanna'

From: 'Kill City' (1977)

With a vibe similar to Alice Cooper's 'Eighteen,' 'Johanna' rolls along with a slithering groove oozing of desperation, a perfect fit for our list of the Top 10 Iggy Pop Songs. One of the gems from the 'Kill City' sessions with James Williamson, 'Johanna' manages to build a bridge between the style of 'Funhouse' and 'Raw Power'-era Stooges. A three-minute slow burner with and insistent guitar riff that is nicely colored with its use of sax. Iggy perfectly captures the desperation at the song's core while WIlliamson provides some biting lead guitar.

8

'Candy'

From: 'Brick By Brick' (1990)

Pop goes pop! The pairing up of B-52's singer Kate Pierson with Mr. Pop may have looked odd on paper, but it worked big time on the song 'Candy' from his 1990 album 'Brick By Brick' and captures a previously unheard pure pop side of Iggy. Written solely by Pop, the song is guitar-driven pop of the highest order, complete with descending jangly guitar riff and sweet harmonies on the chorus. Pop and Pierson's vocals blend amazingly well here, helping the song become the highest charting record of his career, making his first (and so far only) appearance on the Billboard Top 40.

7

'I Need More'

From: 'Soldier' (1980)

Written by Pop with Glen Matlock, the man behind the music of most of the Sex Pistols best tunes, 'I Need More' is full of attitude and good old-fashioned vim and vigor. A suitably slinky guitar riff provides a perfect setting for Pop's tales of dissatisfaction. Tongue in cheek, perhaps, but no less effective, 'I Need More' is one of the few high spots on the 1980 album 'Soldier,' which was wrought with a variety of production issues and dramas. Like this one, the next few LPs saw Pop trying to find a musical footing.

6

'New Values'

From: 'New Values' (1979)

Talk about a riff that never lets up...this is it! The circular guitar riff runs this song like a well-oiled machine and never stops as Iggy delivers one of his top vocals of this period. "I'm lookin' for one new value, but nothing comes my way" sings Pop with a sentiment that is as pertinent in 2013 as it was in 1979. 'New Values' was the first album to follow the Pop/Bowie works, and was produced by old partner in crime James Williamson. Sonically, it shines with vitality, its sales, however, did not.

5

'Sixteen'

From: 'Lust For Life' (1977)

'Sixteen' is a nasty, stomping rocker from the 'Lust For Life' album. The song's manic drive and lusty lyric are pure rock and roll. You know the stuff -- raunchy, sleazy and nasty and unlikely to be confused with Kansas, for instance. With lyrics like "Sweet sixteen in leather boots/ Body and soul I go crazy / Baby I'm hungry / Sweet sixteen," it's more out of place in 2013 than it was in 1977, and would probably get flagged by the PC patrol preserving radio sterility everywhere. But not to worry, it found a home here in our Top 10 Iggy Pop Songs, so crank it up!

4

'Funtime'

From: 'The Idiot' (1977)

'The Idiot' was the first musical pairing of Iggy Pop with friend David Bowie. True, Bowie had co-produced the Stooges' 'Raw Power' LP, but this was the first time the two worked together to create music and it certainly proved an interesting pairing, resulting in two of Iggy's finest albums ('The Idiot' and 'Lust For Life'). 'Funtime has Bowie's indelible stamp all over it. Recorded in Germany during the duo's extended stay there, it takes Iggy's natural edge, and smooths it out with some of Bowie's style, in the process creating an entirely unique sonic blast. If you were to wipe away the pseudo-mechanical feel of the song and replace it with more standard rock fare, it would be signature Iggy. Though the song, and album, seems to have a Bowie-over-Iggy vibe to it, 'The Idiot' managed to cast Pop in a new light from where he really did shine, even if not in a glow entirely of his own making. The song was covered by Blondie, who even named a tour 'Camp Funtime' after the song.

3

'Kill City'

From: 'Kill City' (1977)

After the Stooges fell apart in 1974, Pop reconvened with guitarist James Williamson trying to salvage a career. The duo began work on a new batch of songs that would ultimately make up the 'Kill City' album, though after recording wrapped up in 1975, no one was interested so the tapes sat for a couple years until the legendary L.A. label Bomp Records agreed to release the material. The original album always suffered from a slightly muddy sound, which has (courtesy of a 2010 remix by Williamson) finally been given its proper sonic glory. The title song sports a killer Williamson riff married to a fierce Pop vocal. Clocking in at just over two minutes, it's a quick and fully rocking ride with its naggingly catchy "give it up, turn the boy loose" chorus sticking in your head for days.

2

'The Passenger'

From: 'Lust For Life'

One of the key tracks from 'Lust For Life,' 'The Passenger' is a dark brooding travelogue.The music sounds like the audio equivalent of the ride the lyrics describe. Guitarist Ricky Gardner wrote the music, and its modified swing tempo and reggae inspired guitar riff provide the perfect mood for Pop's lyrics. Iggy has said that the inspiration for the title and general feel of the song was a Jim Morrison poem, and his vocal style here shows that influence as well. The song has a seductive quality that never lets up and has been covered by R.E.M. and Siouxsie and the Banshees to name a couple.

1

'Lust For Life'

From: 'Lust For Life'

A rock and roll anthem if ever there was one,and a fitting song to top our list of the Top 10 Iggy Pop Songs. Written by Iggy and David Bowie, 'Lust For Life' seizes the moment and pumps it full of life. From the thundering Bo Diddley-esque drums and Motown-on-steroids riff to the defiantly celebratory lyrics (inspired by the William Burroughs novel  'The Ticket That Exploded'), it's like a shot of pure adrenalin. During the sessions, there was a friendly rivalry between Pop and Bowie that added fuel to the fire of the sessions. "It was an ideas friction, not a personal one" said Iggy in the book 'Open Up And Bleed.' The song was always a favorite among fans, but failed to reach a higher plateau, until the 1990s, at which point the song took on a life all its own. First finding prominence in the film 'Trainspotting,' it was then used in countless commercials for everything from cars to cruises. The ad execs must've skipped over the lines about "beating my brains with liquor and drugs". The record still sounds as fresh and lustful as ever and is worth at least a million in prizes!
More From Ultimate Classic Rock