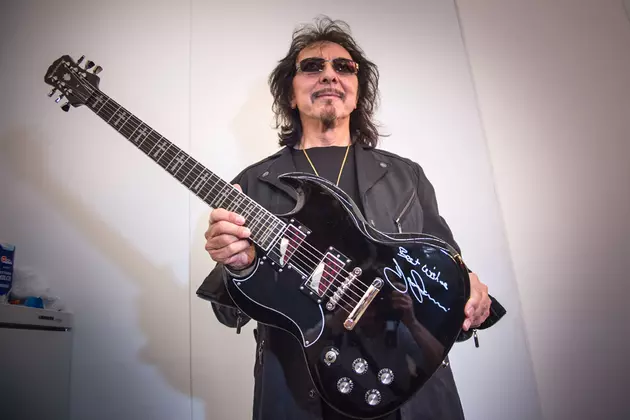 Tony Iommi's Cancer Is in Remission
Thomas Lohnes, Getty Images
Tony Iommi has emerged from his battle against lymphoma with a clean bill of health.
The Black Sabbath guitarist, who was diagnosed in 2012, revealed the good news during a public ceremony at the hospital where he's been undergoing treatment for his illness. The Birmingham Mail reports that Iommi was on hand to unveil a plaque commemorating an award recently earned by the Spire Parkway Hospital, and told reporters at the event that he's officially in remission.
"I came back to hospital straight after we finished a round of European tour dates, and the good news is that everything is alright up to this point," said Iommi. "The chemotherapy and the follow-up treatment appear to have done the trick — but I'm aware that it could come back one day. I have a blood test every six weeks at my GP's, and I come in here at regular intervals for check-ups. That's something that I'll have to live with for the rest of my life, looking for any warning signs that it might be rearing its ugly head again. But the availability of a facility like the Specialist Care Centre makes it so much easier. They're all lovely here!"
The Mail's report, which includes a photo of Iommi with hospital staff at the ceremony, makes it clear there's a mutual admiration society between the facility and their famous patient. Calling his presence at the ceremony "icing on the cake," Cancer Services Manager Elisa Follen reinforced the hospital's mission to make patients' life-threatening ordeals as manageable as they can.
"The cancer journey is a tough and emotional one for everyone involved – including family and friends," she told the paper. "But I think we have what we need to make that journey as comfortable and successful as possible."
A Complete Guide to Black Sabbath Lineup Changes
More From Ultimate Classic Rock