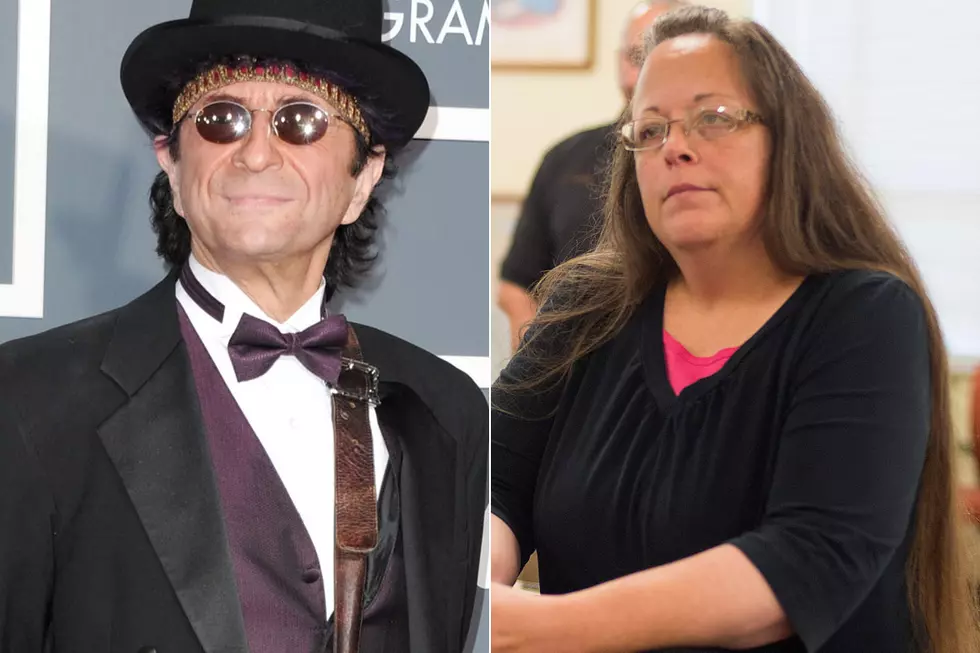 Survivor Objects to Use of 'Eye of the Tiger' at Kim Davis Rally
Jason Merritt / Ty Wright, Getty Images
After "Eye of the Tiger" was used at a rally in support of Kim Davis, the creative team behind Survivor's 1982 smash hit, Jim Peterik and Frankie Sullivan, expressed their dissatisfaction with the idea that their song would be linked with the controversial Rowan County, Ky., clerk. Both released public statements today (Sept. 8).
"I was very surprised and dismayed at the misuse of the song I co-wrote with Frankie Sullivan for Rocky lll," Peterik told Billboard. "The song has motivated thousands through the years to reach beyond their limits. Its use for the release of Kim Davis does not support my views or my politics. I have contacted my publishers to make sure this usage is stopped immediately."
Davis was jailed last week on charges of contempt of court after she defied a Supreme Court ruling and refused to issue marriage license to same-sex couples due to her religious beliefs. She was released earlier today and taken to a rally in Grayson, Ky., led by former Arkansas Governor, Fox News pundit and Republican presidential candidate Mike Huckabee, where the song was used to mark her entrance.
Sullivan took a more colorful approach, writing on Facebook, "NO! We did not grant Kim Davis any rights to use 'My Tune -The Eye Of The Tiger.' I would not grant her the rights to use Charmin! C'mom [sic] Mike, you are not The Donald but you can do better than that."
This is the second time they've objected to having their most famous song used for political purposes. Back in 2012, Sullivan filed suit against then-GOP presidential hopeful Newt Gingrich for using "Eye of the Tiger" without seeking permission.
See the Top 100 Albums of the '80s
This Day in Rock History: September 8
More From Ultimate Classic Rock