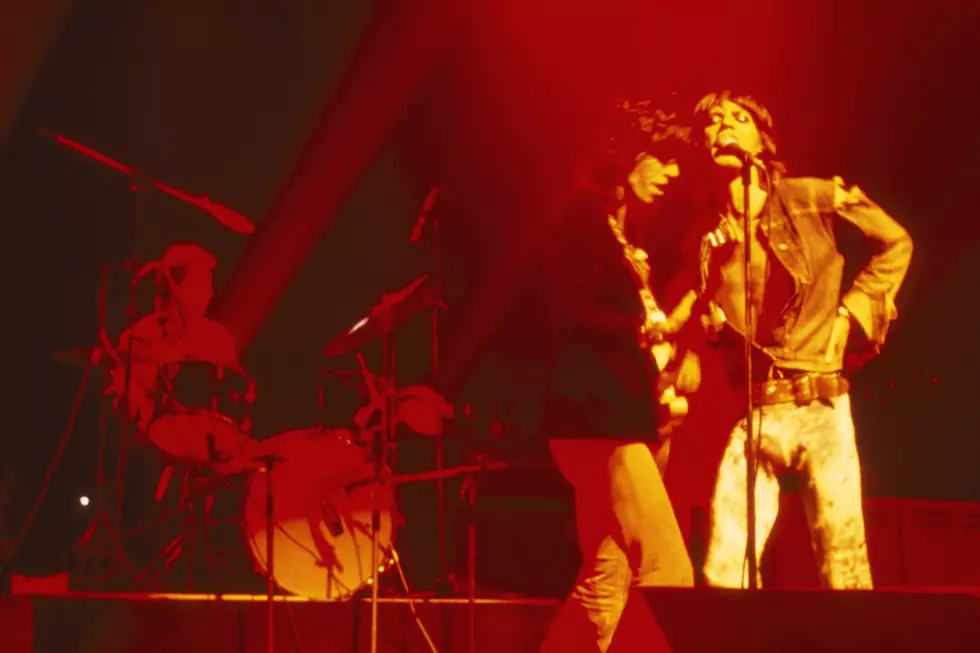 How the Rolling Stones Got Back to Basics on 'It's Only Rock 'n' Roll'
Keystone / Hulton Archive, Getty Images
The Rolling Stones released the aptly titled It's Only Rock 'n' Roll on Oct. 16, 1974. After everything they had been through, it was a good reminder to fans, critics and possibly even themselves.
Such timely admonitions were almost becoming a periodic necessity in an era of rampant progressive-rock experimentation and fast-changing trends like glam, when popular music was still coming to grips with life after the Beatles, and the Stones were still battling the Who, Led Zeppelin and other arena-conquering titans for the title of world's greatest rock band.
But the Rolling Stones' calculated efforts at accomplishing global dominance were pursued with the rehearsed nonchalance of true rock stars, and the conditions that gave rise to It's Only Rock 'n' Roll were marked by the same combination of changeable plans, happy accidents and impulsive about-faces that always seemed to keep things interesting.
Goats Head Soup, their most recent album, was still relatively new – having hit stores in August 1973. So, the sessions for It's Only Rock 'n' Roll were supposed to combine some cover songs with recordings from their just-concluded European tour, which spanned 40 shows throughout September and October. That's where things stood when Mick Jagger, Keith Richards, Mick Taylor, Bill Wyman and Charlie Watts arrived at Munich's Musicland Studios in November, anyway.
New song ideas began taking shape, but the sessions were so laid-back that Jagger and Richards didn't even bother to ring up longtime producer Jimmy Miller. (His input and enthusiasm had apparently waned anyway, they later claimed.) They wound up producing the new material themselves under the newly minted Glimmer Twins pseudonym.
Watch the Rolling Stones' 'It's Only Rock 'n' Roll' Video
Beyond that, Munich's cold urban surroundings affected the new work-in-progress quite differently than the warm Jamaican vibes had Goats Head Soup. The city brought an added sense of urgency to "If You Can't Rock Me" and "Dance Little Sister," a palpable melancholy to "Till the Next Goodbye" and "If You Really Want to Be My Friend" and a convincing philosophical gravitas to "Time Waits for No One."
By the time the typically sporadic sessions finally wrapped at Jagger's stately English manor Stargroves in April 1974, those Caribbean memories had long faded away, Goats Head Soup's funkier ingredients had been reined in (mostly confined to "Fingerprint File"). Even the controversy that overwhelmed "Star Star" had been redirected in less cynical directions on the comical "Short and Curlies."
But the title track really set the tone for how It's Only Rock 'n' Roll would be received — and perceived — as a renewed commitment to the Rolling Stones' rock 'n' roll purism. It had taken shape with no small help and inspiration from the Faces' guitarist Ron Wood, who let Richards crash at his house for a time.
This budding friendship eventually paved the way for Wood to replace the disgruntled Taylor, who left the band two months after this album's release. But first Wood endured a long trial run that covered the length of the band's 1975 touring commitments and the recording of 1976's Black and Blue album.
The Rolling Stones ended up auditioned everyone from Peter Frampton to Jeff Beck for the vacant spot. If nothing else, that protracted transition gave It's Only Rock 'n' Roll time to settle into fans' ears and, eventually, their hearts.
Top 100 Live Albums
Rock's Top 100 Live Albums are more than just concert souvenirs or stage documents from that awesome show you saw last summer.
You Think You Know the Rolling Stones?
More From Ultimate Classic Rock