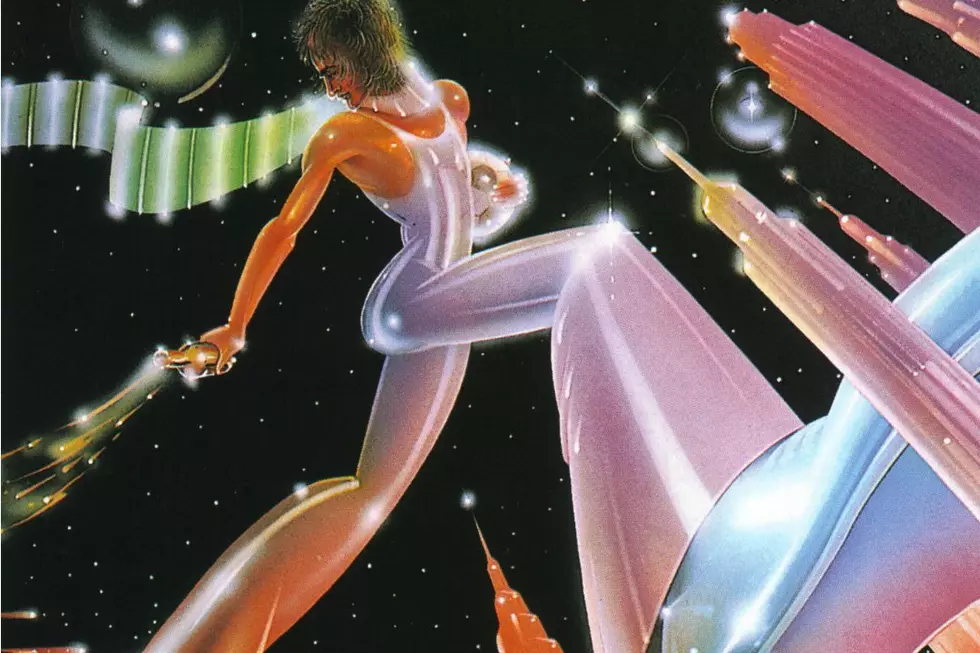 Why Rod Stewart Left England to Make 'Atlantic Crossing'
Warner Bros.
Rod Stewart's first five solo albums were recorded during downtime between Faces projects. Released on Aug. 15, 1975, Atlantic Crossing signaled a period of change that would see Stewart changing labels, countries of residence, and musical focus — and ultimately leaving his longtime bandmates behind.
Not all of these changes were popular with critics and fans — particularly Stewart's decision to depart the U.K. for Los Angeles after applying for U.S. citizenship. That move, cheekily referenced in the Atlantic Crossing album title, was seen as a tax dodge meant to keep Stewart from paying the punitive 83 percent rate imposed on the U.K.'s uppermost earners. He was, of course, far from alone in entering tax exile during the '70s, but he still took a fair amount of criticism for it.
More problematic for some fans — particularly those who wanted to see the Faces continue even as Stewart's solo stardom eclipsed the band — was the fact that, with Atlantic Crossing, he elected to record without his bandmates, who'd been present on each of his previous solo efforts.
While he continued to send mixed signals regarding the group's future prospects, Stewart was adamant about making a purposeful break with his past, at least in terms of sound.
"Musically it's a breakthrough," Stewart told Melody Maker at the time. "Everything about it is different. Everything." The difference, as he went on to explain, was partly one of personnel — and driven by a desire to fulfill a long-held ambition to offer his version of Memphis soul.
"It was done with the rhythm section I've always wanted to record with, the MGs, Steve Cropper, Al Jackson, Duck Dunn, Muscle Shoals rhythm section and I even used Al Green's rhythm section," Stewart added. "Tom Dowd got it all together. He's such an incredible producer. I played him a song I wanted to do and he picked the rhythm section. I wanted to do 'This Old Heart of Mine,' y'know, and it was his idea to use Al Green's section and go down to Memphis, which was great. ... It really was something to sing with a band and a producer that've worked with Otis Redding."
Watch Rod Stewart's 'Sailing' Video
Stewart continued to struggle to gain traction on American radio stations, but Atlantic Crossing was a sizable hit the U.S. as well as the U.K., breaking the Top 10 and going gold in the States while hitting No. 1 in Britain and spinning off a pair of Top Five singles ("Sailing," No. 1, and "This Old Heart of Mine," No. 4). Two years later, Crossing would deliver yet another hit, when "I Don't Want to Talk About It" was released as a two-sided single with "The First Cut Is the Deepest," a cut from his follow-up effort A Night on the Town.
Some listeners missed the Faces-style rootsy charm of his previous records, yet Crossing's success — coupled with guitarist Ron Wood joining the Rolling Stones — put the writing on the wall for the band, as well as Stewart's increasingly commercial focus on subsequent efforts.
"The world is a lot bigger than Great Britain and the Faces. A lot bigger," he told Creem. "I must have had blinkers on these last five years. I must have been mad using the same musicians over and over again. I should have branched out a long time ago. All the fun has come back into recording for me at last. I've never liked going into the studio and now I can't wait to go back. I'd always used the Faces on my albums so for that reason I've wanted to keep the band together. But now I know I can stand on my own two feet."
That attitude spilled over into the Faces' final round of dates, a tumultuous U.S. tour booked through the fall of 1975, and by the end of the year, the group announced it was splitting up — leaving Stewart to get right back to work on his next solo album.
"It only took three weeks' solid recording time to do it," he laughed. "When an album is only 40 minutes long, I'm a firm believer that it shouldn't take a year to make. I think I could make another one before Christmas."
Top 100 Albums of the '70s
More From Ultimate Classic Rock