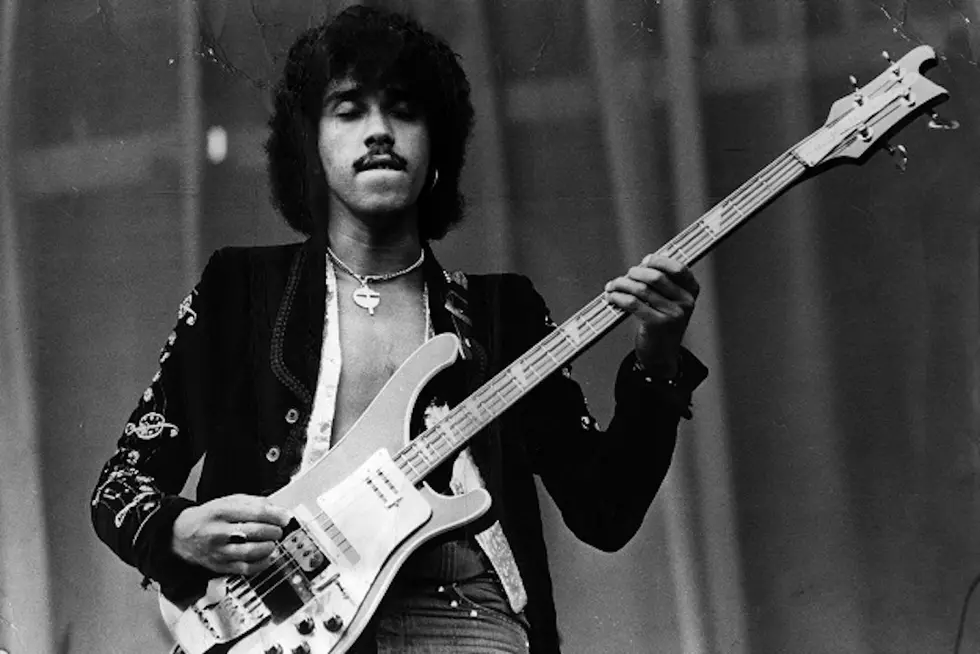 The Night Phil Lynott Played His Final Thin Lizzy Show
Evening Standard, Getty Images
Phil Lynott gave his final performance with Thin Lizzy on Sept. 4, 1983 during a stop on the Monsters of Rock tour in Nuremberg, Germany.
By the start of of the '80s, things were exceptionally busy for Lynott. He got married in 1980; he released his debut solo album, Solo in Soho, that spring; became a father that summer; and he issued a new Lizzy album, Chinatown, in the fall.
What Was Phil Lynott Doing in the Years Before His Death?
Thin Lizzy's popularity was fleeting in the U.S., with each album after Jailbreak selling less copies. Still, they were able to maintain a presence in the U.K. The bigger problem at hand was Lynott's drug use, which began to escalate around this time. His addictions would eventually put an end to his marriage and instigate the falling apart of the band.
Two more Thin Lizzy albums (Renegade and Thunder and Lightning) would follow over the next two and half years, as would a second solo offering, The Phillip Lynott Album. But things were gradually unraveling for Lynott and company.
Thin Lizzy's Final Tour With Phil Lynott
Thin Lizzy had planned a farewell tour to coincide with the release of Thunder and Lightning, which featured a heavier approach and proved their most popular in a while. This ended up being a year-long adventure whose high point was a special performance at the legendary Hammersmith Odeon. For the show, Lynott brought in former band members Brian Robertson, Eric Bell and Gary Moore as special guests.
The last home stand happened on Aug. 28, 1983 at the Reading Festival, while their final concert ever with Lynott found them in Nuremberg on a bill that included Whitesnake, Ozzy Osbourne, Blue Oyster Cult, Motorhead and others. Lizzy's set featured old favorites along with a few new songs.
Lynott died on Jan. 4, 1986 of heart failure and pneumonia. Thin Lizzy eventually regrouped with various ex-members trying to sail the ship, but it was never the same band without their leader.
Rock's Most Overshadowed Debuts
From David Bowie's overlooked first album to Dave Grohl's pre-Nirvana record with Scream.
More From Ultimate Classic Rock