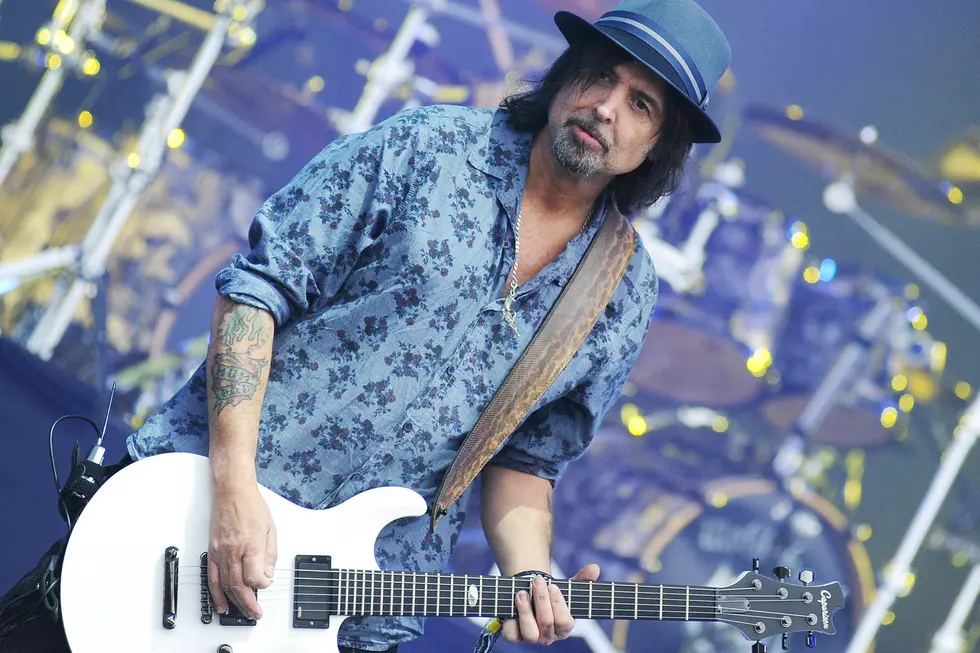 Phil Campbell's Taking His Bastard Sons on a Wrestling Cruise With an 'A–Hole'
Tabatha Fireman, Getty Images
With a band filled with his own sons and a separate star-studded solo album on the way, guitarist Phil Campbell has been keeping quite busy since recovering from the unfortunate demise of Motorhead, his former group.
This Halloween week, Campbell and his three sons – guitarist Todd, drummer Dane and bassist Tyla, collectively known as the Bastard Sons alongside singer Neil Starr – will perform on Chris Jericho's Rock-N-Wrestling Rager, a five-day cruise that blends their host's twin passions for music and pro wrestling.
It's only fair that Campbell's bringing his boys aboard, since it was their interest in pro wrestling that ended up connecting Motorhead with the WWE in the first place. Over the years, the band contributed three different theme songs for the wrestler known as HHH, and performed live at two different Wrestlemanias.
"My three boys, they're all four years apart in their age. So, when they were a lot younger, they were all wrestling fans," Campbell tells UCR. "One day, one of them came up and said, 'Dad, Motorhead should be involved with this.' So I checked with my manager, he talked to these wrestling guys and it went from there. I used to watch it, my wife used to be on the phone for three hours, trying to get tickets, and then find out they were sold out."
Watch Motorhead Perform at Wrestlemania 21
The days of waiting on the phone for those tickets is long past for Campbell. "We got friendly with quite a lot of the wrestlers," he says. "Obviously, my relationship with Chris [Jericho] has blossomed, we keep in touch, we trade insults every week. He's a great guy. Well, he's an asshole, but still a great guy. When we heard about the cruise, I said we'd love to do it."
Campbell's becoming somewhat of an expert at these nautical events. Motorhead hosted two of their own cruises, and last year he and his sons overcame some language barriers while playing on the Wacken Open Air cruise. "They were giving the safety instructions in German, they wouldn't let us leave the room," Campbell says. "We had to sit there for two hours, even though we didn't understand a word that was being said!"
So, is it difficult to rock when the ocean is also rocking you? "It depends how choppy it is. You get used to it after a bit," Campbell says. "My favorite place to play is on the deck, by the swimming pool. I prefer that to the ship's theater. What's good on this cruise is, all the meet and greets are all totally free with the cabin purchase, no extra charges. There's a lot of good characters on there, lots of great entertainers."
Campbell's justifiably proud to be performing in support of The Age of Absurdity, the first full-length by his family band. "On that record, I think all the stars were aligned properly for us," he says. "The band wrote great songs. I have to stress that all the songwriting wasn't down to me at all; the boys contributed lots. Todd wrote probably the majority of the riffs on there. We all contributed a great deal on that. The songs are great, the performances are great, and the production was great. For once in our lives, everything turned out very perfect. I'm very proud of that album, always will be. It's gonna be hard to follow, but we'll give it a good crack when the time is right."
Watch Phil Campbell and the Bastard Sons Perform 'Dark Days'
Whenever the Bastard Sons do get to work on a sophomore album, Campbell says his days in Motorhead taught him an important lesson about spontaneity. "I never understood bands that spend two months on one song. You get sick of it. With Motorhead, after 6 hours or maybe two days at most, you're sick of the damn riff, and you want to go onto something else. We could tell early on if something had legs or not. There was so much energy in that band, it was unbelievable."
When asked to name his favorite Motorhead album, one that perhaps didn't get enough attention, Campbell singles out 1993's Bastards. "I don't know in terms of attention or being overlooked, you'd have to ask the fans. I don't know what the record sales were. I think they all sold pretty dismally. We were never up to Bon Jovi's standard. We were too pretty," he jokes. "But that one, it'll bring your ceiling down."
Campbell's also putting the finishing touches on his long-awaited solo album, which is set to feature guest stars such as Rob Halford and Dee Snider. "It's about 70 percent done; I'm trying to get it done by the end of the year. I really would like to get it out by next summer. I can't believe some of the artists I've got on there, some of my heroes. They've all been very cool and played on there."
Listen to "Liar" from 1993's 'Bastards'
Motorhead Albums Ranked Worst to Best
More From Ultimate Classic Rock