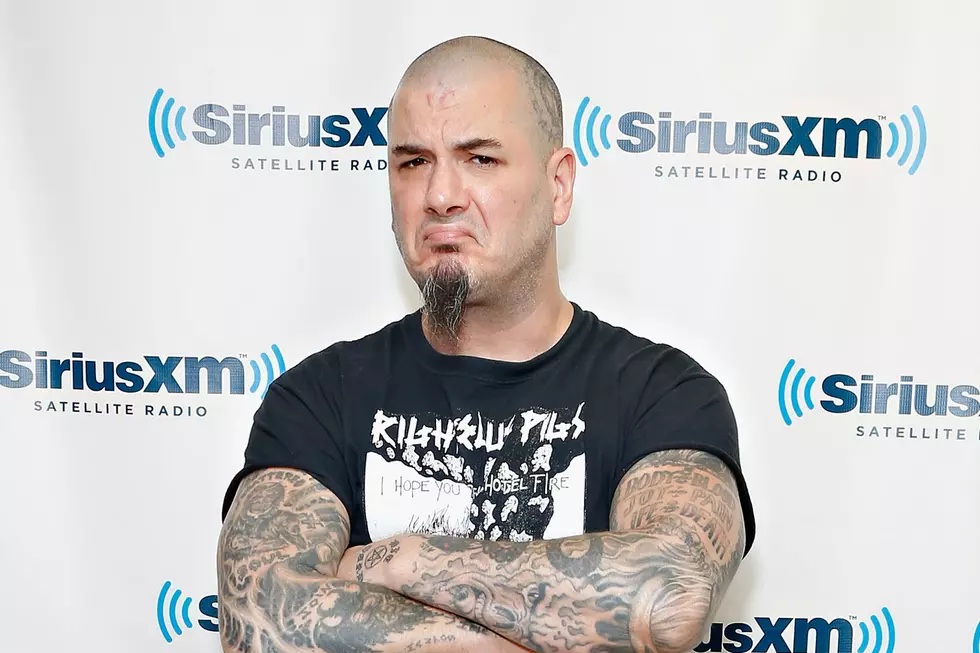 Phil Anselmo's 'White Power' Past Leads to New Zealand Cancellation
Cindy Ord, Getty Images
Former Pantera singer Phil Anselmo's two upcoming shows in New Zealand with his band the Illegals have been canceled in the wake of Friday's killing of 50 Muslims at a pair of mosques in Christchurch. The clubs cite an incident where Anselmo shouted "white power" and appeared to give a Nazi salute at a 2016 concert.
According to Stuff, the Club Tavern in Christchurch and the Galatos in Auckland pulled the plug on the dates, which were to be held on March 26 and 27, respectively. "The Philip Anselmo gig has been cancel [sic]," a Facebook post for Club Tavern said. "We do not and will not support white supremacy or racism!"
Galatos wrote, "Just today, information has come to hand which has made us uncomfortable about proceeding with this show."
Ben Mulchin of Valhalla Touring, the promoter of Anselmo's tour, wrote, "I just want to address this point right away -- we would never book anyone with 'white power' or 'white power politics,' or any other silly political agendas. No way. We need to make that very very clear -- as music is our livelihood. Phil Anselmo had an indiscretion a few years back while under the influence of substances that is widely documented; by making a very hurtful remark and idiotic gesture. I honestly don't think Phil is racist, but regardless he has committed a pretty terrible act in 2016."
Mulchin noted he's looking to re-book the shows, with some or all of the proceeds donated to families of the recent victims of the New Zealand killings.
After the controversy regarding Anselmo, which was captured on camera by a fan, the singer originally said "white power" was a reference to the white wine he drank backstage. After more backlash, he uploaded a video saying he "deserve[d] completely" the reaction that followed.
"Anyone who knows me and my true nature knows that I don't believe in any of that," he said. "I don't wanna be part of any group. I'm an individual and I am a thousand percent apologetic to anyone that took offense to what I said, because you should have taken offense to what I said. And I am so sorry, and I hope you just … Man, give me another chance to … Just give me another chance."
In another fallout from the recent tragedy, New Zealand native Neil Finn, of Crowded House and Fleetwood Mac, tweeted that he was leaving social media. "Out of respect for the grieving families of Christchurch, and in consideration of their vast public tragedy, I will no longer take part in social media," he wrote. "These platforms have enabled the spread of hateful ideology and I will not participate anymore."
Brian May wrote that he was "horrified and saddened to hear of the awful shootings in Christchurch. We stand by our peaceful friends in New Zealand, and against all violence, in this painful time."
Peter Gabriel, who had launched a WOMAD world music festival later that day in New Zealand, wrote, "I always felt that WOMAD demonstrated the stupidity of racism, but when we see this crazy and evil burst of hatred taking so many innocent lives we have to counter the forces that pull us apart with the only one that is stronger, that can pull us together, and that is love."
See Pantera and Other Rockers in the Top 50 Heavy Metal Albums of All Time
More From Ultimate Classic Rock