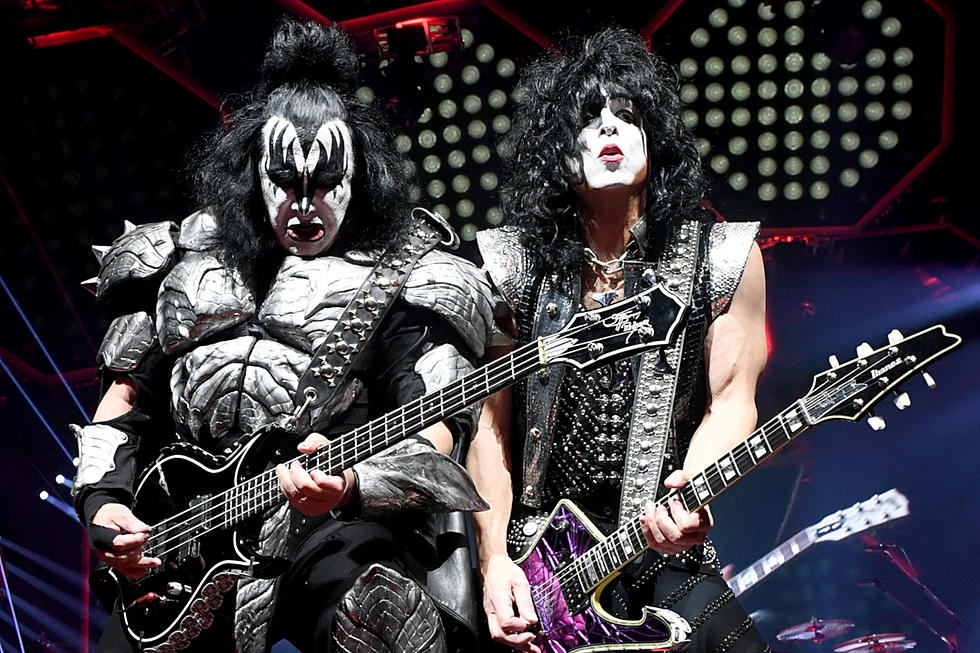 Paul Stanley Defends Kiss' 'End of the Road' Set List
Kevin Winter, Getty Images
As Kiss approaches the final leg of their End of the Road farewell tour, singer Paul Stanley is pushing back against criticism that the band's set lists haven't had enough variety.
"I've heard some people complain that the set list doesn't change, but we put a set list together based on the people who are coming to one [show]," Stanley explains during an interview with UCR. "The person who comes to one show, they don't know what's gonna happen tomorrow night or what happened last night. So somebody sitting at home critiquing the set list is absurd."
While Stanley concedes that some people will attend multiple End of the Road tour stops, he suggests that the majority of fans will make it to only one concert.
READ MORE: Kiss Albums Ranked 
"It's wonderful if somebody were actually to come to five or 10 shows, but we tweak a set list to make it as great as it can be for the people who come to see us tonight," Stanley notes. "The idea of changing the set list each night makes no sense to me, so we don't do that. And if somebody looks and complains that the set list hasn't changed, what does it matter to you? You weren't there."
What Songs Are Kiss Playing on Their Farewell Tour?
Despite the criticism, Kiss' End of the Road set lists have not been completely devoid of surprises. For example, "Shandi" (from 1980's Unmasked), "Nothin' to Lose" (from 1974's Kiss) and "C'Mon and Love Me" (from 1975's Dressed to Kill) have been performed just once by the band in 2023. Conversely, hits like "Rock and Roll All Nite," "Detroit Rock City" and "I Was Made for Loving You" have remained set list staples.
READ MORE: Kiss: Their Last Great, Last Good, First Bad Album
Stanley isn't saying what might creep into the tour's last leg of shows, which kicks off Oct. 19 in Cincinnati. However, he admits he has mixed emotions as he looks over the final run of Kiss' touring life.
"It's one thing to plan the end, which we started planning years ago, but to plan something and then to see the end is imminent, it's different than seeing it far away," he explains. "So, yeah, there certainly is a reality that hits home. You're on the train and you can see the station."
Kiss Solo Albums Ranked Worst to Best
Counting down solo albums released by various members of Kiss.
Gallery Credit: Matthew Wilkening
More From Ultimate Classic Rock