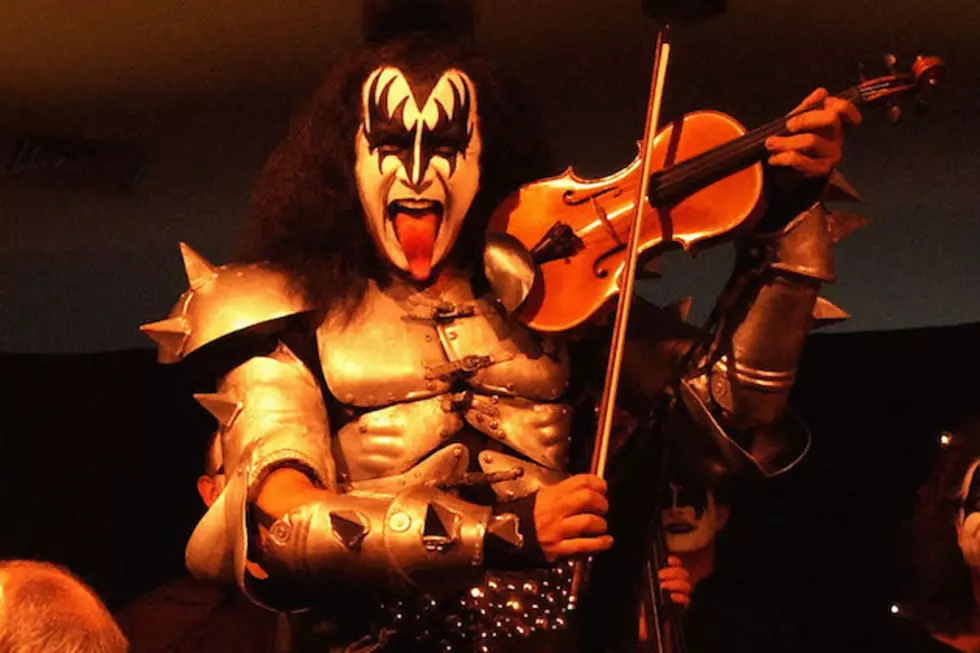 Top 10 Orchestral Rock Albums
Robert Cianflone, Getty Images
In the mid-'60s, rock's rough edges were smoothed when elements of classical music began to appear in songs. The Beatles' "Yesterday," the Beach Boys' "God Only Knows" and "Walk Away Renee" by the Left Banke featured violins, violas and cellos. Classical instruments like harpsichords, oboes and French horns popped up on hits dubbed "baroque pop."
The classical themes throughout the Beatles' 1967 LP Sgt. Pepper's Lonely Hearts Club Band inspired rockers to adopt the new, more mature sound. Months after the release of Sgt. Pepper's, the Moody Blues employed a full symphony orchestra to record 1967's Days of Future Passed, considered the first symphonic-rock album.
The Mellotron, a tape-replay keyboard that simulated the sound of strings and woodwinds, and the synthesizers that followed, temporarily replaced orchestras on later albums by the Moody Blues and many other progressive rock bands. But classic rock and metal bands eventually returned to performances alongside a symphony.
We explore this long and intriguing history with a chronological list of the Top 10 Orchestral Rock Albums:
1

'Concerto for Group and Orchestra'

Deep Purple (1969)

Jon Lord of Deep Purple was inspired to write Concerto for Group and Orchestra in 1969 after hearing the Dave Brubeck Quartet perform with the New York Philharmonic. With lyrics by Ian Gillan, the concerto would be the first that featured a rock band performing in concert with a full orchestra. Recorded at London's Royal Albert Hall with the Royal Philharmonic Orchestra conducted by Malcolm Arnold, the concert combined three Deep Purple tunes – "Hush," "Wring That Neck" and "Child in Time" – with orchestral passages.

Lord once explained to an Australian audience how he came to write the concerto. "I started off as a pianist. I started piano at the age of five and very quickly moved to large orchestral music. And then I heard Little Richard and Elvis, and wow! I just felt incredibly lucky because my intense love of that didn't dry out the previous development I had felt. And the idea was to put two things rather together and to see if I could in some sort of fairly graphic way pay homage to both."

2

'Emerson Lake and Palmer in Concert'

Emerson Lake and Palmer (1977)

Keith Emerson, Greg Lake and Carl Palmer included classical passages in their work, mixing jazz, rock and acoustic sounds. After four years together, ELP decided in 1974 to take a three-year break to pursue solo projects. Emerson Lake and Palmer returned in 1977 and launched a groundbreaking concert tour. Backed by a choir and a 65-piece symphony orchestra, which cost an estimated $250,000 a week, ELP performed their biggest hits. The expense of the orchestra almost bankrupted the tour and it was let go after 15 shows. But one monumental concert, released as a film and live album, was recorded on August 26, 1977 at Montreal's Olympic Stadium.

"There was enormous pressure before we went onstage, mainly because we were still getting used to performing with the orchestra," Lake recalled on his website. "It allowed us to incorporate many of the band favorites with full symphonic arrangements. Having that wall of beautiful sound behind us made for an intense evening of music. The band could incorporate rock treatments, unplugged acoustic numbers and traditional classical arrangements within a single evening performance. … It remains one of the most memorable shows of my entire career."

3

'Live in Australia with the Melbourne Symphony Orchestra'

Elton John (1986)

In his last performance before undergoing throat surgery in January 1987, Elton John was accompanied by the Melbourne Symphony Orchestra for a concert that featured old favorites and less familiar tunes. John opened the December 14, 1986 show with his 14-piece band, then returned dressed as Mozart to perform with the orchestra.

During rehearsals, John described his atmosphere surrounding the 88-piece orchestra. "There was enough electricity here yesterday, and the hall was empty, to light up Britain. And you could feel it. And it was quite extraordinary," John said in a concert documentary. "The point of being a musician is the fact that that's what you get from your music, you come away with your adrenaline. It's just superb."

4

'The Wall: Live in Berlin'

Roger Waters (1990)

When the Berlin Wall was toppled in November 1989, Roger Waters was asked to come to Berlin and perform The Wall in a concert for charity. Waters, who first recorded that classic album in 1979 with Pink Floyd, told Q Magazine, "If this concert is to celebrate anything, it's that the Berlin Wall coming down can be seen as a liberating of the human spirit." On July 21, 1990, 450,000 people attended the performance. Guest artists included Van Morrison, Bryan Adams and members of the Band. Waters and his Bleeding Heart Band were backed by the 80-piece Rundfunk Symphony Orchestra, directed by Michael Kamen. To complete the spectacle, the 100-piece Soviet Army marching band also performed.

Waters acknowledged that The Wall is identified more with Pink Floyd than with him, though this concert began to change that. "It certainly will be most gratifying that a few more people in the world will understand that The Wall is 'my' work and always has been," he said. "Still, most of the audience for this show will probably think it's Pink Floyd anyway. The attachment to the brand name is limpet-like. It's something I live with."

5

'24 Nights'

Eric Clapton (1991)

It took 42 concerts over two years in 1990-91 to complete 24 Nights, a live Eric Clapton album from the Royal Albert Hall. Each night would have a theme: rock with a four- or nine-piece band; blues; or orchestral. "It's a selfish thrill to play with an orchestra," Clapton told Rolling Stone. "But it hasn't really clicked. It's a very hit-or-miss process, because they play in a different time scale. They hit the beat just slightly after the conductor's baton comes down; they play behind the beat, in effect. I play right on the beat or sometimes in front of it. I like pushing the beat, and so the marriage is very difficult."

But, Clapton says, he kept trying – and eventually, the album was complete. "It's a challenge to get it right, and more often than not, it's a very painful disappointment," he admitted. "But it is a great sound live, to hear all that moving air coming from the violas and cellos, double basses and fiddles. And to have an electric guitar in the middle of that, quite hard, it's a tremendous feeling."

6

Metal fans were surprised when Metallica performed S&M, recorded live in April 1999 with the San Francisco Symphony conducted by Michael Kamen. James Hetfield credits Kamen with the idea for S&M, short for "Symphony and Metallica." "He'd done projects with other rock people, like David Bowie, Eric Clapton and Pink Floyd," Hetfield told Rolling Stone. "He wanted to get a little more extreme, so he chose us. I'm sure there's something more extreme – he could have picked, like, Graveworm – but I think we were a pretty good choice. We said, 'Hell, yeah.' You don't pass these things up."

As with Clapton's project, S&M had a lengthy gestation period. "It took two years to pull together – from the initial idea to deciding which orchestra to picking the songs," Hetfield confirmed. Timing and the culture clash with the orchestra were the biggest problems. "We all got along great – until you knocked someone's music off their stand and they got mad," he said. "They're trying to concentrate on the music, and you're sweating on them. It's like, 'Get away from me, you perspiring man.'"

7

'Symphonic Live'

Yes (2001)

No rock band is a more natural fit to perform with a symphony orchestra than this one. After all, Yes was one of the earliest to record with an orchestra, on 1970's Time and a Word. It would be three decades before they tried again with 2001's Magnification. To support the album, Yes performed live with the European Festival Orchestra at Heineken Music Hall in Amsterdam. The November 22, 2001 concert featured many of its best-known members: Jon Anderson, Steve Howe, Chris Squire and Alan White. Due to scheduling issues, keyboardist Rick Wakeman was replaced by Tom Brislin.

Along with a few tunes from Magnification, Yes concentrated on their classic hits, including "Long Distance Runaround," "I've Seen All Good People," "Owner of a Lonely Heart" and "Roundabout." The addition of the 60-piece orchestra, conducted by Wilhelm Keitel, only increased the power and complexity of the crowd favorites.

8

'Kiss Symphony: Alive IV'

Kiss (2003)

When Kiss announced that they would be accompanied by Australia's Melbourne Symphony Orchestra for a concert at the Telstra Dome in February 2003, Paul Stanley said, "What we are going to do is a concert in three parts. You will see a lot of violins and a lot of violence." The 60-piece orchestra, led by David Campbell, all wore Kiss makeup during the performance, recorded for the Kiss Symphony: Alive IV.Act One featured Kiss alone for six songs. Kiss was joined by the Melbourne Symphony Ensemble for an acoustic set of five songs in Act Two that included the ballad "Beth." The entire 60-piece orchestra accompanied Kiss for Act Three, which wrapped with "Rock and Roll All Nite."

"The whole idea when doing this was not to wimp out Kiss but it was to take us to a more bombastic level," Stanley told Australian TV. "What we've done with the orchestra has only made it heavier. There's nothing wimped out about what we're doing. And we owe it not only to ourselves but to David Campbell who's come up with these arrangements that are just lethal."

9

'Bat Out of Hell: Live With the Melbourne Symphony Orchestra'

Meat Loaf (2003)

Despite undergoing heart surgery after collapsing on stage in November 2003, Meat Loaf recorded Bat Out of Hell: Live with the Melbourne Symphony Orchestra in February 2004. The energetic performance in Australia included seven tracks from his 1977 favorite Bat Out of Hell. "The whole project was something I was very much looking forward to doing," Meatloaf told The Wire. "It gave me a chance to perform some classic songs with a new energy that myself, the band, and especially the audience really fed off of. I consider that the ultimate success."

Whatever his health woes, Meat Loaf was a fiery presence on stage – encouraging the polite, middle-aged Melbourne audience. When their singing wasn't loud enough, he chided them by saying that they sounded like they were from Sydney. When that didn't elicit enough enthusiasm. Meat Loaf screamed at them, "Are you too old to stand up?"

10

'One Night Only! Rod Stewart Live at Royal Albert Hall'

Rod Stewart (2004)

Rod Stewart's career was rejuvenated in 2002 when he found that his fans loved a set of pop standards, largely from the 1930s and 1940s, called It Had to Be You: The Great American Songbook. Two years later, Stewart had already released a third entry in the series. To promote the disc and earn a few bucks for charity, Stewart recorded One Night Only! on October 13, 2004. Stewart, who'd never played the Albert Hall before, remained true to his working-class roots by asking tardy audience members, "Why the f– are you so late?"

Backed by his six-piece band, Stewart opened the show with hits like "You Wear It Well" and "Maggie May." Ex-Faces bandmate Ron Wood joined in for the guitar solo on "Stay With Me." For the second half of the concert, Stewart was accompanied by the 60-member BBC Concert Orchestra for standards that included "As Time Goes By," a duet with the Pretenders' Chrissie Hynde.

BONUS

Why Aren't These Artists in the Rock and Roll Hall of Fame?

[gallery galleryid="295:235480" showthumbs="yes" enablefullscreen="yes"]
More From Ultimate Classic Rock