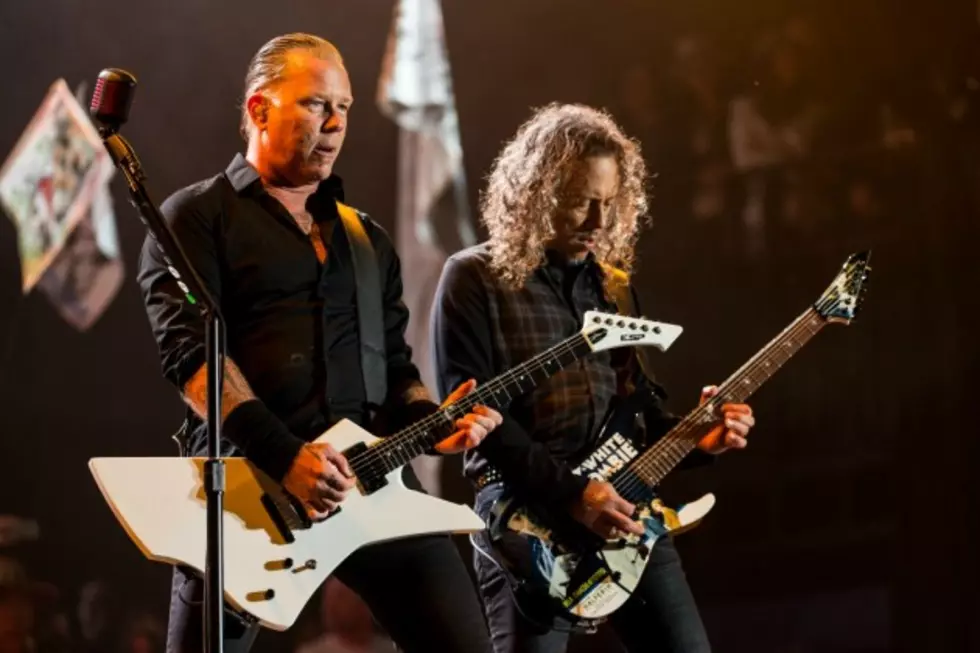 Metallica Book Claims the Band's Recent Projects Have Lost Money
Ian Gavan, Getty Images
It's no secret that for many rock stars, live performances are where the money is these days. But according to a new book purporting to offer an inside look at Metallica over the past couple decades, the band's recent tours have been necessary in order to stave off financial ruin wrought by a series of disastrous projects.
Paul Brannigan and Ian Winwood, authors of Into the Black: The Inside Story of Metallica 1991-2014, tell The Weeklings that the past five years have found the band draining its assets with "a variety of vanity projects that haven't exactly brought home the bacon," with the most significant losses stemming from the Orion Festival and Through the Never, the 2013 hybrid concert/narrative film that failed to find an audience even with 3D footage and Chronicle star Dane DeHaan in the lead.
"By their own admission, the two stagings of the Orion festival were disastrous financially, and the shambles that was the Through The Never movie cost $32 million and will only recoup a fraction of that amount," say the authors. "Factor in HQ staff salaries, crew retainers and assorted running costs associated with maintaining an entertainment corporation and you can easily understand why the band – of necessity now rather than by choice – are driven to tour Europe every summer."
Pressed to pinpoint the band's "single biggest blunder," Brannigan and Winwood point out that Metallica tend to fail for the same reason they succeed — "[their] own bloody-mindedness" — so even major mistakes are often noble ones. That said, they then proceeded to single out Through the Never as "a horrible misjudgment" and "a misguided attempt to breathe new life into a decade-old idea."
Although it's probably worth noting that Through the Never did well with critics, in retrospect it's still easy to see why fans stayed away. "As the film spiraled horribly over budget, it's hard not to imagine that at least one band member – and let's be honest, we're talking about James Hetfield here – thinking 'What the f--- have we got ourselves into?'" muse the authors. "Quite how that 'script' ever got the green light is an unfathomable mystery."
See Metallica and Other Rockers in the Top 100 Albums of the '80s
Metallica Albums Rated From Worst to Best