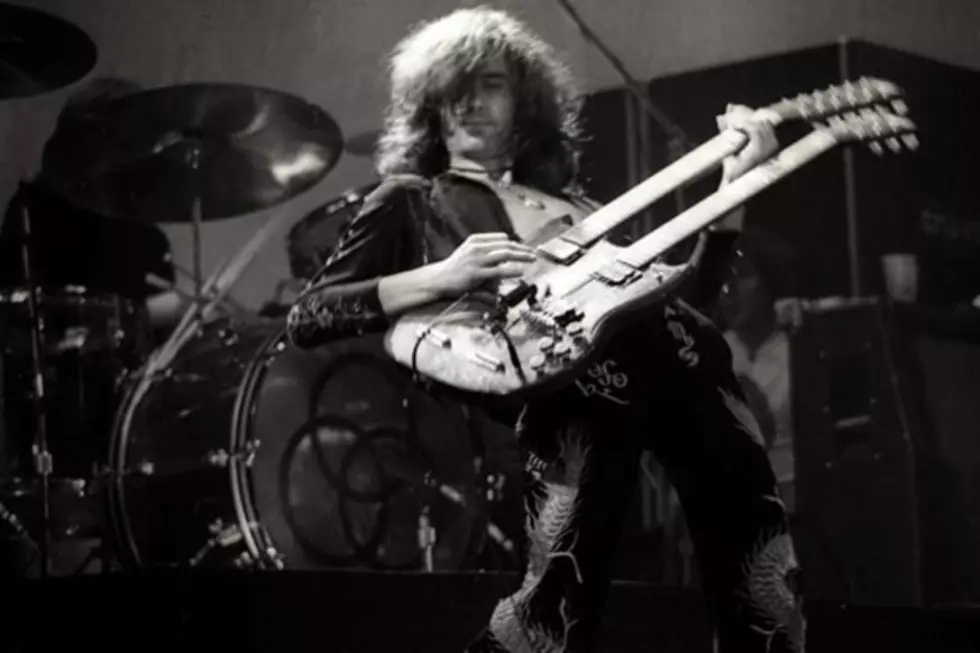 The 10 Songs You Need to Hear From the Led Zeppelin Reissues
L. Cohen, Getty Images
Now that all of the albums in Led Zeppelin's latest reissue series are out, we can finally admit that yeah, those original albums are great, but the bonus discs of previously unreleased songs -- which were used as bait to snag fans who've probably bought these same records several times before -- left a lot to be desired.
With all of the various "rough mixes" and "alternate mixes" of tracks you've heard hundreds of times, few of which offered any real revelations, and the occasional instrumental versions of many of those same songs, the nine remastered albums were disappointments for fans hoping to hear lots of actual new songs.
But scattered among the more than six dozen cuts included on the bonus discs are a handful of gems. And the best of them are leftover songs that would have fit snugly on the albums they were originally recorded for. Many of the 10 Songs You Need to Hear From the Led Zeppelin Reissues come from the two extra discs included with Coda, the 1982 odds-and-ends LP that was released after the band broke up. Note: We've excluded the live songs that were on Led Zeppelin's bonus disc. Just assume you need to hear that whole thing, because it's really good.
"La La"

From: 'Led Zeppelin II'

Originally recorded during the sessions for 1969's Led Zeppelin II, "La La" was left off the album, probably because it sounds nothing at all like anything else on it. With John Paul Jones' bubbly organ guiding the way, it's almost a pop song ... until Jimmy Page unleashes a torrent of guitar squalls midway through. 

"Jennings Farm Blues"

From: 'Led Zeppelin III'

The folksy, pastoral "Bron-Y-Aur Stomp" from Led Zeppelin's third album is pretty representative of the LP, an acoustic romp named after the Welsh cottage they hid out in during a portion of 1970. "Jennings Farm Blues" is the electric version of that song, fired up by a bluesy force that has more in common with III's "Immigrant Song" than anything else from the record.

"Key to the Highway / Trouble in Mind"

From: 'Led Zeppelin III'

Recorded during the sessions for the third album, but most likely left off because it sounds more like an informal jam session than a track intended for release, this medley of two blues standards (the former by Big Bill Broonzy and Charlie Segar, the latter by Richard M. Jones) features only Jimmy Page and Robert Plant, who plays harmonica over his bandmate's acoustic slide guitar.

"10 Ribs & All / Carrot Pod Pod (Pod)"

From 'Presence'

No surprise why this curio was left off 1976's Presence. A spacey instrumental built on John Paul Jones' pretty piano, "10 Ribs & All / Carrot Pod Pod (Pod)" sounds way out of place with the rest of the album, Zeppelin's toughest and heaviest. The rest of the band kicks in about midway through, foreshadowing the more structured melodic numbers found on its next album, In Through the Out Door.

"Baby Come on Home"

From 'Coda'

When The Complete Studio Recordings box was released in 1993, four songs were tagged onto 1982's outtakes collection Coda. Three of them are on the recent reissue. This is one of the best, a song cut during the sessions for the debut album and originally called "Tribute to Bert Berns," a writer and producer whose songs were the inspiration for this soulful early original (he gets a co-writer credit too).

"Travelling Riverside Blues"

From 'Coda'

Another carryover, "Travelling Riverside Blues" was originally on the 1990 Led Zeppelin box set and then resurrected for the Complete Studio Recordings box as part of Coda. It was recorded in 1969 for the BBC as a reworked version of bluesman Robert Johnson's 1937 classic (Jimmy Page and Robert Plant altered the song enough to give themselves co-writing credit here). It's a smoldering take on the band's electrified blues and a prime example of their live show at the time.

"Hey, Hey, What Can I Do"

From 'Coda'

Even before the recent reissues, and even before it was added to the 1993 version of Coda, "Hey, Hey, What Can I Do" was the Holy Grail of Zeppelin collectors: the only non-LP B-side the band ever released. The song, an outtake from Led Zeppelin III, was on "Immigrant Song"'s flip, and remains one of the band's greatest leftovers. It should have been on the album.

"If It Keeps on Raining"

From 'Coda'

One of the few tracks from the recent reissues that offers a drastically different take on a song that we know inside-out, "If It Keeps on Raining" is a less-thunderous and bluesier version of IV's "When the Levee Breaks." John Bonham's monster drums are restrained here, and the pace is more of a hurried shuffle than apocalyptic stomp.

"Sugar Mama" was recorded at the same time as "Baby Come on Home" and plays around in a similar field, tentatively stepping across late-'60s R&B and pop toward harder rock 'n' roll terrain. But even as early as this 1969 session, not long after the New Yardbirds became Led Zeppelin, the group locks into a groove with effortless grace. A sign of things to come.

"St. Tristan's Sword"

From 'Coda"

An instrumental leftover from 1970's Led Zeppelin III, "St. Tristan's Sword" sounds more like the framework to a song than a fully fleshed-out one. Still, the band's interplay here provides a peek into its chemistry. The riff here is funkier than usual, and Jimmy Page uncorks some fretastic fireworks by song's end.

BONUS VIDEO: You Think You Know Led Zeppelin?
More From Ultimate Classic Rock