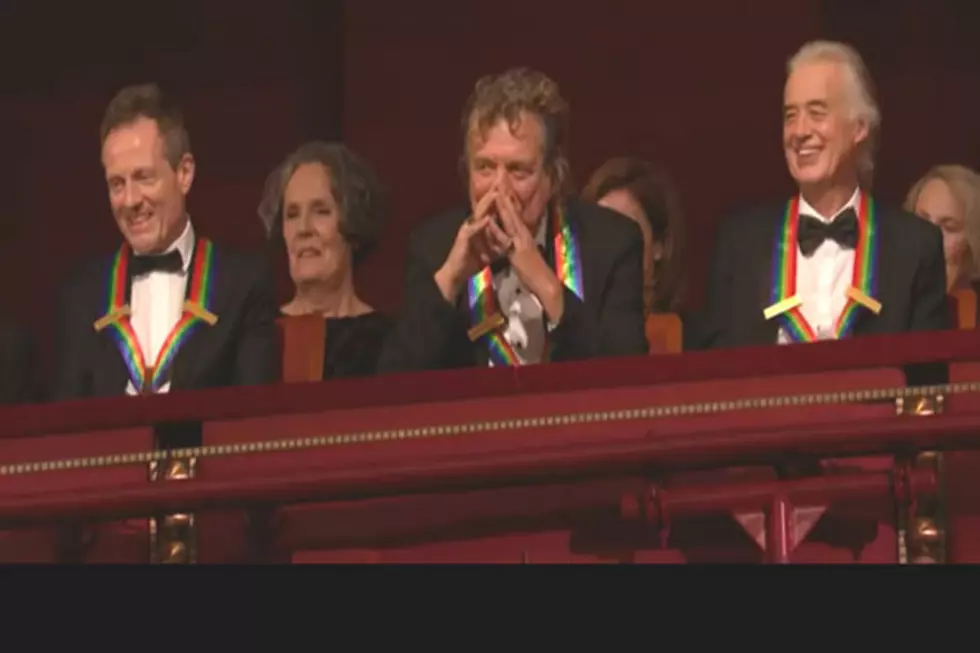 Jack Black Hails Led Zeppelin as 'The Greatest Rock And Roll Band Of All Time' At Kennedy Center Honors
You Tube
With a boisterous and hearty shout of "Led Zeppelin!," Jack Black began his heartfelt tribute to the mighty combo that, in his words, "Sang songs about love, about vikings...about vikings making love."
Led Zeppelin were one of a handful of artists recognized as part of the annual Kennedy Center Honors ceremony, which celebrates various artists for their influence on American culture. Other recipients this year included blues legend Buddy Guy, late night king David Letterman and actor Dustin Hoffman.
"Led Zeppelin, the greatest rock and roll band of all time," Black continued, "better that the Beatles, better than the Stones, even better than Tenacious D." As the camera scanned the crowd, a seemingly approving Michele Obama applauded and gave a smile of sorts, while John Paul Jones, Robert Plant and Jimmy Page looked on, grinning ear to ear and laughing. Black was quick to defend his position, "If you don't agree with me, it's because you never did the Zeppelin marathon," he said, "the Zep-athon is where you sit your ass down and listen to all nine Zep albums in a row, the thing that every true fan must do at least once in their lifetime. (It's) the pilgrimage to heavy metal mecca."
Black then humorously addressed a famous rumor about the group: "They say that Led Zeppelin sold their souls to Satan...come on guys, you know you did, there's no other way to explain your ungodly talents. While you're in hell, the human race will cherish your heavenly jams til the end of time." Smiles and laughter abounded form the Zep camp (not to mention Letterman, Guy and the Obamas). In closing, Black put it very simply, "We love you...best band ever."
During Letterman's segment, comedian Ray Romano was quick to mention Zeppelin as well. "As a performer, the last thing you want to do is bomb in front of Led Zeppelin," Romano said, later adding, "I lost my virginity to the first two minutes of 'Stairway to Heaven', and spent the next 11 minutes of it apologizing. It's a long song."
Watch Jack Black Salute Led Zeppelin
More From Ultimate Classic Rock