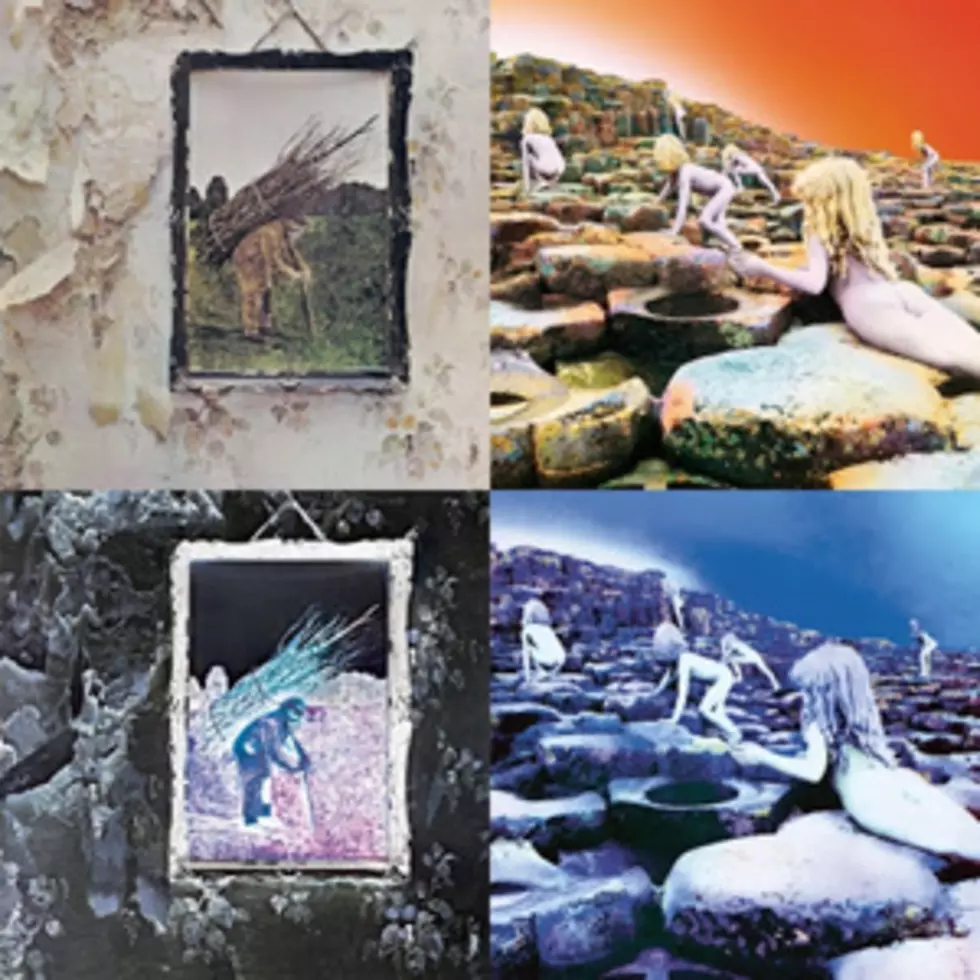 Led Zeppelin, 'IV' and 'Houses of the Holy' Deluxe Editions – Album Reviews
Atlantic / Swan Song
The second wave of reissues in Led Zeppelin's overhaul of their classic catalog pretty much follows the path set by the first: remastered versions of the original albums on one disc, and alternate takes and mixes (along with the occasional rare cut) on the other.
The band's self-titled 1969 debut included live tracks, but all of the others so far -- including the new 'IV' and 'Houses of the Holy' -- have basically replicated the original LPs with different versions of the same songs.
That doesn't give fans looking for more obscure Zeppelin tracks much to reach for, but Led Zeppelin weren't ones to waste much. During the decade in which they recorded their eight albums, very few songs were left unreleased. Only one B-side -- 1970's 'Immigrant Song' flip, 'Hey Hey What Can I Do' -- even surfaced during their run. So don't expect to hear any recently unearthed gems on the remastered deluxe editions of 1971's 'IV' and 1973's 'Houses of the Holy.'
In fact, even the most devoted fans will have trouble hearing revelations in the fresh remastering the two classic albums receive. Aside from a few moments of more pronounced musical clarity, there's not much here that's discernible to the untrained ear. (More often than not, this is a testament to the albums' original glistening production by Jimmy Page, who doesn't get enough credit for his meticulous behind-the-boards work on those Led Zeppelin albums.)
And the bonus discs basically amount to slight edits (which casual listeners may not even notice) and instrumental versions of the songs found on their respective albums. So, while a "mix in progress" take of 'IV''s 'When the Levee Breaks' or a version of 'Houses of the Holy''s 'The Rain Song' without piano may appear somewhat enticing (or maybe not), they don't warrant, or even invite, repeated listens. And they certainly don't replace, or change the way you think about, the songs you already know.
At least the first batch of reissues gave us a barreling live show from 1969 and a semi-perceptive studio peek into 1970's mostly acoustic 'Led Zeppelin III.' The most we get here is an instrumental version of the mandolin-strummed Tolkien fantasy 'The Battle of Evermore' and a 'Working Mix' of 'The Ocean' that sounds slightly more thunderous. Which all leads to the question: Why even bother?
Is a tiny fraction of sharper focus on John Bonham's innovative percussive attack in 'Four Sticks' worth the upgrade? What about a warmer tone to 'No Quarter' that requires complete silence and possibly scientific equipment to measure? These are great albums, there's no doubt about that; 'IV' remains Led Zeppelin's defining work. Just don't expect it to be like your first time all over again.
You Think You Know Led Zeppelin?
More From Ultimate Classic Rock