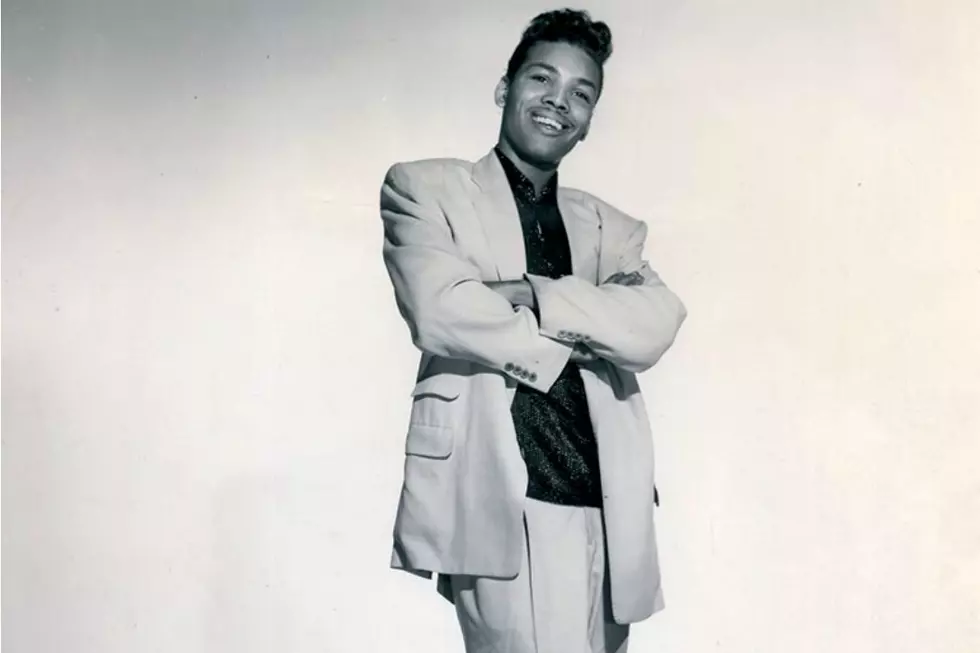 Why Rock Fans Should Know the Name Larry Williams
Specialty Records
He's rarely discussed today, but at one point, Larry Williams seemed poised to become a successor to the hot R&B throne vacated when Little Richard gave up rock 'n' roll for God. Williams' songs were covered by a range of better-selling acts that included the Beatles and the Rolling Stones. Unfortunately, he had a love of fast living almost as large as his musical talent – and it finally caught up with him on Jan. 7, 1980, when his body was discovered in the garage of his Los Angeles home.
Born in New Orleans in 1935, Williams headed west with his family at a young age, spending some time with relatives in Chicago before joining his parents in the San Francisco Bay Area in 1945. He grew up in Oakland, a town then thriving on military-industrial contracts, and fell into music as a teen, eventually starting a band he called the Lemon Drops.
Although the Lemon Drops didn't last long, Williams had been bitten by the bug, and he decided to pursue a deal with Specialty Records, the New Orleans label where his second cousin, R&B belter Lloyd Price, was already signed. Williams took a job with Price, doing odd jobs as a gofer and filling in occasionally for missing band members, but he soon found himself adrift again when Price put his own music career on hold after he was drafted.
Fortunately for Williams, the New Orleans of the era was an excellent place for a young musician to land. Working various temporary gigs while waiting for his big break, he started building his own network, rubbing shoulders with an assortment of future greats that included drummer Earl Palmer and local studio owner Cosimo Matassa, both of whom would figure heavily into his future success.
Williams' shot at the big time finally arrived after Price returned from his tour of duty and had a falling out with Specialty owner Art Rupe – and Rupe, in a rush to find an act who could fill the void left by Price and Little Richard, quickly steered Williams into the studio to cut a single.
That first side, a copycat version of Price's own "Just Because," didn't really go anywhere, but it opened the door to a contract with Specialty – and that, in turn, led to a short string of hits that included "Short Fat Fannie," "Bonie Maronie" and "Dizzy Miss Lizzie," along with a growing trove of future classics that included "You Bug Me Baby," "She Said Yeah" and "Slow Down."
Listen to Larry Williams Perform "Short Fat Fannie"
Unfortunately, aside from some early Top 20 success, Williams' releases failed to gain much traction on the charts. Some have speculated that Rupe's unwillingness to play the payola game thwarted his label's chances at scoring hits, but whatever the reason, by the early '60s, Williams' recording career was on hold – partly because of Specialty's woes, but mainly due to a stint in prison he was serving for possession of drugs.
When Williams emerged from prison in 1962, he faced a very different musical landscape, albeit one in which his early cuts were starting to be discovered by a host of younger musicians – including John Lennon, said to be the driving force behind the Beatles' covers of "Bad Boy," "Dizzy Miss Lizzy" and "Slow Down." They were far from alone: the long list of famous Williams fans includes the Rolling Stones, who covered "She Said Yeah," and the Who, who cut a version of "Bony Maronie."
Listen to the Beatles Perform 'Dizzy Miss Lizzy'
All that adulation failed to do much in terms of putting Williams' name in lights, however, and it eventually took its toll. "My first impression of Larry was that he was a very street guy, a pimp kind of guy," Bobby Womack later remembered. "Sam Cooke told me that Larry was the first cat to pioneer a lot of things musically, but he watched a lot of other people take his style. Because of that he had a lot of resentment."
"Larry was sad from never becoming a big star like Lloyd Price or Jackie Wilson," added Etta James. "It wasn't that he lacked talent. Larry could tear up a piano; he was in a class with all those New Orleans cats – Professor Longhair, Fats, Allen Toussaint."
Unfortunately, his talents extended to less savory areas as well. Although his musical career lost much of its commercial momentum after the early '60s, Williams managed to maintain a fairly luxurious lifestyle – partly because, as James later told it, "He was a pimp. He had his women – drag broads, thieves, high-priced hookers – stealing for him day and night. And they wouldn't be copping no knickknacks; they'd be dropping off coats of fine ermine and fabulous fox."
"You know a lot of people say that Larry ... pimped and dealt drugs, but I'm gonna say the truth on that," countered Womack. "When I was with [him, he] never showed any signs of that. Pimping is a full-time job. Every time you turn around you've got to go get your girls out of jail. Why do all that if you can just sing, write a song and fly with the wind?"
And Williams did continue to sing and write, striking up a partnership with Johnny "Guitar" Watson that produced 1967's Two for the Price of One LP and spilled over into a short-lived psychedelic R&B experiment with the members of the band Kaleidoscope. The late '60s also reunited Williams with Little Richard, who hired him as a producer and musical director for his stint at Okeh Records. None of it, however, really helped him get things going as a solo artist.
Listen to the Rolling Stones' Perform 'She Said Yeah'
Looking back, Watson remembered a lifestyle that – if it didn't include that particular illegal activity – was nevertheless fairly dangerous. "At the time everyone was doing drugs, even myself. I didn't escape; nobody escaped. It was just a part of that time," he admitted. "Everybody was snorting cocaine, smoking weed, and, man, you're talking about wild, man, it was just whooo – I can't even begin to tell you how it was, getting through that era. Looking back now on that time it's frightening."
Eventually, Williams' luck was bound to run out, and it's perhaps unsurprising that his death – due to a single gunshot to the head that investigators ruled a suicide – occurred under circumstances that some have always viewed with suspicion. A number of his peers were reluctant to believe he'd end his own life, and given how enthusiastically he crossed the law (even, according to Little Richard, pulling a gun on him at one point over a drug deal gone wrong), it didn't seem like too much of a stretch to wonder whether he'd really been murdered. Speculation persists – and so does the music Williams left behind.
"The doors were locked from the inside when they found him," shrugged Womack years later. "Maybe it was a professional hit. Anything is possible in the music business when someone talks as loud as Larry and names names like he did. The thing is, you never know what's on a person's mind who gets high the way Larry did. Something drove him there. There will always be rumors. Someone will always say, 'Man, I think somebody set him up.' How come people just don't die?"
 
 
The Best Song on Every Beatles Album
You Think You Know the Rolling Stones?
More From Ultimate Classic Rock