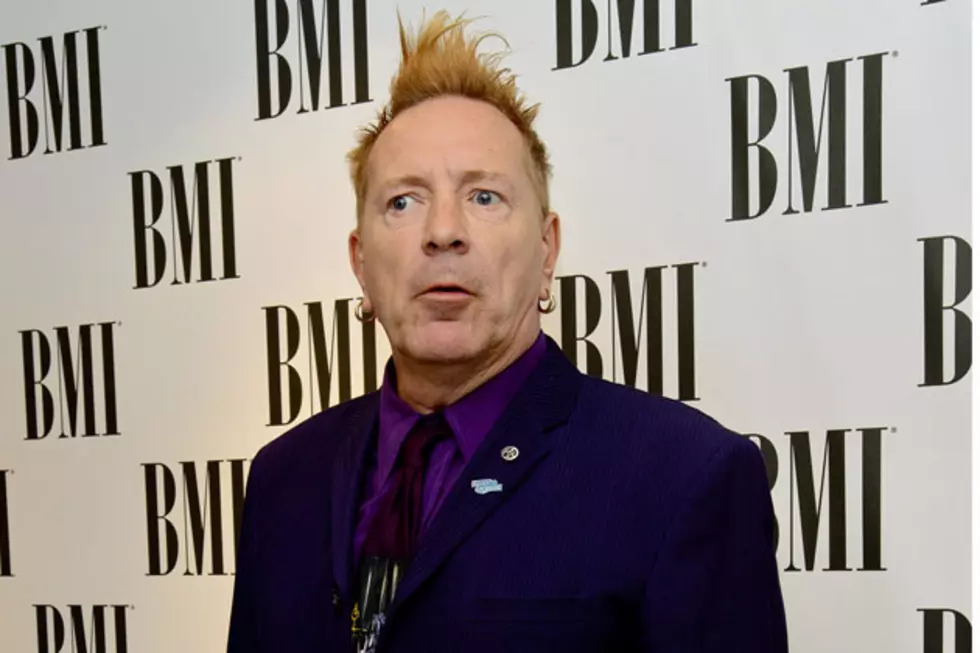 John Lydon To Appear In 'Jesus Christ Superstar' Tour
Ben A. Pruchnie, Getty Images
Anarchy hits the theater as the former Sex Pistols singer John Lydon is set to take on the role of King Herod in an upcoming arena tour of the Andrew Lloyd Webber and Tim Rice classic, 'Jesus Christ Superstar.' While this might seem a stretch to some, we actually can't think of a better fit.
King Herod was a ruthless and evil soul who schemed his way to prominence. He saw Jesus as a threat to him and would play a significant role in his death. It would seem that the once 'Rotten' Lydon could pull this one off in supreme fashion. On the original 1970 album, Herod was portrayed by Mike D'Abo of Manfred Mann, delivering one of the album's highlights. 'King Herod's Song' is full of doubt, sarcasm and cynicism that should suit Lydon perfectly. We can already hear him deliver lines like 'prove to me that you're divine, change my water into wine' and 'prove to me that you're no fool, walk across my swimming pool.'
According to Spin, Lydon will be joined by Incubus lead singer Brandon Boyd, who will play Judas Iscariot, and JC Chasez of NSYNC, who takes on the role of Pontius Pilate. British actor Ben Forster will play Jesus, while Michelle Williams of Destiny's Child will play Mary Magdalene. Williams and Boyd announced the 50-city tour (dates below), which kicks off in New Orleans on June 9, on Good Morning America today.
While it may surprise some to think of Lydon in a musical, let alone in something like 'Jesus Christ Superstar,' he has always maintained that much of his, dare we say 'public image' stemmed from acting. "In a way, that whole persona of say, Richard the Third, helped when I joined the Sex Pistols," he said in the 'Filth & The Fury' documentary, "Deformed, hilarious, grotesque just bizarre characters that, somehow or other, through all of their deformities managed to achieve something."
This production comes to North America after successful jaunts through the U.K. and Australia in 2012 and 2013. Tickets for the first 22 shows will go on sale Friday, April 11, with a pre-sale for American Express cardholders underway. Check the production's website for full details.
'Jesus Christ Superstar' Tour Dates
6/9 -- New Orleans, LA
6/10 -- Birmingham, AL
6/11 -- Charlotte, NC
6/13 -- Fort Lauderdale, FL
6/14 -- Orlando, FL
6/15 -- Tampa, FL
6/16 -- Atlanta, GA
6/17 -- Nashville, TN
6/19 -- San Antonio, TX
6/20 -- Austin, TX
6/21 -- Houston, TX
6/22 -- Dallas, TX
6/23 -- Oklahoma City, OK
6/24 -- Tulsa, OK
6/26 -- Toronto, ON
6/28 -- Detroit, MI
6/29 -- Chicago, IL
7/1 -- St. Louis, MO
7/2 -- Kansas City, MO
7/4 -- Winnipeg, MB
7/5 -- Regina, SK
7/6 -- Edmonton, AB
7/8 -- Boise, ID
7/9 -- Spokane, WA
7/10 -- Seattle, WA
7/12 -- Vancouver, BC
7/13 -- Portland, OR
7/15 -- Sacramento, CA
7/16 -- Fresno, CA
7/17 -- Bakersfield, CA
7/18 -- San Jose, CA
7/20 -- Anaheim, CA
7/22 -- El Paso, TX
7/23 -- Phoenix, AZ
7/24 -- San Diego, CA
7/25 -- Las Vegas, NV
7/26 -- Los Angeles, CA
7/29 -- Denver, CO
7/30 -- Lincoln, NE
7/31 -- St. Paul, MN
8/1 -- Milwaukee, WI
8/2 -- Indianapolis, IN
8/3 -- Cincinnati, OH
8/5 -- New York, NY
8/7 -- Washington, DC
8/9 -- Columbus, OH
8/10 -- Cleveland, OH
8/12 -- Pittsburgh, PA
8/13 -- Buffalo, NY
8/14 -- Boston, MA
8/16 -- Philadelphia, PA
More From Ultimate Classic Rock