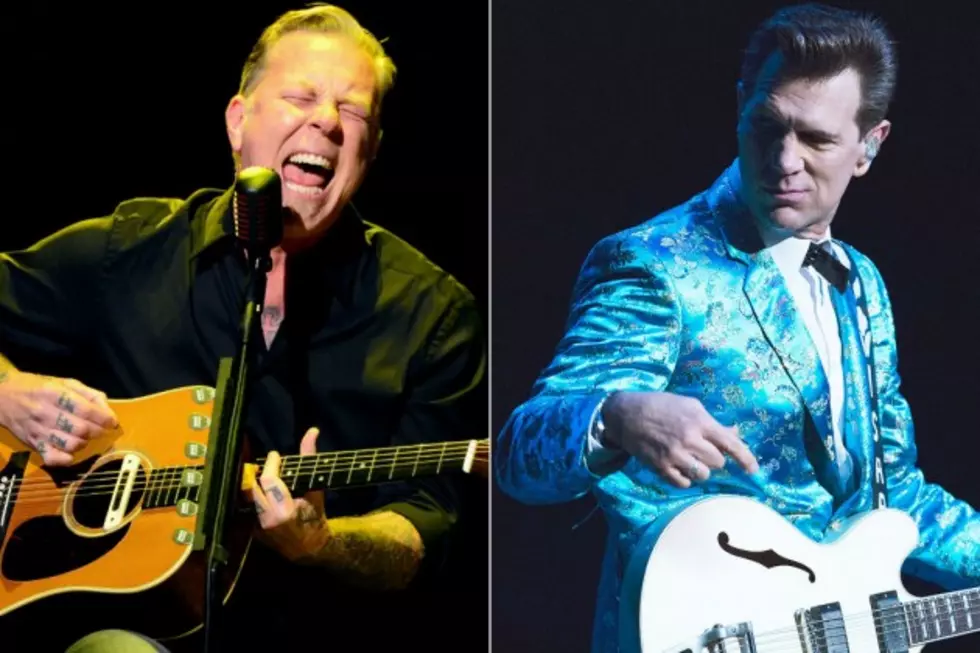 James Hetfield Wanted to Sing Like Chris Isaak on Metallica's Black Album
Frazer Harrison / Raffi Kirdi, Getty Images
Many Metallica fans were surprised by the sonic overhaul the band gave itself for 1991's self-titled Black Album, but according to the record's producer, Bob Rock, in some ways, the end result only hinted at some surprising influences.
Rock looked back on his first stint behind the boards for Metallica during a recent visit to Talk Is Jericho, revealing that when singer and guitarist James Hetfield brought him reference points for what he wanted his vocals to sound like, the stack included albums by pop crooner Chris Isaak.
"He said, 'Bob, I've never really sang before — I've just kind yelled,'" Rock recalled. "He played me a Chris Isaak record, and he said, 'On 'Nothing Else Matters' and 'The Unforgiven,' I want to sing. How do you sing like this?'"
That's easier said than done, which is why Isaak's been making a career of it for decades, but Rock had a few ideas. "I said, 'I'll get you a great vocal sound, so you don't have to double your vocals. What you hear in Chris Isaak's voice is the nuances when he sings — he isn't doubled. He's actually performing. You perform.' We set it up so he was comfortable and had a great vocal sound, and then he sang. Every day he got better, and he got comfortable with it. He became a great singer."
Rock also looked back on how he helped Jason Newsted's bass emerge from the sonic margins, pointing out that up until then, Newsted had played his instrument more like a regular guitar. Saying he encouraged Newsted to try a different bass model and amp, Rock noted, "Before, he was just playing what James played, and it kind of sounded like a guitar, so it wasn't really bottom."
See Metallica and Other Rockers in the Top 100 Albums of the '80s
Metallica Albums Rated From Worst to Best
More From Ultimate Classic Rock