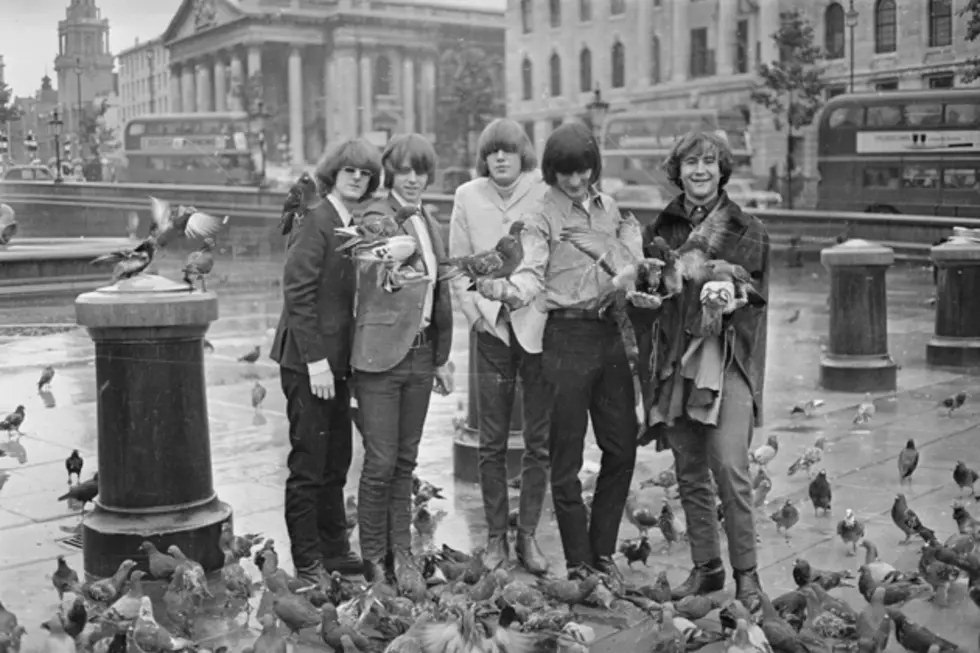 The Byrds (l to r): Roger McGuinn, Chris Hillman, Michael Clarke, Gene Clark, David Crosby | Victor Blackman, Hulton Archive
As legend has it, the Byrds' early singer and lead songwriter Gene Clark exited the band because he was scared of flying on airplanes. All avian/aviation myths aside, Clark wrote one of the greatest air travel songs of all time, 'Eight Miles High.' And it goes without saying that his legacy of at-the-time-forgotten country rock has gone on to influence some of the greats of modern alt-country, bluegrass, and country. To wit: renditions of his songs appear on Alison Krauss and Robert Plant's Grammy-winning 'Raising Sand'; and Tom Petty's best-selling 'Full Moon Fever.' So we've dug deep and collected a list of the Top 10 Gene Clark songs -- with an ear to the lyrics, melodies, composition, and his ever-expanding posthumous catalog.
10

'Back Street Mirror'

From: 'David Hemmings Happens' (1967)

Recorded not by Clark but by British actor David Hemmings on his first and only foray into music (with the Byrds as his backing band), the song is a triumphant ode to love -- with mariachi trumpets blaring, flutes aflutter, and a truly classical taste (it was arranged by the great Leon Russell). Well ahead of its time, it reminds us of the flute-laced 'Echoes' from Clark's record with the Gosdin Brothers.

9

'Here Without You'

From: 'Mr. Tambourine Man' (1965)

The next entry on our list of the Top 10 Gene Clark Songs is among his best brooding tunes. One of his unique abilities as a songwriter is to seamlessly mix major- and minor-keyed melodies, and 'Here Without You' features lyrics that are both dark and complex for their time. It also is gifted with a lovely, baroque 12-string intro riff by lead guitarist Roger McGuinn.

8

'Silver Raven'

From: 'No Other' (1974)

'Silver Raven' finds Clark brooding again, a minor-keyed masterpiece from 1974's forgotten classic 'No Other.' It doesn't get lost on us that this one features a bird metaphor either. The musicians on the tracks include members of the rock-lite 'Mellow Mafia,' or 'The Section,' which would help record classic albums by Jackson Browne, Warren Zevon, and James Taylor. And don't miss the drunken slide guitar work from Jesse Ed Davis.

7

'Changing Heart'

From: 'The Byrds' (1973)

'Changing Heart,' recorded as part of an album-vehicle for a mostly failed Byrds reunion in 1973, demonstrates Clark's stunning late-career songwriting -- that of a man broken by the fame that, ahem, flew away.

6

'Kansas City Southern'

From: 'Two Sides to Every Story' (1977)

Recently given the re-release treatment, 'Two Sides' is a long-lost country-rock album from the late-'70s Gene Clark canon, with a handful of tunes that find Clark in introspective mode. 'Kansas City Southern,' which closes out the first half of our list of the Top 10 Gene Clark Songs, is one of his harder-rocking country tunes. Look for a great early version of the song on 2008's 'Silverado '75: Live & Unreleased.'

5

'For a Spanish Guitar'

From: 'White Light' (1971)

One of Clark's most delicate songs from arguably his greatest solo album, 'Spanish Guitar' is a glimpse into what could've been had Clark stayed a member of the Byrds. One can almost imagine this song appearing on 1968's 'Sweetheart of the Rodeo.' It has that late-60's feel and that sad, longing hue in Clark's delivery. And the acoustic guitar line is just begging for a McGuinn Rickenbacker layer.

4

'One in a Hundred'

From: 'Roadmaster' (1972)

The version of 'One in a Hundred' that found its way onto the 'Roadmaster' album is more of that Byrds flavor (featuring members of his former band, with a keening 12-string electric accompaniment). The lyrics talk of a man looking to break out of a personal slump, isolation -- which we can only guess is Clark referring to himself. (The song also appears in a more stripped-down manner on 'White Light.')

3

'She Don't Care About Time'

B-side (1965)

Roger McGuinn's 12-string Rickenbacker solo, which note-for-note rips off J.S. Bach's 'Jesu, Joy of Man's Desiring,' attempts to steal the show on this number. But it's Clark's introspective lyrics and driving melody that smashes McGuinn's Ric into pieces. Nowhere else at that time could you hear lyrics like: 'Hallways and staircases, everyday to climb / To go up to my white-walled room out on the edge of time.'

2

'Eight Miles High'

From: 'Fifth Dimension' (1966)

Often captured in a promo video with a capped David Crosby menacingly staring at the camera, it was actually Clark who wrote the majority of the song -- which was not about drug use, but the Byrds first trip to London (on an airplane). Both McGuinn and Crosby ended up getting a songwriting credit on 'Eight Miles High' (McGuinn wrote the fantastic 12-string Ric lick; Crosby, the line about 'Rain gray town / Known for its sound'). The best known version features the full band on lead harmonies, but the alternate take recorded at RCA Studios with Clark on lead vocals is the truest to form.

1

'I'll Feel a Whole Lot Better'

From: 'Mr. Tambourine Man' (1965)

Our list of the Top 10 Gene Clark Songs is topped by probably his best-known track, probably because of Tom Petty's cover version on smash-hit 1989 album 'Full Moon Fever.' We find Clark at his lovelorn and playful best. The narrator of the song is scorning an ex-lover, saying he's over her -- while at the same time, wondering if it was the right decision cutting her loose. It's worth noting that two versions of the song appear on the 'Mr. Tambourine Man' reissue, the 'classic' featuring the first line: 'The reason why / Oh, I can say / I have to let you go, babe / And right away.' The alternate take is less-produced and makes one subtle lyric change, swapping the word 'babe' for 'baby.' We tend to like the 'baby' version better.
More From Ultimate Classic Rock