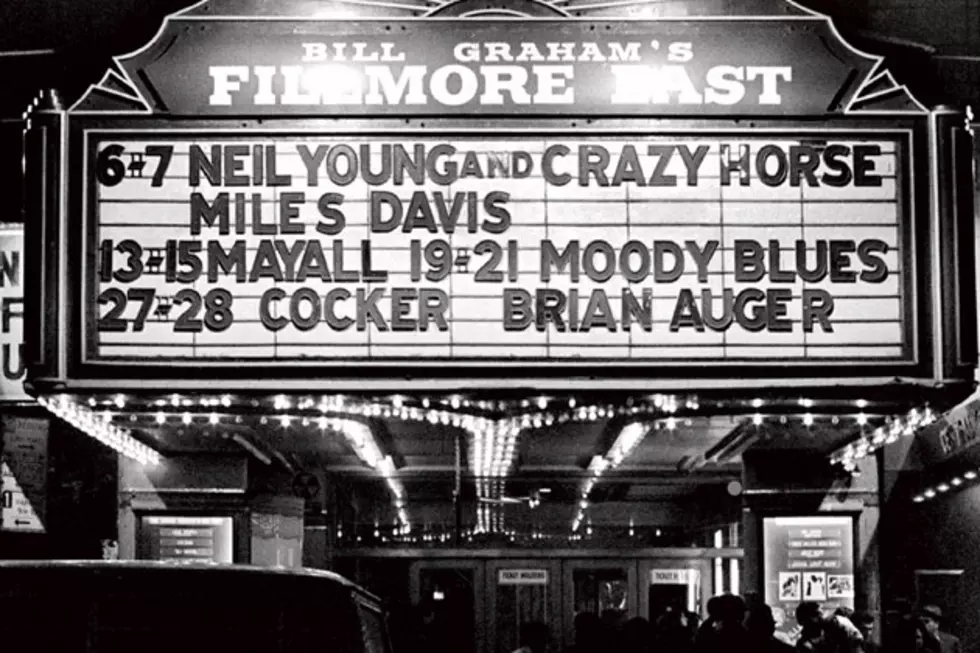 Rockers Look Back at the Fillmore East's Opening Night
Reprise
Known as the "Church of Rock 'n' Roll,' New York's Fillmore East opened its doors on March 8, 1968. For the next three years, the 3,600-seat theater built in 1926 would host the cream of rock royalty: Jimi Hendrix, Led Zeppelin, Eric Clapton and the Doors all appeared on its stage.
Promoter Bill Graham booked blues, jazz and Latin artists on the same bill with rockers, introducing new forms of music to young white audiences. The Fillmore East's debut featured psychedelic rock's Big Brother & the Holding Company, fronted by Janis Joplin, folk singer-songwriter Tim Buckley and blues guitarist Albert King.
Ultimate Classic Rock talked with some of the artists who performed at the Fillmore East: Vocalist David Clayton-Thomas of Blood Sweat & Tears; blues guitarist Elvin Bishop, who appeared with the Paul Butterfield Blues Band and the Elvin Bishop Group; saxophonist Emilio Castillo, leader of Tower of Power; and guitarist Sam Andrew of Big Brother & the Holding Company, the band that headlined the Fillmore East's opening 45 years ago.
Let's begin with the first show. How did it go?
Sam Andrew: I loved Bill Graham a lot. He was really a professional. He really got down on me that night. We were living at the Chelsea Hotel and for some reason I fell asleep and I was late. He was stomping around the floor, he was really angry, going, "I've got damn amateurs!" I said, "Bill, I feel terrible about this, you don't have to pay me if you don't want to." And he softened immediately. He said, "No, that's okay. Just be on time from now on." And I was.
How did the pressure of opening night affect Janis?
Andrew: Janis was really powerful and really insecure at the same time. So at that Fillmore East opening she was frantic, it was like obsessive-compulsive, asking me how she did over and over again. She wouldn't stop, like the needle got stuck. She'd say, "What do you think about the show? How was I? What do you think, was it good?" It was really something to be with someone who was that talented and that insecure at the same time.
David, you played nine dates at the Fillmore East with Blood Sweat & Tears. What did you like about the hall?
David Clayton-Thomas: It was funky like a rock and roll club. One of my fondest memories of the Fillmore East was seeing the backstage hall with all these dopers and hippies all sprawled out. And [guitarist] Steve Katz's mother coming in from Queens with a Thermos bottle full of chicken soup for the band, in her mink, stepping over all these dopers stretched out in the hall.
What bands shared the bill with you?
Clayton-Thomas: Jethro Tull was to be the opening act for Blood Sweat & Tears. They had flown over from England. Ian Anderson had arrived with a terrible flu. They couldn't perform that night. And he was so worried that this was their first big break in the States, their first big American appearance, and he was in bed with a 103 temperature. So we extended our show that night and covered for them and when we came back a few weeks later, we brought back Jethro Tull and put them on our show to give them their shot. And Ian has never forgotten that. We've remained friends ever since.
Who shared the bill with Tower of Power?
Emilio Castillo: My experience at the Fillmore East was with Santana and Rahsaan Roland Kirk and I remember Rahsaan had this guy named Joe Texidor, a percussionist. Joe Texidor was walking around with this small axe, chopping at everything, the walls, the pillars, the curtains. He looked like he would murder 30 people at the McDonalds if you said the trigger word. Carlos had taken us out on tour because he dug the band. Nobody knew who we were and they didn't care about us. So we were up there playing and they're going, "Where's Santana? We want Santana! Who are these bums?" Then the second or third night Carlos and [keyboardist] Richard Kermode and Ngudu Chancler, his drummer, they loved us, so they would come out and play our last song, 'Knock Yourself Out,' with us.  And then it was, "These guys are great, we love 'em!" We got a real good taste of how fickle the New York audience was.
After that first show, Big Brother returned to the Fillmore a few months later. What other bands were on that show?
Andrew: We played with the Staple Singers and Ten Years After. I loved Mavis Staples. She came offstage and she was standing there and I went up and stuck my tongue in her mouth. She was eating popcorn, so it was one of those stupid moments that become vivid years later because they're so dumb.
How was playing the Fillmore East different than concerts today?
Elvin Bishop: Today, you can't visualize a big venue like that letting people jam until four or five in the morning. It's just so cold-blooded about the money these days. Nowadays the venues sell those tickets, they do the show and they get your ass out of there and that's it.
Tell me about Bill Graham.
Bishop: Graham was a powerful guy. He didn't just perform in a market, he dominated a market. If somebody came in and somebody else tried to grab 'em first, Graham would do whatever it took to get that person in his place.
Andrew: He hated us personally and musically for it seemed like a year in San Francisco. He had a big shouting match with Janis and with me two separate times and he used every word he could think of. He just couldn't stand us. But then either we got better and she learned how to sing with the band or else he just bowed to the fans. We had a real cordial relationship later. Once Graham painted our room Janis's favorite color, which was, of course, purple.
Bishop: To me he changed the course of American music. The only way in the early '60s that white people would get a chance to hear any blues was when they'd have one token blues artist on a folk festival. Blues was considered a small division of folk music at that time. Bill recognized an opportunity when he saw it and the opportunity was this: He had this huge audience of people who were stoned out of their minds on LSD and he looked at them and said, "These guys will accept anything I give 'em. I'm gonna give 'em something good." He introduced a whole lot of people to jazz, Indian music, blues, R&B, all kinds of stuff. And he would mix 'em up on the bills; he'd have Quicksilver Messenger Service playing with Ravi Shankar and Albert King. None of that was happening before. And all of a sudden it became feasible for blues musicians to make a living somewhere outside of Chicago or Mississippi. Because everybody followed Bill Graham's lead.
Rock's 100 Most Underrated Albums
More From Ultimate Classic Rock