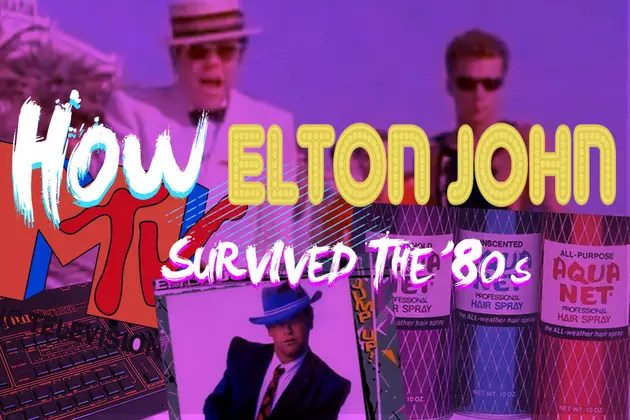 How Elton John Survived the '80s
Elton John almost didn't make it to the '80s. After a run of No. 1 albums, hit singles and worldwide acclaim in the mid-'70s, the singer overdosed on cocaine, declared his retirement from performing (which lasted two years) and saw record sales slump.
That decline was blamed on John coming out as bisexual in 1976, but it didn't help that he stopped working with lyricist Bernie Taupin for a couple albums. A bungled disco LP, released at the end of the craze in 1979, only made things worse.
The new decade gave John a new beginning. His next album, titled 21 at 33 in reference to the number of releases he had by that age, returned the singer to collaborating with Taupin – albeit on only a few tracks. It also returned John to the charts when "Little Jeannie" hit No. 3 in the U.S., becoming his biggest hit since 1976.
Watch Elton John Perform 'Little Jeannie'
With his contract at MCA Records expired, John moved to Geffen. His next two albums, 1981's The Fox and 1982's Jump Up!, saw Taupin regaining his role as primary lyricist, not that he thought too highly of the collaborations. The writer would later declare Jump Up! a "terrible, awful, disposable album," whose only virtue was the John Lennon tribute, and hit single, "Empty Garden (Hey Hey Johnny)."
Meanwhile, John embraced a different aspect of being a pop star in the '80s: music videos. While he had performed in outlandish stage outfits and made promotional films for singles before, he branched out in the year of MTV's debut. The singer was one of the first acts to put out a VHS video album, featuring video clips for all 10 songs on The Fox album. It was cut down to nine in the U.K., because of the controversy caused by the gay teenage romance theme in the tune "Elton's Song." (The school where the video was shot refused to sign off on the footage, due to the subject matter.)
Listen to Elton John's 'Elton Song'
Music videos would play a considerable role in John's biggest album of the '80s, 1983's Too Low for Zero. Clips for "I'm Still Standing" and "I Guess That's Why They Call It the Blues" helped turn the respective sprightly synth-pop song and the epic ballad (featuring Stevie Wonder) into big hits all over the world. As a result, the singer had his first platinum LP of the '80s.
With its emphasis on synthesizers and MTV videos, Too Low for Zero was certainly of the moment, but the album also hearkened back to John's '70s run, not only due to Taupin as the sole lyricist, but because the sessions included members of John's old band: guitarist Davey Johnstone, bassist Dee Murray and drummer Nigel Olsson.
With a hit album, John had found a balance between an approach that sounded both classic and modern. He also discovered how much he liked composing on the synthesizer, which he felt gave him a better feel for rock 'n' roll. "If you're a pianist, it's a totally different concept from playing guitar," he said in a 1984 interview. "It's very hard to write three-chord songs on the piano. … So I get this synthesizer, which sounds like a guitar in some parts, and I can write three-chord songs all of a sudden."
Synths, MTV videos and trusted collaborators proved to be a successful formula for the next album, 1984's Breaking Hearts, which continued John's run of hits – notably "Sad Songs (Say So Much)." Sales were robust, even if the critical reaction wasn't quite as glowing this time around.
Watch Elton John's Video for 'Sad Songs (Say So Much)'
John was probably too busy to care about any of that in 1984. In the middle of recording and releasing a new LP and embarking on a 124-date tour, John also found time to get married. In a surprise to many, the singer wed a woman, German recording engineer Renate Blauel, on Valentine's Day in Australia. Their whirlwind romance was widely rumored to be a cover-up for John's gay lifestyle.
"It was a mistake in the fact that I was in no condition to get married because I was a drug addict," John told Behind the Music years later.
The overdose in the '70s had done little to deter John's habits involving alcohol and cocaine. As a naturally shy person, he's often said the drugs helped him interact with people in the music industry, not to mention perform before huge masses of fans. By the middle of the '80s, John's habit became a vicious cycle. He did cocaine to get onstage, but he also got onstage so he wouldn't just hide away and do more coke.
"I would stay out for days. Half an ounce was never enough for me," he reflected. "But when you're performing on coke, it's the end. I say that, but, you know, if I hadn't have performed and I hadn't have toured, I would've just stayed home and done more blow, and I wouldn't be sitting here talking to you now."
At the height of his cocaine addiction, John kept a frantic schedule of performing and recording. He toured the world from 1985-86, played Live Aid and released two more albums during that time. While Ice on Fire performed reasonably well, and spawned the huge radio and video hit "Nikita," Leather Jackets was one of John's biggest disappointments, commercially, critically and even in the opinion of the artist himself. Later, John proclaimed his lowest-charting disc to be his least favorite while declaring its lead single, "Heartache All Over the World" to be the worst song in his catalog.
Watch Elton John Perform 'Heartache All Over the World'
The flop didn't stall the 40-year-old performer's concerts, which took a turn for the ambitious when he partnered with the Melbourne Symphony Orchestra in 1986 for a tour of Australia. For the second half of each concert, John dressed up as Mozart and merged old favorites and recent hits while backed by an enormous musical ensemble. A resulting live album and home video, John's first releases since he rejoined MCA, proved successful, even netting him a hit with a concert rendition of "Your Song."
The live album was necessary because there would be no new music or tours from John for the next year and a half. During the 1986 Australian tour, John had vocal trouble, which doctors determined was the result of non-cancerous polyps on his vocal cords. The surgery to remove them was a success, although it prevented John from singing for 10 months and permanently brought his voice down to a baritone.
Having survived one calamity, John dealt with another when the British tabloid The Sun accused the singer of having trysts with underage boys. When John sued the paper for libel, the publication made more allegations, some as crazy as John having his guard dogs "de-barked." After a competing paper debunked The Sun's source, the newspaper settled out of court and printed an apology on its front page, but the whole ugly process took almost two years.
John's character was vindicated, but his marriage was in shambles. "In the end, I had to admit that I was living a lie because I preferred men to women," John said. He and Renate divorced amicably in 1988 and she has lived a private, quiet life in England ever since.
Although John soon reveled his homosexuality in the press, he's since wished that he did more for the gay community in the '80s, specifically tied to HIV and AIDS awareness. "I was a drug addict and self-absorbed," John said in a 2012 interview. "You know, I was having people die right, left and center around me -- friends. And yet I didn't stop the life that I had, which is the terrible thing about addiction. It's that – you know, it's that bad of a disease."
Watch the Video for 'That's What Friends Are For'
While John contributed to Dionne Warwick's 1985 hit single "That's What Friends Are For" single, which raised money for AIDS research, he has regretted not doing more in the middle of the epidemic. His guilt, and his friendship with young AIDS victim Ryan White, would later fuel his drive to do AIDS charity work after getting sober in the '90s.
If John wasn't willing or able to do away with drugs in 1988, he did start making some changes. For instance, he sold off all his old, crazy stage costumes in a giant auction, apparently deciding he was too old to perform as Donald Duck any longer. The glitzy uniforms were featured on the cover of his 1988 "comeback" album, Reg Strikes Back which John credited with giving him something positive to focus on after the surgery, scandals and divorce. It also gave him a No. 2 single in "I Don't Want to Go on With You Like That."
Watch Elton John's 'I Don't Wanna Go On With You Like That' Video
But none of that stopped his rampant substance abuse problems, which were coupled with bulimia. Elton would go on binges of booze and coke, starve himself, eat a ton of food, then throw up.
"I remember saying, 'Look, this is ridiculous. He's killing himself'," guitarist Johnstone said in 2000. "'He's gonna die!'"
As the '80s drew to a close, John resisted giving up his old ways. The public was mostly unaware of John's dire issues, which were obfuscated by rampant touring (98 dates in 1989) and nonstop musical output. In 1989, he released his 22nd studio album, Sleeping With the Past, for which he and Taupin drew on their love of old R&B music for inspiration. Though the record took a little while to catch on, it eventually gave John his first solo No. 1 single in the U.K. (No. 18 in the U.S.) with "Sacrifice."
The song didn't top the charts until 1990, which would be another tumultuous year in the life of Elton John. As a new decade dawned, he would trade one coke habit for "just for the taste" of a slightly less dangerous one: making commercials for Diet Coke.
30 Most Outrageous '80s Rock Fashions
More From Ultimate Classic Rock