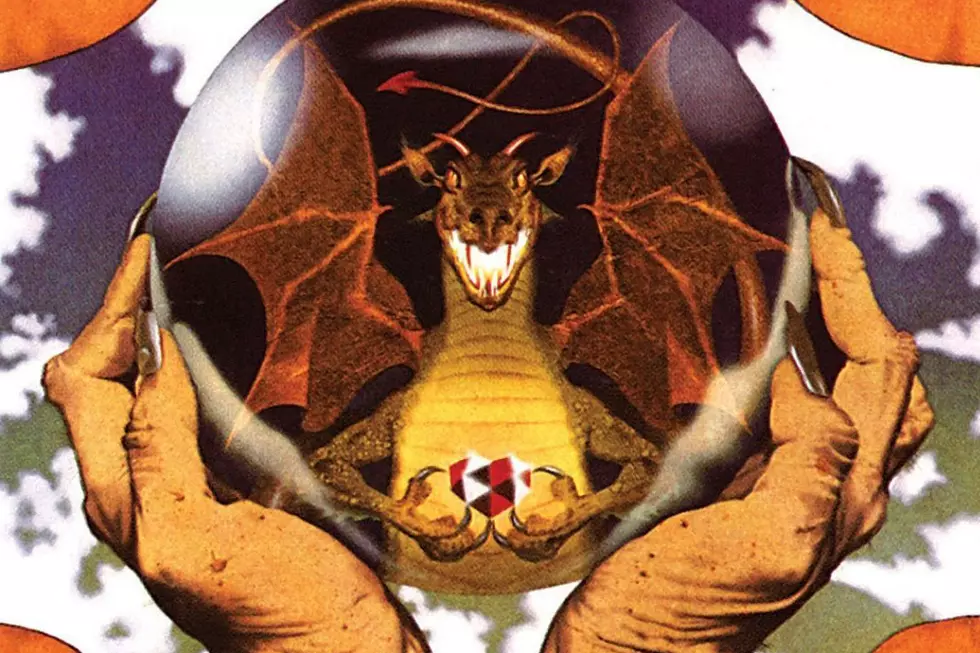 When Dio Started to Show Cracks With 'Sacred Heart'
Warner Bros.
When Ronnie James Dio unveiled his group's third album, Sacred Heart, in Aug. 15, 1985, it was almost exactly 10 years to the day since the singer's first taste of stardom as the frontman of Ritchie Blackmore's Rainbow. And nearly five years had passed since his second as the de facto catalyst behind Black Sabbath's unlikely return to greatness.
Then came Dio's solo escape on the back of a pair of critically acclaimed LPs in 1983's Holy Diver and '84's The Last in Line. They confirmed the singer's standing among heavy metal's '80s elite, complete with gold albums, magazine reader poll wins, and numerous other accolades for the 43-year old Dio, who, needless to say, was a on a roll.
He would reach top speed, in many respects, on Sacred Heart, which took the successful formula of recent years -- best exemplified by the rip-roaring speedster, "King of Rock and Roll" and the majestic title track -- and then boosted it with radio-friendly hooks and melodies as yet unheard on earlier efforts, making true hit singles of tunes like "Rock 'n' Roll Children" and "Hungry for Heaven."
And while remaining album cuts like "Another Lie," "Just Another Day" and "Shoot, Shoot" clearly lacked the oomph to become future concert staples, they were nonetheless buoyed by Dio's returning, winning team consisting of guitarist Vivian Campbell, bassist Jimmy Bain, drummer Vinny Appice and keyboardist Claude Schnell.
They would set out almost immediately on a marathon worldwide tour lasting 13 months and playing over 100 shows, supported by openers like Rough Cutt, Yngwie Malmsteen, Keel, Accept. They amazed fans with an arena-sized extravaganza that is still legendary for Dio's nightly jousts with a special effects dragon, lovingly nicknamed Denzel.
Amid all this, Dio, Campbell and Bain would spearhead the historic Hear 'n Aid charity project. This drew celebrities from every corner of the heavy metal firmament to participate in an album and single around their song "Stars," and adding yet another feather to Ronnie's bonnet.
And yet, almost like a reflection of Dio's fantasy/adventure lyrics, real danger lay just beneath the surface of Sacred Heart's facade — beginning with Vivian Campbell's surprise firing halfway through the tour, when he was replaced by Craig Goldy. Over the years, Ronnie frequently blamed the dismissal on a lack of commitment on Vivian's part, while the guitarist countered by voicing discontent with the band's business arrangements (many of them overseen by Dio's wife and manager Wendy). Bain would later say that Dio made a huge mistake by firing Campbell.
But whatever the real reason, Dio's magic chemistry certainly appeared to be disrupted after Campbell's departure -- but not before the original band had delivered two of the '80s best heavy metal albums and shared their Sacred Heart with many fans on their third release.
See Dio and Other Rockers in the Top 100 Albums of the '80s
10 Most Important Dio Moments
More From Ultimate Classic Rock