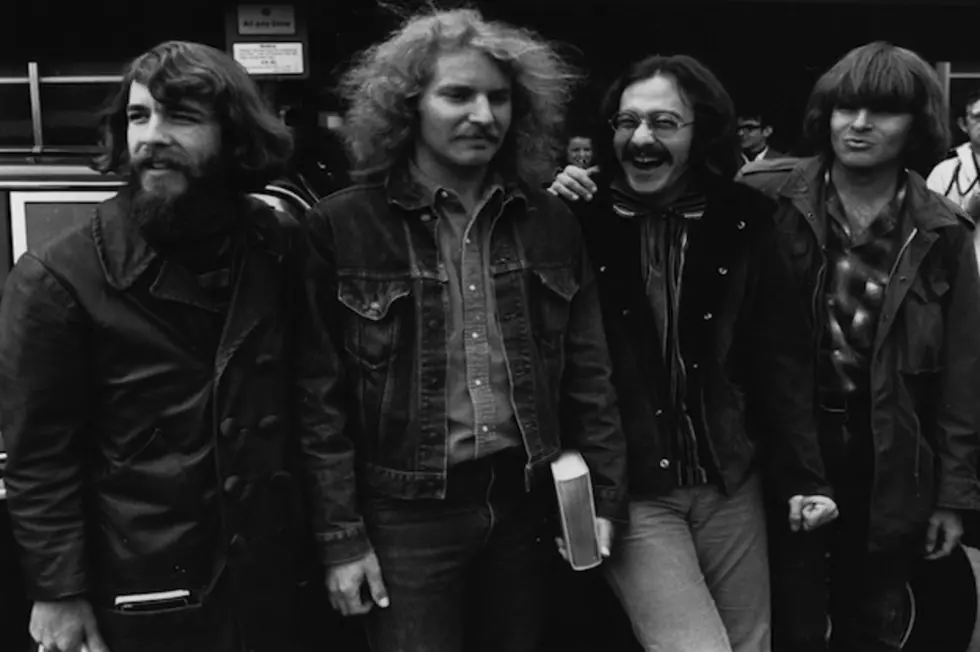 Top 10 Creedence Clearwater Revival Songs
Evening Standard/Hulton Archive, Getty Images
Very few — if any — Creedence Clearwater Revival fans would deny that singer, songwriter and guitarist John Fogerty was the biggest name in the Rock and Roll Hall of Fame band. But Creedence also had another Fogerty in its ranks - older brother and second guitarist Tom, whose membership in CCR from 1968 to 1971 also coincided with the group's creative and commercial peak. In honor of the band's brilliance during this period, here's a look at the band's 10 best songs during the Fogerty brothers' tenure.
10

'Up Around the Bend'

From: 'Cosmo's Factory' (1970)

Over snarling electric guitars, John Fogerty urges everyone to "leave the sinkin' ship behind" and "catch a ride to the end of the highway" in this No. 4 Billboard pop hit. Was he yearning for everyone back in the day to ditch the policies of President Nixon's administration, or merely prompting listeners to take a momentary escape on the open road? Like most CCR songs, there's enough vagueness to make 'Up Around the Bend' timeless as well as adaptable to many experiences.

9

'Have You Ever Seen the Rain'

From: 'Pendulum' (1970)

For the baby-boom generation, this is John Fogerty either commenting on the Vietnam War era or the loss of late-1960s innocence and idealism. But Fogerty reportedly wrote the somber, acoustic-guitar-driven song about the friction within CCR, particularly brother Tom's unhappiness with his role in the group. What's known for sure is this: "Have You Ever Seen the Rain," the ninth entry on our top 10 Creedence Clearwater Revival songs list, was CCR's last big A-side featuring Tom Fogerty. It reached No. 8 in early 1971.

8

'Down on the Corner'

From: 'Willy and the Poor Boys' (1969)

A lot of fun and a little bit funky, "Down on the Corner" can be interpreted as the story of CCR. It's easy to picture the Fogerty brothers, bassist Stu Cook and drummer Doug Clifford in their hometown of El Cerrito, Calif., as the "four kids on the corner trying to bring you up" with their "happy noise." And the next time Christopher Walken needs more cowbell to cure his fever, he should cue up this one.

7

'Green River'

From: 'Green River' (1969)

John Fogerty's protagonist looks back fondly to a simpler time and a place where he fished, skipped rocks and scoped out shoeless girls dancing in the moonlight. It's not all fun and games in this short, tight rocker, the seventh of our top 10 Creedence Clearwater Revival songs. An old-timer warns the narrator that "you're gonna find the world is smolderin'," and whenever that happens, he's always welcome to come back to the comfort and safety of good ol' Green River.

6

'Lookin' Out My Back Door'

From: 'Cosmo's Factory' (1970)

Just like Down on the Corner' did the year before, the countrified 'Lookin' Out My Back Door' shows CCR at its most joyous and playful. A rapidly strummed, heavily muted acoustic guitar sets the pace, and along the way John Fogerty sings rather trippy lyrics about all sorts of "happy creatures dancing on the lawn" (perhaps a friendly swipe at the San Francisco Bay Area's psychedelic scene) while also name-checking country legend Buck Owens.

5

'Bad Moon Rising'

From: 'Green River' (1969)

Something's lurking out there, and it ain't good. And once again, John Fogerty uses weather-related imagery to make his point: earthquakes, lighting, hurricanes and "rivers overflowin'." And in a little more than two minutes, he unloads his mind and prompts you to think about what's troubling you in your life.

4

'Who'll Stop the Rain'

From: 'Cosmo's Factory' (1970)

Almost a year to the day before 'Have You Ever Seen the Rain' first hit the Billboard Hot 100, CCR reached the chart with this precipitous tune. John Fogerty's thinly veiled tale of disappointment with U.S. politics is showered with a haunting wall of vocals during the chorus, and the song's three-note acoustic-guitar figure throughout sticks with you as much as the lyrics.

3

'Proud Mary'

From: 'Bayou Country' (1969)

Creedence's signature song — the first of five CCR singles to peak at No. 2 between 1969-70 — also displays all of the band's signature strengths: an airtight rhythm section, steadily strummed guitars and John Fogerty's fantastic imagery and working-class sensibilities. After hearing this song, you understand why fans assumed the band was from Louisiana.

2

'Born on the Bayou'

From: 'Bayou Country' (1969)

John Fogerty doesn't just sing this ominous ode to the New Orleans area — he howls it. "To this day, it's still my favorite Creedence song," drummer Clifford told Goldmine magazine. In August 1969, CCR opened its Woodstock set with this song, which probably scared the crap out of many mind-altered spectators.

1

'Fortunate Son'

From: 'Willy and the Poor Boys' (1970)

John Fogerty didn't grow up privileged or politically connected, but he totally understood that an upbringing with "silver spoon in hand" could later play a big role in working the system, whether it be exemption from military service or paying taxes. In the No. 1 track of our top 10 Creedence Clearwater Revival songs, Fogerty makes it crystal clear he's among the have-nots, not the haves, and rock 'n' roll is all the better for it.
More From Ultimate Classic Rock