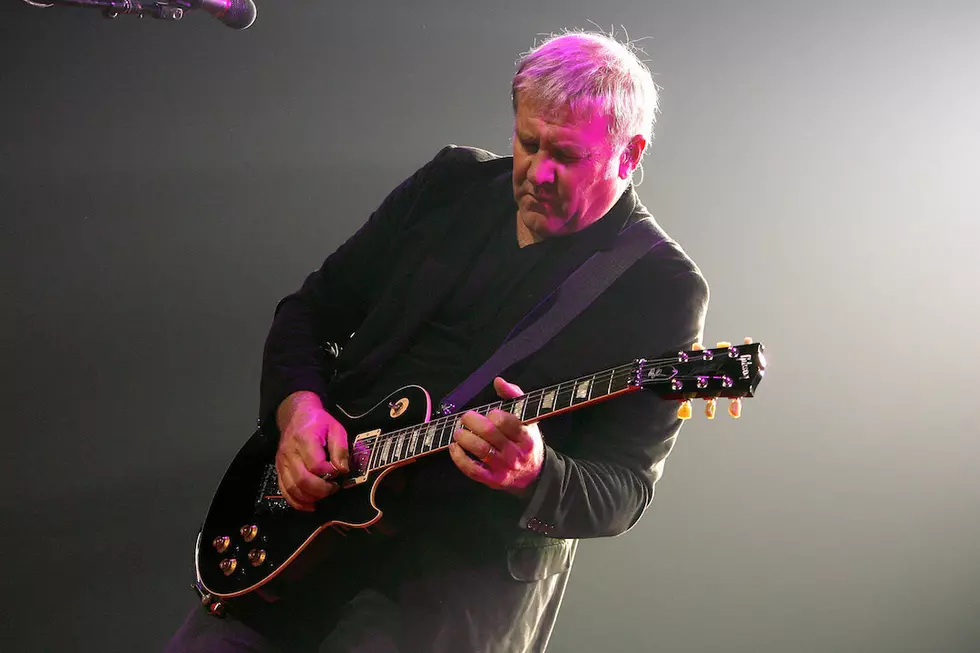 Top 5 Alex Lifeson Rush Songs
Mike Lawrie, Getty Images
Guitarist Alexandar Zivojinovich – better known by his stage name Alex Lifeson – was a stalwart member of Rush, the only one who was there through every different incarnation of this Rock & Roll Hall of Fame band.
Lifeson co-founded the group in 1968 with drummer John Rutsey and bass-playing singer Jeff Jones, originally appearing as the Projection. Geddy Lee – a high school friend of Lifeson's – took over for Jones about a month later.
Rush's final, best-known lineup didn't finally coalesce until 1974, when the late drummer/lyricist Neil Peart arrived. They stayed together until the late '90s, when a hiatus followed a series of personal tragedies for Peart, then returned to consistent work until announcing their plans to stop touring on a large scale in 2015.
Along the way, Lifeson was involved in countless great musical moments. Here are the 5 Best Alex Lifeson Rush Songs.
5. "The Seeker"
From: Feedback (2004)
What's the best way to get back to the rawness of the early Rush music? Simple. Knock out half an album's worth of cover songs that the band performed at the start of their career. That's what Alex and his bandmates did with the very worthy Feedback EP. Our list of the best Alex Lifeson Rush songs detonates with a balls-out cover of "The Seeker" that would make even Pete Townshend happy. Lifeson's riffing is 100% windmill-worthy.
4. "Cold Fire"
From: Counterparts (1993)
Perhaps it is sometimes hidden, but it's easy to believe that Lifeson is a big Who fan, especially after hearing his playing on the distortion-riddled beginning of "Cold Fire." The Counterparts album found Rush noticeably toughening up their sound of 1991's Roll the Bones album. Was any part of that change an an attempt to stay relevant with the onset of grunge? Rush purists would likely say no, but it doesn't matter. Counterparts definitely had some great, heavy moments – and Lifeson gets a lot of great tones on the album.
3. "BU2B"
From: Clockwork Angels (2012)
Speaking of "heavy," Alex Lifeson's guitar just smashes our collective faces on "BU2B." This standout Clockwork Angels track puts Lifeson's guitar right at the front of the mix, center stage where it belongs. He takes full advantage, rumbling with the intensity of an angry velociraptor that hasn't eaten for about a million years. Rush's most recent studio album showed Lifeson wasn't slowing down; in fact, this is one of his finest moments ever.
2. "Bastille Day"
From: Caress of Steel (1975)
Alex Lifeson intensifies the already-frenzied pace of "Bastille Day" by tearing through one of his most awesome guitar solos ever. The song demonstrates Rush's ability to tackle a complex subject relatively quickly, without taking up a full album side. Of course, they still had a couple of really, really long songs later in the album with the far-reaching "The Necromancer" and "The Fountain of Lamneth."
1. "Working Man"
From: Rush (1974)
Lifeson made a huge initial statement to the music world with his guitar parts on "Working Man" from the band's debut album. Even now, it's not hard to hear why Rush were able to make such an impact in the U.S. with this song. Lifeson's opening riff sounds completely massive, with no need for the modern day studio trickery that sometimes pumps up lesser bands nowadays. And that solo, wow! It's straight-out shredding, and a textbook testimony to the importance of guitar solos – when they're done right. We're happy to surrender seven minutes of our work day to "Working Man" anytime.
More From Ultimate Classic Rock